(lead article)
IAM strikes Illinois Cat
plant, rejects union busting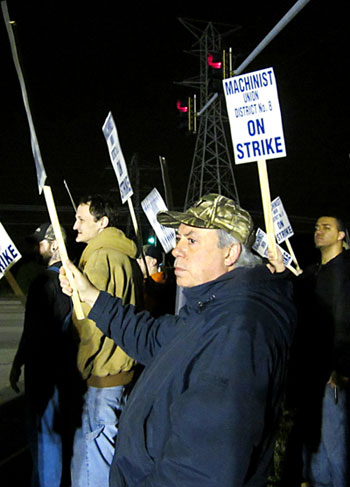 Militant/Alyson Kennedy
Striking Machinists picketing outside Caterpillar plant in Joliet, Ill., May 1, shortly after 800 walked out at 12:01 a.m.


BY ALYSON KENNEDY
JOLIET, Ill.—At 12:01 a.m., May 1, some 800 members of International Association of Machinists Local 851 walked out of the Caterpillar plant here. More than 100 picketed the entrances to the giant plant waving signs and cheering cars leaving the factory as the strike began, less than two days after workers rejected the company's union-busting contract proposal by a vote of 585 to 37.

Caterpillar Inc.'s plant here makes hydraulics and parts for tractors, mining trucks and other machinery.

Steve Jones, IAM District 8 business representative for the local, said that Caterpillar's proposals "gutted the contract."

"Caterpillar wants a six-year contract with a wage freeze for six years, elimination of the COLA [cost of living adjustment], doubling the cost of health insurance premiums for the life of the contract, and freezing of pensions." Jones said. "They propose that they can work you any shift, at anytime, anywhere, regardless of seniority."

The company says it will keep the plant working.

"Caterpillar has work plans, processes, policies and people ready to be deployed," said Caterpillar spokesman Rusty Dunn, the Chicago Tribune reported, "in the event of any business interruption, whether it is a tornado, fire or a strike."

"For 39 years I was a welder, then Caterpillar moved the welding jobs out of the plant," said Rick Wicker, who has worked at the plant for 43 years and operates the wash tank. "In 2005, Caterpillar started bringing in supplemental workers."

Earlier this year, the company demanded workers at its rail-locomotive assembly plant in London, Ontario, take a 50 percent pay cut. When they refused, the company shut the plant down.

"All the corporations are doing is knocking us down," machinist Bill McCarl II told the Joliet Herald News, "and we've got to keep getting back up. It's time to stand up and fight for our rights."


Related articles:
Construction boss in NY 'gets away with murder'
Texas flour mill workers' rally marks 1-year strike
Iowa aluminum workers end 11-week walkout
'The miners have proven that it takes a fight to win'
No worker has to die!