Vol. 78/No. 17 May 5, 2014


Readers take steps to get
subscription drive on track
(front page)

BY EMMA JOHNSON
Militant supporters in Manchester, England, and Philadelphia are leading the way at the end of the second week of the international campaign to expand readership of the Militant and books on working class, revolutionary politics by Pathfinder Press. While we are a little behind in the drive for 1,800 new readers, many areas made progress in getting on track to make their quotas. Atlanta supporters increased their goal by 10 to 100.

The campaign to extend the reach of socialist propaganda got a boost this week by the announcement of a number of Socialist Workers Party candidates for governor, in Iowa, Minnesota and New York. (See article this page.)

"Of the 34 readers we have signed up so far, 29 are from knocking on people's doors," reported Paul Davies from Manchester April 21. "We've concentrated on the Moston neighborhood, where a showing of Antonio Guerrero's watercolor paintings opens May 17 at the Moston Miners Community Arts and Music Centre."

Guerrero is one of five Cuban revolutionaries framed up on conspiracy charges by the U.S. government and jailed in 1998. The fight to free the Five is featured weekly in the Militant. I Will Die the Way I've Lived, which features Guerrero's paintings, and Voices From Prison: The Cuban Five are two recently published Pathfinder books that strengthen this work.

The growing campaign to free the Five and the struggle by working people in Ukraine to defend the country's sovereignty have opened political opportunities to reach new readers. Subscribers can choose from a range of Pathfinder titles at reduced prices. (See ad below.)

"A co-worker of mine decided to sign up for the Militant after he had seen Guerrero's watercolor exhibit here March 21," reported Chris Hoeppner from Philadelphia April 22. "He was one of 14 new subscribers this week, our best week so far. The overwhelming majority is from going door to door."

Hoeppner said that in addition to fielding teams on Saturdays and Sundays, weekday teams in the late afternoon and early evening have been very important. "We also got an extra push this week participating in an action against deportations," he said. "Five out of 35 there decided to subscribe to the paper."

"We got 11 this week, nine knocking on doors in working-class areas and two from former co-workers," Steve Warshell reported from Houston April 22. "We organized to get out every day. Now we're just one short of being on schedule.

"A team also went to Texas City, 45 miles south of here," Warshell said, where 170,000 gallons of oil spilled into the Houston Ship Channel and Gulf of Mexico March 22.

"Houston is one of the largest centers for deportation of immigrant workers in the country. We meet a lot of people who've had experiences with detention centers and deportations," Warshell said. "Workers tell us how la migra waits for them when they go to work, grabs them and ships them out."

Sales in rural towns

Supporters from Chicago also had their best week so far, getting 11 new subscriptions. They visited workers in small towns west of the city April 19, reported Laura Anderson. In Cortland, a town of 4,000 surrounded by farms, they met David Rios, a warehouse worker originally from Mexico.

"He was interested in the example of workers in Ukraine using the space they won to continue to fight for their rights," Anderson wrote. "After looking over the front page with a photo of 10,000 demonstrating in Moscow to protest Russian intervention in Ukraine, he smiled and said, 'We aren't getting the truth on this.'" Rios got a subscription and The Working Class and the Transformation of Learning, a book on special offer.

On April 19, supporters from New York went to Red Hook, a town of 2,000 about 100 miles north of the city, and into surrounding farm areas.

"As we talked to people about the situation workers and farmers face, many wanted to discuss fracking," reported Dan Fein. Fein is the Socialist Workers Party candidate for lieutenant governor of New York. "We sold subscriptions to a sheep rancher, a worker in a Mexican restaurant, a retired teacher and to workers in a trailer park. One of them also bought the Spanish edition of Is Socialist Revolution in the U.S. Possible?" another book on special.

Camila Das Gupta signed up for a subscription in Montreal April 15, while on her way to Halifax, Quebec, from a semester's studies in Havana. She had met Militant supporters at the Havana book fair in February, where she attended the launching of I Will Die the Way I've Lived and Voices From Prison at a studio run by Cuban artist Kcho. She was in Havana when Fernando González, one of the Five, returned to Cuba Feb. 28 after serving out his sentence in U.S. prisons.

"My house mother ran screaming through the house to tell everyone," Das Gupta told Katy LeRougetel, whom she had met at the fair. "I went to a big concert on the steps of the University of Havana the next day, but it was impossible to see anything, there were so many people. It just made me want to read all the books I bought right away."

Das Gupta said she plans to enlist some artist friends in Halifax to do a showing of Guerrero's watercolors.

The Militant continues to expand its readership among fellow workers behind bars. So far during the drive, seven have requested to get the paper, five of whom are new subscribers.

Supporters in every area need to map out plans to get ahead or catch up in the coming weeks to go over their quotas by May 14. Send reports and photos on the campaign by Monday morning EDT. And be sure to include sales of books when you do.

Join the effort to expand the Militant's readership! See page 8 for a distribution center near you or contact the Militant at (212) 244-4899.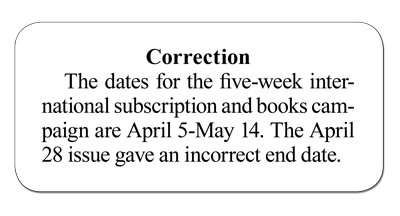 Related articles:
Spring 'Militant' subscription campaign April 5 – May 14 (week 2)



Front page (for this issue) | Home | Text-version home