March for Women's Lives, Washington, D.C., April 25, 2004

Pathfinder supersaver sale: Build April 25 March on Washington

Contributions needed now to fund socialist press

lead article
U.S. forces kill hundreds
in assault on Iraqi cities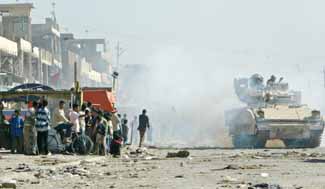 Reuters/Laszlo Balogh

U.S. Army Bradley Fighting Vehicle during April 6 firefight in Sadr City, Baghdad



BY SAM MANUEL
WASHINGTON, D.C.—More than 600 Iraqis have been killed and hundreds more wounded in a week-long assault by 2,500 U.S. troops on the city of Fallujah, according to the director of the city's hospital. The occupation forces are seeking to defeat insurgents in the city, whose population is largely Sunni Muslim.

U.S. troop sealed off all roads in and out of Fallujah. With AC-130 gunships firing rockets and jets dropping 500-pound bombs on the city, they called on civilians to leave. About a third of the city's population of 200,000 has reportedly fled.

On April 10 the U.S. military declared a ceasefire to allow negotiations for surrender between the U.S.-appointed Iraqi Governing Council and the insurgents. As we go to press, the ceasefire reportedly held. Fallujah, a base of the ruling Baath party under the Saddam Hussein regime, has been a focal point of opposition to the U.S.-led occupation from the beginning.

During the second week of April, U.S. forces also attacked militias loyal to Muqtada al-Sadr in Sadr City, a majority Shiite neighborhood of Baghdad, and several other urban centers in central-southern Iraq, killing dozens of Iraqis. On April 9, about 1,000 Marines retook the southern town of Kut. Units of the Mahdi Army, led by al-Sadr, had taken control of Kut days earlier and had forced a Ukrainian battalion occupying the town to flee. Al-Sadr's forces maintained control of the nearby cities of Kufa, Karbala, and Najaf, where the U.S. military was poised to launch attacks after the April 11 end of an Islamic religious holiday. The group's militias, however, vacated police stations and other buildings they occupied April 12 in an apparent retreat to avoid a slaughter by U.S. troops.

Having provoked al-Sadr's forces into a fight by closing a newspaper published by the group, the occupation regime has set its sights on militarily destroying the organization, which describes itself as the Iraqi equivalent of the Lebanese Hezbollah or the Palestinian Hamas. Brig. Gen. Mark Kimmit, deputy director for U.S. military operations in Iraq, said the Pentagon has issued an order "to destroy the Sadr militia—deliberately, precisely, and powerfully."

The siege of Fallujah
Resistance to the U.S.-led occupation has flared up several times over the past year in Fallujah. The city was a Baath party stronghold under the Saddam Hussein regime, which hand-picked clerics and offered Sunnis jobs and other forms of patronage. Since the overthrow of the Hussein regime and the "de-Baathification" purges of government jobs, the city has been a center of opposition to the U.S.-led occupation.

U.S. Marines and troops from the U.S.-trained Iraqi security forces have sealed off Fallujah. The city is under a night-time curfew. City residents told news agencies that U.S. helicopters and snipers had fired on ambulances and civilian vehicles that tried to take the wounded to clinics or hospitals.

U.S. commanders also refused to allow trucks carrying aid, including medicine, food, and water to enter the city for several days, Al-Jazeera TV said. Thousands of Sunnis and Shiites responded to a call by mosques in the surrounding region to hold a peaceful march to deliver the supplies to the encircled city. The marchers carried Iraqi flags as well as portraits of Palestinian sheikh Ahmed Yassin, founder of Hamas, one of the Palestinian groups opposing the Israeli occupation of Palestine. Yassin was assassinated March 22 as he and several members of his entourage were struck by an Israeli missile as they left a mosque following morning prayers. "We are Sunni and Shia brothers and we will never sell our country," the marchers chanted.

U.S. military officials have said that the operation in Fallujah is aimed at capturing those responsible for the deaths of the four paramilitary guards who worked for a private security company under contract with the Pentagon. The four were ambushed and killed as they drove through the city. An angry crowd then gathered, some of whom set fire to the bodies, hanging two of them from a bridge over the Euphrates River. The incident was played up by the U.S. big-business media in a propaganda campaign aimed at generating public support for the impending U.S. offensive in Iraq.

"The city is isolated," U.S. secretary of defense Donald Rumsfeld said April 6. "A number of people have resisted and been killed. And it will be a methodical effort to find the individuals who were involved."

On April 10, U.S. forces surrounding Fallujah called for a cease-fire to let representatives of the U.S.-appointed Iraqi Governing Council enter the city to negotiate some form of surrender with the insurgents. Fighting subsided over the next day, as a result. U.S. officers indicated, however, that this is not any kind of weakness and questioned whether anything will come of the negotiations.

"Given the virulent nature of the enemy, the prospect of some city father walking in and getting Joe Jihadi to give himself up is pretty slim," said Lt. Col. Brennan Byrne, who commands the Fifth Marine battalion in Fallujah, according to the April 11 Washington Post. He was using a derisive term for the insurgents inside the city—jihadi means "Islamic warrior" in Arabic. "Their only choices are to submit or die," Byrne said about the insurgents.

U.S. authorities announced the cease-fire after officials of the Iraqi Governing Council criticized the manner with which the U.S. military was conducting the assault on Fallujah, one calling the Marine assault "collective punishment" directed at the entire city. The French daily Le Monde reported that many Sunni shops, banks, and schools in Baghdad have shut down in solidarity with their embattled brothers in Fallujah.

Al-Sadr's forces provoked into fight
U.S. troops have also sealed off Sadr City, a working-class district south of Baghdad, where they have been engaged in fierce fighting with supporters of Muqtada al-Sadr. This chain of events was set in motion March 28 when the U.S. overseer of Iraq, Paul Bremer, ordered the closure of Al-Hawza, a newspaper published by al-Sadr's group. Bremer charged the paper with inciting violence against the occupation. The next day thousands of Iraqis rallied outside the offices of Al-Hawza in support of the newspaper. Upping the ante, Bremer sent occupation troops to al-Sadr's home and arrested a key aide, Mustafa Yaqubi. That action predictably sparked further protests.

On April 2 Spanish troops from the occupation forces fired on demonstrators in Najaf demanding Yaqubi's release, killing at least 20, according to Al-Jazeera. The same day al-Sadr issued a statement calling on his supporters to stop staging demonstrations "because your enemy prefers terrorism," reported the Toronto Globe and Mail.

"America has unsheathed its fangs and its despicable intentions, and the conscientious Iraqi people cannot remain silent at all. They must defend their rights in the ways they see fit," the statement said, according to the Washington Post.

Following a firefight in Ramadi, a city near Fallujah, in which 12 Marines were killed, the U.S. military issued a statement saying that its goal of "establishing a persistent presence in areas where U.S. forces have not consistently operated has been costly." It said the increased attacks by insurgents was due to the Marine strategy of "heightening their profile" and aggressively challenging insurgents "in places where they've gained influence," according to the Post.

Sadr City is named in honor of Muqtada al-Sadr's father, who was killed along with two of his brothers allegedly by members of the Iraqi secret service on the orders of Saddam Hussein. Initially supported by Hussein, Muhammad Sadiq al-Sadr fell into disfavor as an outspoken opponent of the regime's repression of the Shia religion.

The younger al-Sadr has emerged as a forceful opponent of the U.S.-led occupation of Iraq. He has refused to recognize the U.S.-appointed Iraqi Governing Council and declared a shadow cabinet. He compares Bremer to Saddam Hussein and has said his group represents the Iraqi branch of Hamas and Hezbollah, the latter formed in the 1980s to fight the Israeli occupation in Lebanon. Sadr also founded a military organization known as the Mahdi Army, which took over many security and administrative functions in Shia areas.

U.S. officers have vowed to destroy the Mahdi Army, which has engaged the occupation forces throughout the country.

On April 12, as 2,500 U.S. troops surrounded Najaf, al-Sadr's stronghold, the Mahdi Army withdrew its forces from police stations and other public buildings it had occupied and its fighters, dressed in black, began disappearing from public view. This turn of events clarified the limitations of the support among Shiites that Sadr's forces enjoy. Most of the prominent Shiite clerics in the country have made it clear that, while opposing a U.S. assault on Najaf, they don't back the Sadr militia takeovers of Iraqi public buildings.

The tactic of taking dozens of hostages from various countries with occupying troops or other personnel in Iraq also seems to have backfired. The aim of the kidnappers was to force those governments to withdraw their forces from Iraq. As we go to press, however, none of the imperialist powers involved—from Rome to Tokyo—had taken such action, stating instead their ongoing commitment to keep their troops there. By April 12, the kidnappers had reportedly released seven South Korean missionaries and seven Chinese men who had been abducted earlier. Three Japanese civilians, a U.S. man, and other hostages continued to be held.

Bremer had announced April 5 that an arrest warrant for Muqtada al-Sadr has been issued by an Iraqi judge charging him with involvement in the killing of Sayid Abd al-Majid al-Khoei, a Shia cleric who returned to Iraq with the aid of U.S. forces following the overthrow of the Hussein regime.

In response to questions from the media about when and how the arrest order for al-Sadr would be implemented, Brigadier General Kimmit simply said, "You'll know."

"There will be no advance warning," added Dan Senor, a spokesman for Bremer.

Lt. Gen. Ricardo Sanchez, the top U.S. commander in Iraq, said April 12 that "the mission of U.S. forces is to kill or capture Muqtada Sadr."

Calls to deploy more U.S. troops
Some Democratic and Republican politicians, along with the liberal media, have been calling on the White House to send more U.S. troops to Iraq. "It could end up as another Vietnam if we don't get a hold of this situation now," argued Joseph Biden, the ranking Democrat on the Senate Foreign Relations Committee. Biden called on the White House to press the U.S.-dominated NATO alliance to send troops to Iraq.

Republican senator John McCain called on the Pentagon to deploy thousands of additional troops with specific skills, "particularly special forces, counterintelligence, and linguists," reported the Washington Post.

A few politicians and pundits argued that Washington might soon face a setback in Iraq and even face withdrawal, a conclusion rejected by Bush administration officials. The U.S. troop death toll has reached 647 since the March 2003 invasion of Iraq, with 70 killed the second week of April. The Iraqi death toll was about 700 the same week, according to the U.S military.

Referring to Iraqi police and soldiers, a commentator on the conservative Fox News television network said, "If these people won't help us, we need to get out in an orderly matter."

On April 5, the 620 troops of the Second Battalion of the so-called Iraqi Armed Forces being trained and organized by U.S. troops refused to go to Fallujah to support the U.S. Marines attacking the city. An article in the April 11 Washington Post said the unit was on its way to Fallujah when it was fired on while being driven in U.S. Army trucks through a largely Shiite neighborhood of northern Baghdad. It decided then to return to its barracks. The Post said that "large parts of the Iraqi security forces have stopped carrying out their duties."

Meanwhile, John Kerry, the virtually assured presidential candidate of the Democratic Party, urged the White House to abandon its pledge to transfer power to the Iraqi Governing Council at the end of June and to consider boosting the occupation forces. "I think the June 30 deadline is a fiction and they should never have set an arbitrary deadline, which almost clearly has been affected by the election schedule," Kerry said on National Public Radio (NPR). "I think they wanted to get the troops out and get the transfer out of the way as fast as possible without regard to the stability of Iraq," he told reporters later.

Kerry said he may advocate sending more troops to Iraq, according to the Miami Herald. "No matter what disagreements over how to approach the policy in Iraq," he stated later that day in a speech at Georgetown University to honor U.S. troops who have died in Iraq, "we're all united as a nation in supporting our troops and ultimately in our goal of a stable Iraq."

At an April 6 press conference with the secretary-general of NATO held in Norfolk, Virginia, Rumsfeld said that if his commanders in Iraq request more troops "they will get what they need." He said the number of U.S. troops in Iraq was already unusually high at 135,000 and that NATO, with about 6,500 troops already in Afghanistan, could deploy forces to Iraq. Rumsfeld added that he would be "delighted to see" NATO play a larger role in Iraq's occupation.

A week later, Gen. John Abizaid, commander of all U.S. forces in the Middle East, announced that U.S. troop strength in Iraq would be increased by about 10,000.


Related articles:
U.S. troops out of Iraq now!