lead article
Mass march in D.C. backs
women's right to choose


Militant/Argiris Malapanis

Turnout was massive for April 25 march in Washington, D.C., to support a woman's right to choose abortion.



BY LAURA GARZA
AND SAM MANUEL
WASHINGTON, D.C.—From early morning young women and men streamed in by the hundreds of thousands here on April 25, filling the mall between the Capitol and the Washington Monument. By the time they started marching in the early afternoon, they had made the March for Women's Lives the largest-ever demonstration in this country to support women's right to choose abortion.

Most experienced observers said the march approached one million. It was so large, however, that there was no way to know for sure. But most didn't care. Its massive character and spirit spoke for itself.

Wearing T-shirts with slogans such as "Stand Up for Choice" or "March for Women's Lives," demonstrators came on buses from Maine to Michigan and Colorado. Several thousand came on planes from as far as Florida, Washington state, and California. Many came by train, like the one chartered by sponsoring groups, which started in Boston and picked up demonstrators in New York, New Jersey, and elsewhere on the way to the U.S. capital.

"I believe women's reproductive rights are being threatened," said Tana Forrester, 20, a student at Northeastern University, who was making a sign with schoolmate Liz Ridge, also 20, at a send-off rally of 2,000 at the Boston Common on Saturday night, April 24. "Most people don't even know it's going on. We need to be visible." Forrester said 100 students from her school were marching.

Many similar send-off rallies took place around the country.

Cha Yeon, 24, from Gaithersburg, Maryland, who joined the National Organization for Women (NOW) two years ago, came with several friends. "Step by step they are chipping away at our rights," she said. "They may seem like little steps, like the UBVA, but really it is backlashing against women's rights. We say we believe it's your choice, go to church, don't believe in abortion or believe in abortion, it's your right. But in return respect our rights, our right to our choices as guaranteed under the Bill of Rights."

Yeon was referring to the Unborn Victims of Violence Act, a bill recently approved by Congress, which U.S. president George Bush signed into law April 1. The law grants legal status to a fetus, defining an "unborn child" as "a member of the species Homo Sapiens, at any stage of development, who is carried in the womb." The law also makes it a federal crime to harm or kill a fetus during the commission of another federal crime.

As thousands of demonstrators streamed in toward the mall from nearby subway stations, they faced a few hundred opponents of abortion rights who held placards with pictures of fetuses and slogans such as "Abortion kills children." Most contingents, especially of college students, confronted these bystanders—who were in their majority older men, including a small group of priests—with loud chants of "Choice! Choice!" and "Right to Life, your name's a lie! You don't care if women die!"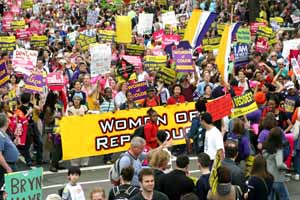 Militant/Argiris Malapanis

Contingent marching behind banner, "Women of Color for Reproductive Rights."


Pre-printed signs by sponsoring groups circulated in the thousands. But the number of hand-made signs and placards was striking. "My body is not public property," read a number. "Anti hanger, Pro Choice," said another sign, referring to the practice of using coat hangers to perform abortions when the procedure was illegal, which led to injuries and deaths of thousands of women. Many identified where they came from, like "Texas Grandmothers for Choice."

Quite a number of contingents were led off with the drumbeats of impromptu bands, dancing their way to the mall.

Among those leading off the march were representatives of the principal sponsoring groups, including Black Women's Health Imperative, National Abortion Rights Action League (NARAL), National Latina Institute for Reproductive Health, NOW, and Planned Parenthood Federation of America. Actors Whoopi Goldberg, Susan Sarandon, and Camryn Manheim were among the speakers. A host of Democratic Party politicians such as Senator Barbara Boxer and former Secretary of State Madeleine Albright also joined, with several speaking at the rally.

Speakers aim fire at Bush, back Kerry
Speakers at the rally aimed their fire entirely at the Bush administration. Most called on demonstrators to work hard to elect Democratic presidential candidate John Kerry in November, as the way to defend women's rights.

"We are determined to stop the war on women," said Eleanor Smeal of the Feminist Majority Foundation, citing recent actions of the Bush administration as the main threat. "We must overturn the gag rule," she stated, referring to an executive order Bush restored when he took office in January 2001. The order bars U.S. aid to overseas clinics or international groups that use their own money to support abortion counseling or access. "We must turn out the vote," Smeal said in ending her remarks.

"Tell Ashcroft to take his long rightwing arms off our privacy," said Gloria Feldt of Planned Parenthood, referring to attempts by Attorney General John Ashcroft to force clinics that have performed abortions to hand over records to the Justice Department. The government says it needs the records to enforce a new law that bans an abortion procedure known as intact dilation and extraction. The bill was demagogically named "Partial-Birth Abortion Ban Act."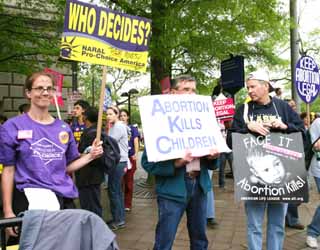 Militant/Argiris Malapanis

Demonstrator modifies her sign to counter handful of rightists standing on sidelines while hundreds of thousands march by to back women's right to choose abortion.


In a victory in the fight to defend abortion rights, a federal appeals court in Chicago rejected on March 26 the Justice Department demand for abortion records from Northwestern Memorial Hospital. The court ruled that turning over these records would violate the privacy of the women who had had abortions at the hospital. Legal challenges initiated by the National Abortion Federation, Planned Parenthood, and others to this anti-abortion measure began March 29 in three separate cases—in New York, San Francisco, and Lincoln, Nebraska.

"No CARB diet," was a popular slogan, with the initials referring to U.S. vice president Richard Cheney, Ashcroft, U.S. defense secretary Donald Rumsfeld, and Bush.

Senator Hilary Clinton was one of many Democratic Party politicians who spoke. "The last march helped elect a pro-choice president," she said. "If all we do is march today that will not change the direction this country is headed under this administration…. We have to vote."

"We didn't have to march for 12 long years because we had a government that respected the rights of women," Hillary Clinton said, boasting about her husband's presidency. "The only way we're going to be able to avoid having to march again and again and again is to elect John Kerry." The New York Times and other liberal dailies highlighted this remark.

The last major mobilization for abortion rights took place in April 1992, seven months before the election of William Clinton. No such national march was called during the Clinton presidency.

The claims by Democratic politicians notwithstanding, attacks on women's right to choose abortion—especially restricting access for working-class and farm women—have been pushed through by both Democratic and Republican administrations (see article in this issue).

While organizers pushed hard for mobilizing to elect Kerry, there was no enthusiasm among a sizeable number of demonstrators, especially youth, for the Democratic presidential candidate. "Kerry sucks less," was a typical comment, comparing Kerry to Bush, and expressing an attitude widespread among thousands.

There was no perspective offered by the organizers on what to do next to fight for women's rights, other than registering to vote and "pushing Bush out" in November. But the size and spirit of the demonstration showed the massive character of the support for a woman's right to choose abortion, indicating the immense difficulty all those trying to make abortion a crime once again will have to reach that goal.

In her remarks at the rally, Charlene Barrientos Ortiz cited the case of Rosie Jimenez, "The first victim of the Hyde Amendment," which was passed by Congress in 1976, she said, "that restricts Medicaid funds for abortions but will pay for sterilizations, imagine that." Today only 21 states provide funding for abortions, and some two-thirds of women annually pay for the procedure themselves.

The father and brother of Becky Bell also appeared briefly, encouraging the crowd to "Keep it up. No More Becky Bells!" Bell died in September 1988 in Indiana after seeking an illegal abortion to avoid having to comply with parental consent laws. These laws, which require young women to get permission from their parents to obtain an abortion, are now in effect in more than half the states. In addition, mandatory waiting periods in some states require women to wait up to 24 hours between "counseling" and an operation, which often means substantially higher costs for obtaining an abortion.

Larger participation by Blacks
A higher proportion of Blacks, especially young women, took part in the action than other previous marches for abortion rights. This was also reflected among the endorsers and the speakers at the rally.

Julian Bond spoke, for example, representing the National Association for the Advancement of Colored People (NAACP), one of the 1,400 endorsing organizations. It was the first abortion rights action the NAACP has officially backed.

Lisa Gay Hamilton, an actress who is Black and who helped emcee the morning rally, also spoke about the impact on Black women of restricting access to abortion.

The lack of access to abortion comes down the hardest on working-class women, and even more so on farm women. Only 13 percent of counties in the United States have an abortion provider today. In rural areas the figure is a bare 3 percent.

There was no major participation by unions at the march. Some national trade unions, such as the American Federation of State, County and Municipal Employees (AFSCME) and the United Food and Commercial Workers (UFCW) did endorse the action. UFCW and AFSCME individual union members from several states were seen here and there carrying signs identifying their union locals.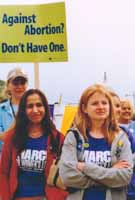 Militant/Hilda Cuzco

A popular sign at April 25 march


The march capped off a weekend of dozens of pro-choice activities in the city. Hundreds of young people, for example, took part in a Choice USA youth conference on Saturday, April 24, which was organized by social democratic forces around Gloria Steinem, a founder of Ms. magazine. A Latina Summit on Women's Health took place at the same time, featuring Latino politicians, mostly Democrats. During the plenary of that meeting, Alyson Kennedy, a coal miner from Utah, spoke about the strike of UMWA-organized miners in Huntington, Utah, that has lasted for seven months (see article on strike at Co-Op mine in Huntington in this issue). That evening thousands packed the D.C. National Guard Armory for the official march kick-off.

The largest contingents at the demonstration next day, mostly of young women, came from college campuses across the country.

Sara Rizak-Baer, an 18-year-old freshman, was among three busloads of students who came from Oberlin College in Oberlin, Ohio. The buses from that campus were organized by Students United for Reproductive Freedom and the ACLU.

"We signed people up through e-mail and on tables and by word of mouth," she said. "I am very pro-choice, and I fear it is becoming illegal. It is scary to think that [Supreme Court] justices can just overturn it. It makes me really question the checks and balances."

Support for the action extended across generations. Hanna Brathman of Chicago, 87, attended the rally along with her daughter and two granddaughters. Brathman, a long-time member of Planned Parenthood, said she didn't feel she could march but insisted on coming because "Bush is attempting to return women to the days of desperation." She recounted how the death of a childhood friend from an illegal abortion got her involved. "In the 1950s no hospital in Chicago would perform the abortion," Brathman said. "If abortion had been legal I am sure my friend would be here also."

Many spoke about the importance of fighting to reverse restrictions on abortion rights and extend access.

"It was awesome to be on the plane with so many people coming here," said Karen, Hana Brathman's granddaughter. It was the first march for her and her sister Lisa. "I'm really learning a lot," Karen said. "It's not just about the abortion itself. There are so many other related issues—cost of abortion, access. We have this right but it doesn't mean much if you can't afford it or you must travel hundreds of miles to get it."

Like most of those attending the demonstration Hanna, Lisa, and Karen thought that a woman's right to choose had been put in peril by the Bush administration. Some explained, however, that the most important thing is the struggle to defend women's rights, no matter who is in the White House. "Bush has to go," Hanna said, "but I have been around this issue a long time and it's not going to go away soon no matter who is elected."

Romina Green from Cleveland and Maggie Trowe from Boston contributed to this article.


Related articles:
A woman's right to choose
Democrats' record on abortion