lead article
U.S. torture of Iraqis
sparks worldwide outrage
Brutal, systematic abuse shows face of American imperialism


U.S. troops out of Iraq now! (Editorial)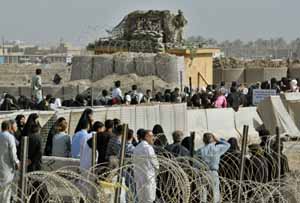 AP/Anja Niedringhaus

Iraqis gather May 2 outside Abu Ghraib prison near Baghdad, demanding to see jailed relatives, after news broke worldwide of degradation and physical abuse of Iraqi prisoners by their U.S. captors. Abu Ghraib is at center of scandal for the occupiers.



BY MARTÍN KOPPEL
AND SAM MANUEL
Revelations that U.S. military and intelligence personnel are involved in the routine torture of Iraqis locked up in prisons run by occupation authorities in Iraq have sparked widespread anger throughout the Mideast and worldwide.

After the appearance in the international media of photos of Iraqi prisoners brutalized by U.S. troops, the Pentagon brass announced that seven U.S. officers have been reprimanded and that six soldiers face criminal charges. No officers have been charged since the U.S. Army began an investigation four months ago into reports of mistreatment of Iraqi prisoners.

Government officials in the United Kingdom, faced with an outcry over photos depicting physical abuse of Iraqis imprisoned by British troops in Basra, Iraq, have promised "appropriate action" if they determine that the allegations are true. Occupation forces have locked up some 8,000 Iraqis in U.S. military prisons since Washington and London invaded Iraq last year and overthrew the government led by Saddam Hussein. The majority of the prisoners are civilians "picked up in random military sweeps and at highway checkpoints" following the invasion, according to a feature article by Seymour Hersh in the May issue of the New Yorker magazine. They have largely been subjected to indefinite detention with no charges against them. Most of the 8,000 are locked up at the Abu Ghraib prison near Baghdad, which was a notorious dungeon under the Hussein regime.

On April 28 the CBS program "60 Minutes II" showed photos it said were taken at the Abu Ghraib prison. The photos depicted naked Iraqi men stacked in a human pyramid, with U.S. soldiers standing nearby. One man had a slur in English written on his body. Another showed an Iraqi man who was reportedly forced to stand on a box for hours with a hood on his head and electrical wires attached to his body. He had been told that if he fell off the box he would be electrocuted.

A photo published in the Times of London showed a female U.S. soldier grinning and pointing at the genitalia of a naked Iraqi prisoner as if she was holding a weapon.

The London-based Daily Mirror published photographs of British troops beating and urinating on prisoners.

International outrage
The images, which have circulated internationally through the media, caused a public uproar in the Mideast and other nations with large Muslim populations.

"The very brutal actions of American soldiers, the systematic plan to torture Iraqis, to kill them, to rape them, is outrageous," said Iranian foreign minister Kamal Kharrazi, according to the May 4 International Herald Tribune.

His words echoed the response by newspaper editorials and politicians throughout the region. In Iraq, where the revelations sparked widespread condemnation, even members of the U.S.-appointed Iraqi Governing Council felt compelled to protest and demand a "full" investigation.

In face of the international outcry, U.S. president George Bush said April 30 he was "disgusted" at the reports of mistreatment of Iraqi prisoners and that any soldier found guilty of abuse would be punished. "That's not the way we do things in America," he claimed. British prime minister Anthony Blair said that if the photos of British soldiers abusing Iraqis proved genuine, he would "condemn it utterly."

Brig. Gen. Mark Kimmitt, spokesman for the U.S. forces, announced that seven commissioned and noncommissioned officers would be reprimanded, although their names and ranks will not be published. Six soldiers are being criminally investigated for involvement in the incidents. "We've got to demonstrate to the people of Iraq that we're taking swift action," Kimmitt said.

A classified U.S. Army report, copies of which were obtained in early May by several major U.S. newspapers, details some of the incidents of brutalization in the Abu Ghraib prison. The report, by Maj. Gen. Antonio Taguba, concludes that the problem was "lack of training" and "poor morale" by U.S. military police.

Brig. Gen. Janis Karpinski, who oversaw the U.S. military prisons in Iraq until quietly being suspended in January, defended herself by saying that soldiers had been pressed by army intelligence officers to "soften up" prisoners before interrogations. While the conclusions are a whitewash of the fact that such methods of torture and brutalization have long been a routine practice by U.S. and other imperialist occupation forces, the report does offer a graphic glimpse of such practices.

Pattern of torture and abuse
According to the New Yorker article by Seymour Hersh, a well-known liberal journalist, the Taguba report cites numerous instances of "sadistic, blatant, and wanton criminal abuses" of Iraqis committed by members of the 320th Military Police Battalion at the Abu Ghraib prison between October and December of last year:

"Breaking chemical lights and pouring the phosphoric liquid on detainees; pouring cold water on naked detainees; beating detainees with a broom handle and a chair; threatening male detainees with rape; …sodomizing a detainee with a chemical light and perhaps a broom stick, and using military working dogs to frighten and intimidate detainees with threats of attack, and in one instance actually biting a detainee."

The report notes that CIA officers and "interrogation specialists from private defense contractors"—companies that hire former CIA and other government agents—played a prominent role in running the torture and interrogation regime at Abu Ghraib.

Hersh quotes Staff Sgt. Ivan Frederick, a former prison guard from Virginia and one of the six soldiers now facing prosecution, who in a letter to relatives last November described the interrogation of an Iraqi prisoner under the control of the "OGA," or "other government agencies—the CIA and its paramilitary agencies." Frederick wrote, "They stressed him out so bad that the man passed away. They put his body in a body bag and packed him in ice…. The next day the medics came and put his body on a stretcher, placed a fake IV in his arm and took him away."

In other words, they tortured him to death and covered up the killing.

Hersh reports that the incidents of torture became public when one of the soldiers assigned to Abu Ghraib, Specialist Joseph Darby, became increasingly outraged and spilled the beans.

Since the international uproar over the torture of Iraqis by the U.S. military, numerous former prisoners have been quoted in the media giving similar graphic accounts of their own.

"Some Iraqis say Abu Ghraib is something of a sanctuary compared with what happens in other U.S.-run prisons around the country," a May 4 Reuters dispatch reported. It quoted Abdullah al-Dulaimi, who reported that he had been held in a U.S. detention center near the Syrian border for a month in January. Al-Dulaimi said that he and other prisoners were sodomized with sticks, and once he was placed in something called "the coffin," a wooden box too short to stand up in, for two days. "We were beaten, deprived of sleep, and humiliated," he said.

The human rights organization Amnesty International reported that the incidents of abuse of Iraqi prisoners by U.S. and British forces were not isolated. Nicole Choueiry, the group's Mideast spokesperson, said it had detailed "scores" of reports of mistreatment over the past year but the occupation authorities in Iraq had ignored them. "We have said there are patterns of torture," she said, referring to the U.S.-British forces. After the story broke on CBS on April 28, the Pentagon announced that Maj. Gen. Geoffrey Miller had arrived in Iraq to take charge of the U.S. military prisons. U.S. officials say he is well qualified for the job.

Miller was previously the commander of the U.S. prison camp at Guantánamo Bay, Cuba.

U.S.-backed force in Fallujah
Meanwhile, after a month-long siege of the Iraqi city of Fallujah, U.S. Marines pulled back from some of their positions in early May, giving the initial impression they would hand over some responsibility for day-to-day policing in the city to a new U.S.-approved force of several hundred Iraqis.

U.S. commanders announced May 3 that a former Iraqi general, Mohammed Latif, will lead the new Fallujah Brigade. As we go to press, however, the International Herald Tribune and other big-business dailies were running front-page headlines such as "Plan is put on hold for turnover of Fallujah."

Since early April, occupation forces have waged an offensive against combatants in Fallujah who have launched attacks on U.S. troops. Fallujah, a city with a majority-Sunni Muslim population, was a base of the Baath Party during the Saddam Hussein regime. It has been a center of armed opposition to the occupation.

As the Iraqi brigade began its operations in Fallujah, U.S. officers made it clear they will remain in charge. Brig. Gen. Mark Kimmitt, spokesman for the U.S. forces, said, "Any suggestion we're handing over responsibility or withdrawing is patently false," the New York Times reported May 1. Marines have remained at their positions in the Jolan neighborhood in the northwest part of Fallujah, where fighting between Marines and insurgents has been heavy. U.S. officials have said they are seeking to get the estimated 2,000 or so insurgents to give up their heavy weapons.

Initially Pentagon spokespeople announced April 30 that the Fallujah brigade would be headed by Jassim Mohammed Saleh, a former general in the Saddam Hussein's Republican Guard. That day, Saleh rode into the city wearing his old uniform with its crossed swords and eagle on the epaulets. He was cheered by hundreds of residents along the streets who waved the old Iraqi flag, the Times reported.

While some in the Sunni population may have been pleased by the naming of a former Hussein official, the appointment sparked protests by Shiite leaders, who accused Saleh of having taken part in the Republican Guard's bloody crushing of a Shiite uprising in March 1991, shortly after the 1990-91 U.S.-led war against Iraq. After urging the Shiites to revolt, Washington turned a blind eye to the Hussein regime's suppression of the rebellion.

Following the uproar from Shiite leaders, Washington chose another ex-general, Latif, to lead the force. "Unlike Saleh," a Reuters article reported, "Latif appears to have anti-Hussein credentials…. An intelligence officer, he was exiled under Saddam and may have spent time in prison." Saleh may remain as a battalion commander in the brigade.

The appointment of former Iraqi generals is part of an effort by U.S. officials to recruit experienced officers who served under the Hussein regime. Two others have been tapped to serve as chief and deputy chief of staff of a new national Iraqi armed force that is to consist of 35,000 soldiers.


Related articles:
U.S. troops out of Iraq now!