lead article
Venezuelan gov't arrests
Colombian coup plotters
Mass protest denounces U.S.-backed plan to oust gov't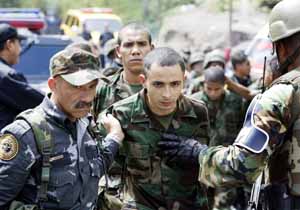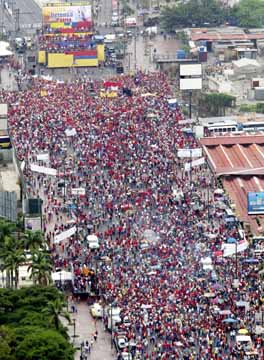 Reuters/Jorge Silva (top); Howard Yanes (bottom)

Colombian rightists (top) arrested May 9 by Venezuelan army outside Caracas. Venezuelan government said they were planning a coup. Hundreds of thousands marched in Caracas May 16 (bottom) to protest U.S.-backed campaign to oust President Hugo Chávez.



BY MARTÍN KOPPEL
AND MARION TALBOT
CARACAS, Venezuela—In a huge march that snaked through the streets of this capital city for more than four hours, hundreds of thousands of people, overwhelmingly workers, turned out May 16 to protest "foreign intervention and paramilitaries in Venezuela."

In a sea of signs and banners, many of them hand-made, marchers aimed their fire at the presence of Colombian rightist troops in Venezuela and Washington's support to the wealthy opposition forces seeking to oust the elected government headed by President Hugo Chávez.

Two days earlier, Defense Minister Jorge García Carneiro reported that since May 9 authorities here had arrested more than 100 Colombian soldiers, disguised as "paramilitaries," as well as three Venezuelan military officers. They were accused of involvement in a plot to bring down the government organized by sections of the U.S.-backed opposition.

García Carneiro also reported that the U.S. military mission in the country, providing military attachés to the Venezuelan armed forces, had been ordered to vacate its offices in the Fort Tiuna military base before May 25.

In a related development, the president of Venezuela's National Electoral Council (CNE) threatened to expel representatives of the U.S.-dominated Organization of American States (OAS) and of the Carter Center, a group run by former U.S. president James Carter. These self-proclaimed "observers" are here to back the efforts by the Coordinadora Democrática opposition coalition, so far unsuccessful, to stage a recall referendum to oust the Chávez government. The CNE head accused the foreign "monitors" of intervening on the side of the opposition, and said sharp limits on their activities will be imposed if they are allowed to stay.

As part of rationalizing Washington's escalating offensive against Venezuela and Cuba, U.S. government officials have claimed recently that Cuban advisors are being placed in key positions in government ministries and in the Venezuelan intelligence services.

Speaking to the crowd at the conclusion of the march, Chávez said, "I'm calling for the massive integration of the people into the defense of the nation." This is in addition to steps by the government to expand the size of the regular army and reserves. The Venezuelan president announced that retired and reserve officers would be named to head up a campaign of military training "in every neighborhood, field, university, and factory for the territorial defense" of the country. He said such a step was provided for in the Venezuelan constitution.

Sharpening confrontation
Many demonstrators interviewed by the Militant pointed out that the U.S. government has been escalating its campaign of threats against Venezuela. Through Plan Colombia, which funnels billions in aid to the Colombian military, Washington has encouraged the Colombian army to carry out provocative maneuvers near the Venezuelan border.

Several of those interviewed at the march said they wanted the government to organize them into military defense in response to U.S.-backed threats against their country and the political and social gains they have won over the past five years.

"I attempted to sign up as a reservist, but the waiting list was too long. I want to receive military training to defend our country, and many other people feel the same way," said María Roa, a worker at the Venezuelan oil company, PDVSA, who took part in the march.

The sharpening confrontation between most capitalists here, who have Washington's support, and working people in Venezuela is intertwined with the latest moves by the U.S. government to tighten its four-decade-long economic war against revolutionary Cuba (see article on front page). One target of the U.S. rulers' offensive is the fact that Cuba has sent thousands of doctors, teachers, agricultural technicians, and other volunteers to Venezuela.

Major sections of the capitalist class in Venezuela, backed by Washington, are determined to remove the Chávez government because of policies—such as a land reform law, a measure strengthening state control of Venezuela's oil resources, and legislation protecting small fishermen from exploitation by large fishing firms—that the domestic capitalists and their imperialist backers view as a threat to their prerogatives. They are also concerned about the internationalist volunteers that Cuba has offered Venezuela to boost the nationwide literacy campaign and offer quality medical service to workers and peasants through free neighborhood clinics across the country staffed by volunteer doctors from Cuba.

Over the past three years workers and farmers have carried out large mobilizations that have defeated three efforts by bourgeois forces to remove the Chávez government—a military coup in April 2002, a bosses' lockout launched in December 2002, and more recently an effort to hold a recall referendum against the elected president. Through these struggles Venezuelan working people have gained self-confidence and heightened expectations.

Arrests of 'paramilitary' troops
On May 9 the police arrested 53 Colombians wearing Venezuelan army uniforms at a ranch on the outskirts of Caracas that is owned by Roberto Alonso, a wealthy Cuban exile. Alonso's ties to the proimperialist opposition in Venezuela and to Cuban-American rightists in Florida are well-known. Over the course of the week the total number of arrests surpassed 100; most of those apprehended face trial before a military tribunal on charges of military rebellion.

Venezuelan officials said the individuals arrested had been undergoing military training at the ranch after they secretly entered Venezuela in March. In a May 14 press conference, Chávez said that among the arrested were Rafael Omaña and José Ernesto Ayala, two commanders of Colombia's banned ultrarightist group United Self-Defense (AUC), who led forces near the Colombia-Venezuela border.

The term "paramilitary" is widely used in Colombia and elsewhere to describe these forces. This is done in order to hide the fact that these are simply units of Colombia's military spun from the army to have a freer hand to carry out killings of peasants and other atrocities, while letting the right-wing government save face publicly.

Chávez said many of those arrested were workers or peasants who had been duped into entering Venezuela with promises of work. A few, he said, were minors.

Defense minister García Carneiro said that 13 Venezuelan military officers had been ordered to appear in court over their possible ties to the plot.

The Venezuelan president said May 15 that "most of the opposition had nothing to do with" this case.

Leaders of the opposition, however, dismissed the arrests. They claimed they were simply a ruse to divert attention from their recall campaign.

Chávez stated that the plot originated with right-wing Venezuelans living in Miami and that the U.S. government knew about it, an accusation U.S. officials denied. "There are people in the United States who keep thinking of how to start a war in Venezuela so that they can justify an invasion," Chávez said.

The U.S. ambassador to Venezuela, Charles Shapiro, said the arrested Colombians "are international terrorists just like the Revolutionary Armed Forces of Colombia," referring to the antigovernment guerrilla group FARC.

U.S. military attachés expelled
On May 12 the Venezuelan government ordered a U.S. military mission to vacate its offices at the Fort Tiuna base within two weeks. In 2001 the government had issued the same order but U.S. officials did not move. U.S. officers have been in Venezuela supposedly to advise on antidrug operations and training Venezuelan pilots flying U.S.-made F-16 fighter jets. Asked by reporters why the new order had just been issued, García Carneiro said, "Because they are still there."

To justify Washington's campaign against the Venezuelan government, U.S. officials have declared that Cuban advisors are being placed in key positions in government ministries. The May 8 Miami Herald quoted an unnamed U.S. State Department official, who said, "We see a very worrisome spread in Castro's infiltration of Venezuela under Chávez." The Herald cited unnamed officials claiming that Cuban advisors are now in Venezuela's secret police, DISIP, the Interior Ministry, the Central Bank, and the immigration service.

In response to the sharpening confrontation between the U.S. rulers and Venezuela, the president of the National Electoral Council, Francisco Carrasquero, threatened to expel foreign election "observers"—representatives from the Carter Center and the OAS—from the country. Carrasquero stated that, far from being neutral, these "experts" were taking the side of the proimperialist opposition's efforts to stage a recall referendum against Chávez. Both the OAS and the Carter Center have representatives in Venezuela.

Carrasquero noted that the so-called monitors had falsely declared on May 12 that individuals who signed petitions to demand a presidential recall referendum would not be able to withdraw their signatures during the scheduled May 27-31 process of "repairs."

Last December, opposition leaders delivered 3.4 million signatures to demand a referendum; they needed 2.4 million. The elections council announced that only 1.8 million signatures were valid, leaving the opposition about 600,000 short of the requirement.

In a final gasp for the recall campaign, which until now has largely fizzled, a procedure was established to determine the legitimacy of the signatures that were filled out by people other than the signer. Between May 27 and 31, nearly 900,000 Venezuelans will have the opportunity to verify their signatures. If they do not, their names will be declared invalid on the recall petition.


Related articles:
Massive march in Havana protests new U.S. government sanctions against Cuba
Steelworkers end strike in Venezuela
Defend Venezuela! Defend Cuba!