(lead article)
Moscow reinforces Georgia occupation
Recognizes 'independence' of regions as cover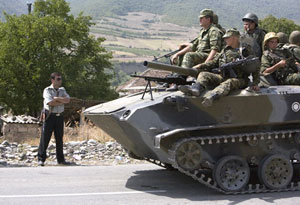 Reuters/Adrees Latif
Russian troops on an armored personnel carrier pass Georgian policeman at checkpoint inside the Georgian region of South Ossetia. Thousands of Russian troops occupy a "buffer zone" miles deeper into Georgian territory.


BY SETH GALINSKY
Russian president Dmitri Medvedev signed decrees August 26 formally recognizing the "independence" of the Georgian regions of Abkhazia and South Ossetia, a pretext for the continued occupation of Georgian territory by Russian troops. The Russian parliament unanimously approved a similar motion the previous day.

The Russian military easily defeated the Georgian army in five days of unequal combat at the beginning of the month. Moscow cynically claimed it acted in defense of the rights of Abkhaz and Ossetians.

"Russia's historic role of the guarantor of peace in the Caucasus has increased," Boris Gryzlov, speaker of the lower chamber, said with an almost imperial arrogance. "The Caucasus has always been and will remain the zone of Russia's strategic interests."

U.S. president George Bush demanded that the Russian government reverse course and guarantee the "territorial integrity" of Georgia.

On top of the troops it has in South Ossetia and Abkhazia, Moscow says it will keep 2,500 soldiers in the rest of Georgia. It also says it will set up 18 checkpoints in a "buffer zone" around the two regions, meaning that a large swath of Georgia will continue under direct Russian military control.

While Russian troops have left some positions and no longer occupy Gori, for example, they maintain a stranglehold on the city. Russian forces have also constructed an outpost just north of the Black Sea port of Poti.

"Poti is not in the security zone," Anatoly Nogovitsyn, deputy chief of the Russian general staff, told RIA-Novosti. "But that doesn't mean that we will sit behind the fence and watch as they drive around in Hummers."

The "security zone" is part of the cease-fire agreement that was forced on Georgian president Mikhail Saakashvili, with the aid of Paris and Washington, when the Russian army occupied close to one-third of Georgian territory. The accord does not call for removal of Russian troops from Georgia; instead it says they should withdraw to positions they held prior to August. It allows them to stay in a "security zone" some three miles outside the South Ossetia and Abkhazia boundaries.

South Ossetia paramilitary forces
South Ossetian paramilitaries looted homes and killed Georgians while Russian soldiers stood by.

According to the Moscow Times, the plunder was still continuing in Kekhvi as of August 25. Every house in this Georgian town in South Ossetia has been burned down and most of its residents fled when Russian troops advanced in early August.

"This is not looting, this is trophies," Garik Meriyev, a South Ossetian wearing camouflage pants, told the Moscow-based daily.

The London Independent reported August 12 that hundreds of Ossetian "volunteers" were recruited from North Ossetia and given assault rifles and $400 once they signed up.

Dozens of cars filled with militiamen traveled through the Roki Tunnel, which leads from North to South Ossetia, interspersed with a column of hundreds of Russian troops and tanks.

With the help of Russian troops, South Ossetian militia armed with Kalashnikovs took over Akhalgori, a 45-minute drive from Tbilisi on August 16. The town made up of Georgians, Ossetians, Armenians, and a handful of Russians had lived together for years under the Georgian government, but now the Georgians have fled.

"This used to be our territory," the captain of the South Ossetian forces said. "And this will be our territory in the future."

Moscow hopes to maintain its chauvinist domination of Georgia and to send a message to other former Soviet countries with its easy victory, in spite of the deteriorated state of the Russian military.

Moscow, Kiev naval fleet dispute
Moscow expects that Ukrainian president Viktor Yushchenko will pay attention. Yushchenko traveled to Tbilisi to show support for Georgian president Saakashvili and said he would ban Russian warships from returning to the Black Sea port of Sevastopol, in the Crimea region of Ukraine, where the Russian fleet is based. But the Ukrainian president's order was countermanded by Yuriy Yekhanurov, the country's defense minister, who later said the Russian ships could come and go as they please.

After the breakup of the Soviet Union in 1991, Moscow took the lion's share of the Black Sea Fleet—81.7 percent of the ships. Kiev got the rest.

In 1997 Kiev conceded to a 20-year lease on the port with Moscow. Yushchenko now says he will not renew it.

The first Russian ship involved in the attack on Georgia returned to Sevastopol August 22 and was greeted by local pro-Moscow organizations. Most of the residents of the port are Russian.

On August 23, Yushchenko presided in Kiev over the first military parade there in years, including tanks, armored personnel carriers, and missile launchers, to celebrate 17 years of independence from the Soviet Union.

NATO-Moscow relations on hold
After Washington protested Moscow's "disproportionate" invasion of Georgia, U.S. officials warned there would be "consequences." Washington and Moscow had been cooperating through U.S.-led NATO.

Joint projects have included occasional participation of Russian warships in NATO "counterterrorism" patrols in the Mediterranean Sea, sharing information on combating the Taliban in Afghanistan, and developing anti-missile technology.

At U.S. insistence the planned Russia-NATO naval exercise in the Pacific Ocean with U.S., British, and French participation was cancelled. Washington also barred Moscow from a joint "anti-terrorist" operation called Active Endeavor.

The Russian government announced that it intends to freeze all military cooperation with NATO. One casualty: a not yet implemented April agreement that would allow supplies and equipment to U.S.-led forces in Afghanistan to pass through Russia and former Soviet republics in Central Asia. Currently 70 percent of the supplies come from Pakistan via the Khyber Pass and much of the rest through Russian airspace.

A U.S. Navy destroyer carrying about 55 tons of baby food, diapers, milk, toilet paper, paper plates, and bottled water reached Georgia's Black Sea port of Batumi August 24. Washington has sent several ships and planes with humanitarian aid to Georgia over the last several weeks. The U.S. embassy in Tbilisi said that on August 27 U.S. ships with aid will dock at Poti, which is under Russian control.