After 15-year struggle at N. Carolina plant
Meat packers win union at Smithfield
(lead article)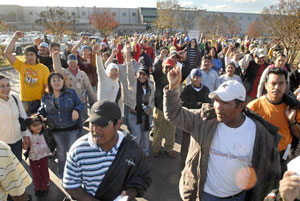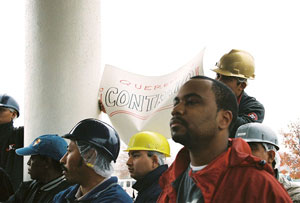 AP (left)
Workers protest outside Smithfield plant in Tar Heel, North Carolina, Nov. 17, 2006, against firing of immigrants for allegedly using false documents. Right: June 26, 2008, pro-union rally in Tar Heel.


BY TIM MAILHOT
AND NED MEASEL
TAR HEEL, North Carolina, December 11—After a decade and a half of struggle and two previous elections, workers at the giant Smithfield Packing hog slaughter plant here scored a victory today. By a vote of 2,041 to 1,879 they voted to be represented by the United Food and Commercial Workers (UFCW) union. The vote was held inside the plant over two days, with more than 80 percent of the workers casting ballots.

Many former and current workers said in interviews that the pace of work and lack of respect by bosses were the biggest issues. "They have 20 people on a line cutting meat, but only two packers. We can't keep up," said Alicia Rascoe, who has worked in the plant 10 months on the cut floor packing line.

René Hernández, 19, said he has worked four months pulling fat from 17,000 hogs a day together with three other workers. "They used to have someone relieve us so we could go to the bathroom," Hernández said, "but now they don't do that. So whenever one of us has to leave, three have to do the work of four. It's too fast." He noted that supervisors sometimes make workers do jobs even when they are injured. He added, "There's a lot of racism in the plant" on the part of bosses.

"We are thrilled. This moment has been a long time coming. We stuck together, and now we have a say on the job." said Ronnie Ann Simmons, quoted in a UFCW press release. She has 13 years' seniority.

Lemuel Heslip, who has worked 10 months in the plant, told the Militant, "I'm excited to see what it's about. My dad always said you need a union. He was in the union for 25 years at the post office."

Heslip also pointed to the importance of unity among the workers. "This vote isn't about Smithfield, it's about the workers coming together. It's a challenge." He described how the company tries to divide workers. "They organized one meeting for us who speak English and another for the Latinos. Who knows what they were told? We need unity." Heslip works on the conversion loin packing line.

The union organized house meetings and leafleting in the plant. Some workers gave speeches in the lunchroom and in the days leading up to the vote, some wrote "Union Time" on their hard hats, the New York Times reported.

The organizing victory has been closely followed by other workers. At a gas station near the plant, Jerome Purdie, a truck driver, said, "The union is a good thing. Someday I may have to work there!"

This is the third time a union representation vote has been held in the plant, which opened in 1992. Workers' efforts to organize there go back more than 14 years.

Union elections were held in 1994 and again in 1997, amid what workers said was widespread company intimidation, including beatings and arrests of union supporters, spying on union activists, confiscation of union materials, and harassment by the company's own in-plant police force.

The results of both elections were thrown out in 2006 by a federal court. This year in October the way was cleared for the latest secret ballot election when the company agreed to drop its racketeering lawsuit against the union. In return, the UFCW agreed to end its national "Justice at Smithfield" campaign. Smithfield claimed the union had caused losses of $900 million by organizing rallies and calls for a boycott of their products.

Workers' increasing confidence
In recent years workers at the Tar Heel plant have demonstrated increasing confidence to stand up to company threats. In January 2007 more than 4,000 signed a petition demanding that Martin Luther King Day be a paid holiday. Hundreds took the day off despite company threats of disciplinary action. The company backed down.

In November 2006 about 1,000 workers marched out of the plant to protest the firing of several dozen coworkers accused of working with false papers. The protest ended when the company agreed not to discipline those who walked out and to allow those fired to return to work with more time to verify their legal status.

In reaction to more aggressive enforcement of immigration laws, about 1,500 Latino workers quit their jobs, according to the New York Times. In recent years the percentage of workers who are Black in the plant has increased from about 20 percent to 60 percent.

The plant is the largest hog slaughterhouse in the world. It employs about 4,650 workers and processes up to 32,000 hogs a day.

Smithfield Foods, the parent company, recently reported a 76 percent drop in earnings for its second fiscal quarter from $17.4 million last year to $4.2 million this year.

North Carolina has the lowest rate of unionization of all states at 3 percent.


Related articles:
Workers in Chicago celebrate sit-in victory
Long Island cops cover up anti-immigrant attacks
300 protest thug killing of Ecuadoran in N.Y.