(front page)
African refugees in Israel
protest indefinite detention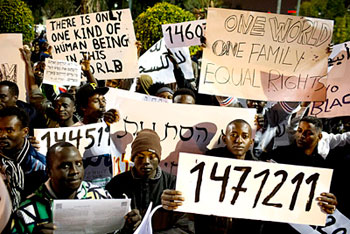 Oren Ziv, Keren Manor/Active Stills
Israeli government passed law in December allowing indefinite detention of African immigrants in "open" jails. Thousands of Eritrean and Sudanese protest Dec. 28 in Tel Aviv. Numbers refer to practice of identifying incarcerated refugees by number, instead of name.


BY LEA SHERMAN
Tens of thousands of Africans, mostly from Sudan and Eritrea, have been demonstrating in Israel against the indefinite imprisonment of African asylum-seekers, denial of visas and other measures designed to force them to leave the country.

The wave of protests began in mid-December. On Jan. 5, in the largest action yet, some 30,000 refugees and their supporters demonstrated in Tel Aviv on the first day of a three-day strike by Sudanese and Eritreans, who work mostly for restaurants, cafes, hotels and janitorial companies. The next day 10,000 protested in front of the U.S. Embassy, United Nations offices and other embassies. They chanted "We are refugees," to bring international attention to their fight.

"Feeling insecure most of the time, not knowing if the government will deport or imprison, one cannot make any decisions in life," Sudanese refugee Mohamed Adam Salih said in a phone interview from Arad, Israel, Dec. 29. "Before the demonstrations the media only focused on crime by Africans, now Israelis learn about the civil war and other conditions that we face, and when they see these actions they start to listen."

In September the Israeli Supreme Court ruled that a law allowing the detention of Africans or asylum-seekers for up to three years without a trial was unconstitutional and that 2,000 Africans held in Saharonim prison must be freed within 90 days. Fewer than half have been released.

On Dec. 10 Israel's parliament passed a new law allowing refugees to be held indefinitely in a prison that is "open" during the day and, if they violate the rules there, to be jailed for up to a year in a closed prison.

The Holot prison opened in December in the Negev Desert next to two "closed" prisons — Saharonim for African immigrants and Ketziot for Palestinians. Because Holot is not locked during the day it is called "open," but it is surrounded by barbed wire, fences and guards. Detainees must be present at roll call three times a day, cannot work and are forbidden to leave from 10 p.m. to 6 a.m. The nearest city is Beersheba, 40 miles away.

On Dec. 12 some 500 of those detained in Saharonim were moved just a few hundred yards away to the Holot prison.

Even after the Supreme Court ruling, when Eritreans and Sudanese try to renew their visas they are being ordered to report to Holot.

On Dec. 15 some 150 left Holot to protest outside government offices in Jerusalem. Traveling over the next couple days, they walked more than 60 miles, in freezing temperatures. Their number grew to 220.

"They decided to take action to confront the government when they got word that they might have to stay indefinitely," Moran Mekamel, 29, a Jewish citizen of Israel and organizer of Students for Refugees, told the Militant from Beersheba Dec. 29.

Mekamel said she joined the Africans at Beersheba's bus station where they gathered on their way to Jerusalem.

"Many of the marchers did not have winter clothes, some came in flip flops, " Mekamel said. "They had already been on a three-day hunger strike. They discussed and debated whether to continue on to Jerusalem in the frigid weather. They decided to walk the additional 45 miles."

Supporters, including Israeli Jews, brought warm clothes, food and other necessities to the bus station in solidarity with the protesters or joined the march, she said.

"Five buses with 250 Africans drove the last leg to the government offices," said Mekamel. "We were met at the prime minister's office by supporters with signs, including 'We're a nation of refugees.'"

The 53,000 African refugees in Israel entered through the Sinai desert in Egypt between 2005 and 2012. They were granted conditional visas that have to be renewed at least once every three months, but are not allowed to work legally or receive government welfare benefits. A steel fence was built around the border in 2012 and only a handful of asylum-seekers got to Israel in 2013. While the Israeli government has so far honored international conventions that prevent their forcible deportation, it has tried to force them to go "voluntarily," demonizing them by calling them "infiltrators" and criminals, and offering $3,500 to leave.