(lead article)
Las Vegas construction
workers strike for safety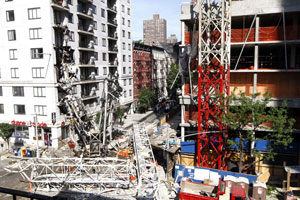 Reuters/Chip East
Rubble from May 30 crane collapse in New York. "Construction is a dangerous business," said the city's mayor, Michael Bloomberg. Construction workers said the bosses, in their drive for profit, pressure them to work under increasingly dangerous conditions.


BY SAM MANUEL
Union construction workers in Las Vegas held a one-day strike June 2 after a crane oiler was killed on the job. Dustan Tarter, 39, was crushed between the crane's counterweight and track May 30.

Tarter became the sixth worker to die on the 66-acre MGM Mirage's CityCenter project run by the Perini Building Company. In all, 11 workers have died on construction sites in Las Vegas in the last year and a half.

MGM spokesman Alan Feldman blamed Tarter, saying his death is "a very tragic reminder of the need for all workers to follow safety rules."

Workers say the company has been pushing to complete work on the $9.2 billion complex, which has a 4,000-room hotel-casino, condominiums, boutique hotels, and an entertainment center. It is scheduled to open in 2009.

"We have the most dangerous work on the site—no ifs, ands or buts," an ironworker who declined to give his name told the city's KLAS-TV. "We're all behind this," he said of the strike. "Whatever has to be done to stop men dying continuously."

Union members returned to work after the company agreed in talks with the Nevada Building and Construction Trades Council to increase safety training and allow union officials full access to work sites at all times.

State safety regulators found that a pattern of company safety violations contributed to deaths on a number of sites in the city, the Las Vegas Sun reported in March. Among them were inadequate training, use of faulty equipment, and failure to cover holes in decking or provide temporary floor or nets beneath work areas. Many of those findings were later overturned in informal conferences between the companies and the state Occupational Safety and Health Administration. The workers were blamed instead.


Related articles:
New York crane collapse kills two more workers
Parents protest poor construction of schools after deadly China quake
11th coal miner killed on job
No construction worker has to die!