PITTSBURGH — On June 19 East Pittsburgh Police Officer Michael Rosfeld stopped a car he suspected of being involved in an earlier drive-by shooting. As he handcuffed the driver of the vehicle, an unlicensed taxi, the two other occupants got out and started running. Rosfeld opened fire without warning, hitting Antwon Rose Jr., a 17-year-old African-American, three times in the back.
An eyewitness who recorded the incident on her cellphone put the recording online, and in less than a day it had been viewed over 90,000 times. In the video you see Rosfeld act as judge, jury and executioner. The Allegheny County Medical Examiner ruled the killing a homicide.
The Allegheny County District Attorney's Office arrested and charged Rosfeld with criminal homicide June 27. He was released after posting $250,000 bail.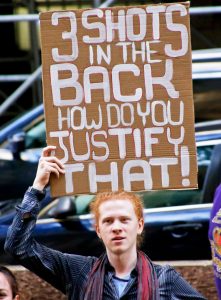 Since the shooting there have been demonstrations every day — drawing up to 1,000 protesters — demanding Rosfeld face charges. Rosfeld was a new-hire, having been sworn in just hours before he killed Rose. He had been let go by the University of Pittsburgh police for discrepancies in arrest reports he filed.
Protesters marched through many areas here, blocking roads and having spirited discussions with those along the route of the actions.
The only time protests were suspended was for the visitation and funeral, at the request of the family.
Interviewed by ABC's TV show "Good Morning America," Michelle Kenney, Rose's mother, said the police "murdered my son in cold blood." His father, Antwon Rose Sr., praised the protesters, saying, "Keep fighting. Do it peacefully."
"Three shots in the back, how do you justify that?" was one of the most popular chants. Protesters sang an expanded version of the labor and civil rights song "Which side are you on?" that takes up police murders.
At one point on June 22, marchers made a large circle and every 17-year-old was asked to step into the middle. "This is what a 17-year-old looks like," said one protest leader. "How old was Antwon?"
The crowd responded, "17."
Many others who have experienced brutality at the hands of the Pittsburgh police joined the actions. Leon Ford Jr., who was shot and paralyzed by a detective in 2012, led several protests. "Being a survivor of police brutality, I need to be here," Aaron Strader, 30, told the Militant. Strader suffered permanent damage to his hand, spent four days in jail and lost his job after he was beaten by two cops for refusing to put his dog in his house in 2016. "A victory for Antwon will be a victory for us," he said.
Rose's funeral filled the auditorium at Woodland Hills Intermediate School, where he had been an honors senior. His mother put her hands on the shoulders of two of his friends, who read a poem he wrote in 2016 that has been read at protests and printed in the press.
"I see mothers bury their sons/ I want my mom to never feel that pain/ I am confused and afraid," he wrote. "I dream of life getting easier/ I try my best to make my dream come true/ I hope that it does."
Nationwide, cops have shot and killed at least 491 people in 2018 so far, the Washington Post said June 21. At least 90 of those — 18 percent — have been Black.
Supporters of the cops tried to sow confusion by asking, "Why was Rose running away?" as if that would somehow mean he was guilty of something. "That should be the last question they ask," Matt Geyer, who worked with Rose at a pizza shop, told the Post-Gazette. "We know why from the poem he wrote."