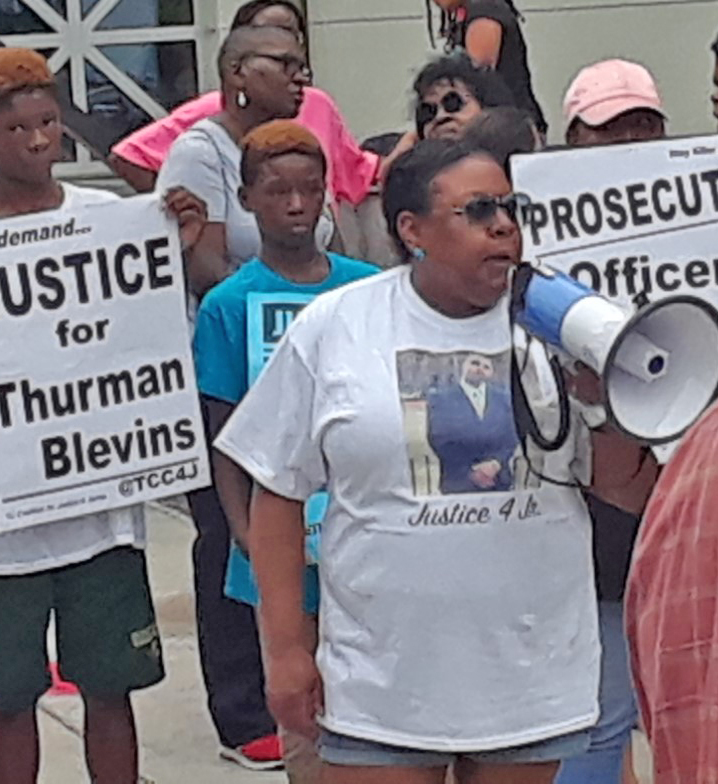 MINNEAPOLIS — Some 60 people turned out in front of the 4th Police Precinct July 1 together with Melinda Blevins, speaking, in demanding charges be filed against the two Minneapolis cops who shot her cousin, Thurman Blevins Jr., and that body camera footage be released.
Blevins was killed June 23 after cops responded to calls saying that someone was firing a gun into the air and the ground. Officers Justin Schmidt and Ryan Kelly chased Blevins and shot him in a nearby alley, claiming that he had a pistol. Witnesses said that Blevins was holding a bottle, not a gun.
"He didn't ever get the chance to even say, 'Look, I don't have anything,'" his sister Darlynn Blevins told the media. "Nothing. They just killed him with multiple shots."
Another of Blevins' relatives told the rally that they "want to see results from all of this. He didn't deserve to be shot down like that." The rally was called by Twin Cities Coalition for Justice for Jamar, formed after the 2015 killing of Jamar Clark by cops from the 4th Precinct.
Protesters are also demanding an independent investigation. Currently police shootings are investigated by the Minnesota Bureau of Criminal Apprehension.