The Socialist Workers Party announced its slate of national candidates July 25, asking working people, farmers and youth to join them in campaigning for a working-class road forward out of the crises-ridden capitalist system. Those joining will campaign from within the labor movement with workers who have decades of experience of union battles and social struggles.
The party released the accompanying statement explaining how the SWP campaign takes place as historic changes in capitalist rule are unfolding today. Below we give a picture of some of the party's candidates.
"We invite workers and youth to join us knocking on doors in cities, towns and farming areas, discussing how we can rebuild the labor movement and forge the unity that is necessary for us to fight effectively," said Alyson Kennedy, candidate for U.S. Senate in Texas. "We will join workers' picket lines, fights to defend abortion rights, actions demanding prosecution of killer cops and protests against deportations, calling for amnesty for undocumented immigrants."
Kennedy was the party's presidential candidate in the 2016 elections. She was among the first wave of women who broke the barriers that coal bosses used to exclude women from underground mining jobs. She has been part of numerous United Mine Workers union battles in the coalfields, from West Virginia to Alabama to Utah. From 2003 to 2006, she was among those in the front ranks of a union-organizing battle at the Co-Op coal mine outside Huntington, Utah. The miners there, a majority immigrants from Mexico, fought for UMW representation to win safe working conditions, an end to abuse by the bosses and improved wages.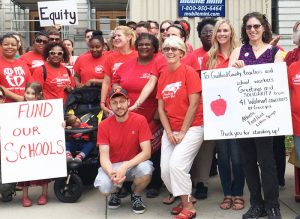 Kennedy joined the teachers on strike in Oklahoma this spring — part of a wave of battles across the country —  and the July 12 rally in Columbus, Ohio, where more than 10,000 union miners, Teamsters, bakery workers and others rallied to demand that the government fund their pensions.
In April, Kennedy was one of the speakers at a conference in Havana, discussing the conditions for the working class in the U.S. and why the rulers have begun to fear working people for the first time in decades.
Osborne Hart, who works at Walmart in Philadelphia, was Kennedy's running mate in 2016 and is the SWP candidate for U.S. Senate from Pennsylvania.
Hart got involved with the civil rights movement as a teenager and has since been a fighter for Black rights, joining struggles against school segregation and police brutality. He was active in the 1970s in the movement to end Washington's war against the peoples of Vietnam.
Hart campaigned for the freedom of Oscar López, a Puerto Rican independence fighter framed up and jailed by the U.S. government for 36 years. He traveled to Puerto Rico in 2017 to extend solidarity to workers there fighting to end Washington's colonial rule, and was in San Juan when López was released. Hart spoke along with him last year at the U.N. Commission for Decolonization, calling for Puerto Rico's independence.
Hart has joined the fight for amnesty for undocumented workers, protests against deportations and backed efforts to organize the unorganized wherever they are from. Recently he joined demonstrations in New Brunswick and Trenton, New Jersey, demanding driver's licenses for immigrants.
He joined the SWP in 1975 and has been part of helping to build and strengthen the labor movement since.
For working-class unity
In April, Laura Garza, a rail worker in Los Angeles running as the SWP candidate for California governor, went to the town of Barstow after cops killed Diante Yarber, a 26-year-old African-American, firing some 30 shots into his car. Garza brought solidarity and support to the protests that young workers took the lead in organizing.
"The fight for Black rights and to overthrow Jim Crow segregation in the 1950s and '60s transformed the working class in the U.S.," Garza said. "It broke down barriers and advanced the solidarity and unity of all workers. There is less racism today than at any other time in U.S. history.
"The capitalist rulers try to break down that working-class solidarity. And they try to intimidate African-Americans with their cops, courts and prisons," she said. "The fights against cop brutality and police killings across the country are a key fight for the working class."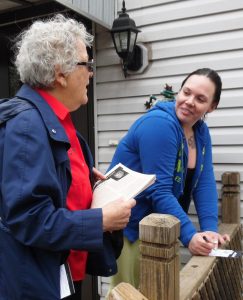 Garza is a veteran of union struggles and has run on Socialist Workers Party tickets several times. As candidate for U.S. vice president in 1996 she went on a fact-finding tour to Northern Ireland and joined actions against sectarian marches through predominantly Catholic neighborhoods.
Harry D'Agostino is a member of the Albany branch of the SWP and the party's candidate for New York lieutenant governor. He works as a musician and plays with the band Upstate. He is a strong supporter of women's right to choose abortion and has done clinic defense regularly for many years.
In March D'Agostino joined a team to West Virginia where the teachers uprising started, walking the picket line there and taking their struggle door to door.
"While we were picketing the workers were informed that the state had agreed to the unions' demands so it turned out to be the last day of the strike," he said. "The next day we went south to coal country and knocked on doors there. Workers were very proud of how the teachers stayed united and saw the fight through to the end. And I really saw how the experiences from the battles by coal miners helped the teachers in organizing their fight."
D'Agostino went to Cuba with this year's May Day International Brigade. Along with some 300 participants from 31 countries, 74 of them from the U.S., he did voluntary agricultural work and joined hundreds of thousands of Cuban workers in the May 1 march in Havana celebrating the revolution.