"Officials here at the Pendleton Correctional Facility have banned the last 4 issues of your paper, issues nos. 43, 44, 45 and 46," inmate subscriber Kevin "Rashid" Johnson wrote the Militant Dec. 27. The Indiana Department of Correction, in violation of its own rules, never informed the paper about the impoundments or gave any reasons for them.
"I know that you all generally challenge such bans, so I want to give you all relevant information to support your challenge," Johnson said. He was referring to the successful fights waged by the Militant against attempts by prison officials in Florida and other states to deny subscribers behind bars access to the paper.
In response to appeals filed by the Militant and a growing outcry of public protests, Florida authorities, who had impounded 14 out of 16 issues over a three-month period last year, overturned most of the bans and haven't impounded any issues since August.
Johnson had read about this fight in the Militant. Those who joined the fight to overturn the ban included Amnesty International USA, PEN America, National Lawyers Guild and many others.
The "Notice and Report of Action Taken" given to Johnson lists only "security risk" as the reason for denying him the paper. But it gives no indication what material in these issues of the Militant Pendleton officials claim poses such a risk, in violation of prison authorities' rules and regulations. The Department of Correction Manual of Policies and Procedures says publications should be admitted, unless they specifically describe "construction or use of weapons," "encourage methods of escape from correctional facilities," are pornographic, or encourage "activities which may lead to the use of physical violence or group disruption." Nothing in any of the banned Militant issues can possibly be considered in violation of these strictures.
The suppression of the paper "has nothing to do with security concerns," writes Johnson. "I have been confined here at Pendleton since November 2018, and had a subscription to your paper throughout most of this time. They never denied your paper until now."
Johnson is a well-known political and prisoners' rights advocate, and a leader of the New Afrikan Black Panther Party who has faced repeated harassment from prison authorities. He was originally incarcerated in Virginia in 1990, and became political in prison. Since then he has been forcibly transferred under the notorious Interstate Corrections Compact to Oregon, Texas, Florida and back to Virginia in an unsuccessful effort to isolate and intimidate him. Most of this time he's been thrown into solitary confinement. He was transferred to Indiana a little over a year ago.
Challenge the ban
"The Militant is preparing to challenge these bans," said its editor, John Studer. "We are asking unions and supporters of the rights of prisoners and of the press to urge the Indiana Department of Correction to overturn their suppression of the Militant.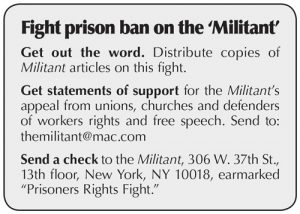 "Johnson told us other publications he gets — like the San Francisco Bay View and Socialist Viewpoint — are also being barred, and he plans to challenge all of these impoundments," Studer said.
"Workers behind bars are protected by the Bill of Rights, and the Militant by freedom of the press. Workers behind bars need to be able to read material of their choosing, to think for themselves, and to be part of the world," said Studer.
Letters urging prison authorities to overturn the suppression of the Militant should write to Indiana Department of Correction, 302 W. Washington St., Room E-334, Indianapolis, IN 46204, earmarked "Appeal of literature impoundment." Please send a copy to the Militant.