PHOENIX — "Asarco, Asarco, you can't hide. We can see your greedy side," chanted over 100 copper strikers and their supporters protesting here Feb. 24 in front of the Society for Mining, Metallurgy and Exploration conference. The gathering attracted thousands of executives, mining engineers and other officials from a wide range of coal, copper, silver and other mining companies.
"We're here. We're not going away. We're fighting for our brothers and sisters," Alex Terrazas, a striker from Asarco's Mission Mine in Sahuarita and president of United Steelworkers Local 937, told the rally.
Some 1,700 workers from seven unions have been on strike since Oct. 13 at mine complexes in Sahuarita, Hayden and Ray in Arizona and Asarco's refinery in Amarillo, Texas. They're fighting a vicious union-busting drive by the bosses who refuse to negotiate. Grupo Mexico-owned Asarco insists on imposing a longer extension of the decadelong wage freeze for most of the miners, freezing pensions, doubling or tripling health care costs, and restricting the unions' right to protect workers on the job.
The company has been using supervisors, nonunion contractors, newly hired strikebreakers and a few hundred workers who crossed the picket line to try to get production back up. Asarco has not answered repeated interview requests from the Militant.
Buses brought strikers from across Arizona to the protest. Four workers on strike at the Amarillo refinery drove more than 10 hours to participate. They also visited the Arizona picket lines.
This is the first strike for Lisa Olivares, a laborer at the Hayden complex concentrator. "I'm a single mom and I have three kids," she told the Militant at the rally. "We start out at $16.75 an hour and it's hard. You get $18.75 after getting signed off on higher skills.
"I know of three people crossing the picket line who have been fired for not meeting production quotas," she said. "Before the strike no one I know of got fired for not meeting quotas." That's the difference a union makes.
Donald Lopez is Lisa Olivares' uncle, a mill operator in the Hayden concentrator. "We're seven generations of miners. My father and great-grandfather worked underground. I work above ground," he said. "This is about greed. We're still about safety. What they want to do is break down our union."
More solidarity needed
"We're getting some support for our strike but we need more," Debora Hewitt, a forklift driver at the Amarillo refinery, told the Militant at a dinner at the Mission Mine picket line Feb. 23. "Some of the strikers are barely making it or trying to get other jobs, but we're not giving up."
Eric Simpson, a Walmart worker in San Leandro, California, was one of those who came to the dinner. He brought a solidarity card signed by 50 co-workers in English, Filipino and Spanish, along with their contribution of $100 that was presented to the strikers.
We are also going through attacks on our working conditions," said Simpson, "including having our hours cut, sometimes by more than half."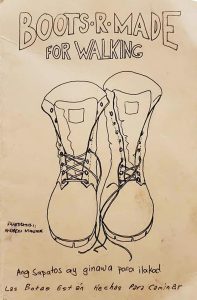 The beautiful handmade card, including drawings of picket signs and work boots, impressed the strikers. "This is exactly what it means when we say Your Fight is our Fight!!! Thank you! In Solidarity!" Steelworkers Local 937 wrote on its Facebook page alongside a picture of the card.
SMART-TD Local 1544 rail union in Los Angeles also sent a message to the strikers. "The concessions demanded by Asarco are a serious attack on you and a danger to all workers," wrote Local President Tom Reindersma. "An injury to one is an injury to all."
More solidarity is needed. The miners welcome supporters joining their picket lines, and joining in the dinners and movie nights they organize every week. They also need donations to their food pantries and strike funds.
Send financial contributions and solidarity messages to USW Local 915 Strike Assistance, P.O. Box 550, Kearny, AZ 85137; USW Local 5252 Strike Assistance, P.O. Box 896, Kearny, AZ 85137; USW Local 5613, 4230 Texas Hwy 136, Amarillo, TX 79108; or via paypal.me/palfcommunityservice for Tucson area strikers. Solidarity messages can also be sent to palfchair@gmail.com.
Contribute to the food pantries at: USW 915 and 886 hall, 107 Hammond Dr., Kearny; IBEW Local 570 hall, 750 S. Tucson Blvd., Tucson; USW Local 5613, 4230 Texas Hwy 136 Amarillo, Texas.