"Say her name — Breonna Taylor" demonstrators chanted at protests in Louisville, Kentucky, and cities and towns around the country. They were expressing the determination of thousands nationwide to prevent authorities from sweeping Taylor's killing by Louisville cops under the rug. In Louisville there have been actions every day for over 45 straight days.
"There's no way it should take three months to charge a police officer," Undra Cameron, an army veteran living in Radcliff, a town of 22,000 in western Kentucky, told the Militant July 18. "If I had killed someone I would be arrested right away."
Three police officers used a "no-knock" warrant to smash their way into Taylor's apartment shortly after midnight March 13, guns drawn. Her boyfriend, Kenneth Walker, thought they faced a break-in and fired one bullet that hit one of the cops in the leg. The cops then fired over 20 rounds into the apartment, killing the 26-year-old emergency room technician. Walker said Taylor was still alive for at least five minutes after the shooting, coughing as she struggled to breathe.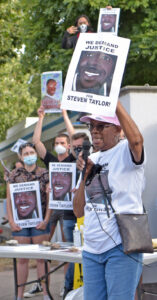 Instead of providing her medical assistance, the cops concentrated on getting Walker out of the apartment to arrest him. They charged him with assault and attempted murder, which were subsequently dropped.
One of the three cops involved was fired, but none of them have been arrested. Kentucky Attorney General Daniel Cameron, who is now in charge of "investigating" the killing, says there is no timetable for making a decision whether to prosecute the cops.
More than 100 protesters marched to Cameron's house July 14, rallying on his front lawn. The cops arrested 87 of them on the charge of "intimidating a participant in a legal process," a felony punishable by one to five years in prison. The rapid filing of such serious charges against the protesters was in sharp contrast to the lack of any charges against the cops who killed Taylor.
Amid public outcry, Jefferson County Attorney Mike O'Connell dismissed the felony charges against all the protesters July 17.
Efforts to press this fight for arrest and prosecution of the cops who killed Taylor continues to win widespread support from working people of all colors and nationalities across the country, including from prominent entertainment and sports figures. On July 15 Jerami Grant, of the Denver Nuggets basketball team, dedicated a news conference to the memory of Breonna Taylor. "What's really important in the world," he said, is that her "killers still are roaming around free."
"Now's the time to keep up pressure on authorities to get the cops charged," said Samir Hazboun, Socialist Workers Party candidate for Congress in Louisville's 3rd District. Hazboun has been winning support for the protests from his co-workers at Walmart and as he campaigns across the state.
Cops 'tase' Oklahoma man 50 times
In the small town of Wilson, Oklahoma, 20 miles north of the Texas border, two police officers fired their Tasers more than 50 times into Jared Lakey, a 28-year-old Caucasian, on July 4, 2019. A Carter County deputy sheriff also appeared on the scene and put Lakey in a chokehold, knocking him out. He stopped breathing shortly afterward. Officers did nothing to provide any medical assistance. Lakey died two days later.
Responding to a call that Lakey was "acting in a disorderly way," former acting police chief Joshua Taylor and Brandon Dingman insisted that Lakey, who was lying naked on the ground, put his hands behind his back. When he didn't comply, they starting shooting their stun guns, ignoring his pleas for help.
Facing demands from Lakey's family for justice, and under the impact of protests against police brutality nationwide, the two officers were charged with second-degree murder and put on paid administrative leave a year later. If convicted they face a maximum sentence of 10 years in prison.
People in Wilson organized a public protest July 17 to press demands that the cops who killed Lakey be brought to justice. Some 70 people rallied outside City Hall, yelling, "His name is Jared Lakey and we are his voice today."
"Being down here in Wilson, normally people don't hear about this town, so they (the cops) just kind of swept it under the rug like his life didn't matter," Shannon Smith, one of the protest organizers, told the Daily Ardmoreite. "And it did — everybody's life matters."
She said that when Lakey's family tried to press for action against the cops, they were met with slander.
Protesters also called for charges to be filed against the county deputy who put Lakey in the chokehold, whose name has not been released.
"Now that all the facts are out, that he was not doing anything wrong and he had no drugs in his system," Erika Graham, another protest organizer and friend of his family, said, "his family just wants justice as far as, 'Hey look how you slandered my son, much less killed him.'"
Cops killed Steven Taylor
Fighters against police brutality are demanding prosecution of the cops who killed Steven Taylor April 18 inside a Walmart store in San Leandro, California.
Taylor, 33, who was known by workers at the store, was suffering a mental health crisis that day. He was stunned by a Taser and shot dead by the cops for refusing to drop a baseball bat as dozens of workers and shoppers called for the cops to stop.
"The cops need to be more observant of people having mental problems," Walmart worker Rosa-Lynn Lovett told the Militant. "They are trigger happy. They're shooting to kill."
A rally of over 50 people July 10 demanded that the names of the cops who killed Taylor be made public. Taylor's family members and some Walmart workers joined the protest.
Jacquie Henderson in Louisville, Kentucky, and Eric Simpson in Oakland, California, contributed to this article.