OLYMPIA, Wash. — Winning support from thousands of working people, Socialist Workers Party campaigners filed nominating petitions to put the party's presidential ticket, Alyson Kennedy and Malcolm Jarrett, on the ballot in New Jersey, Tennessee and Washington state over the past week.
The party was informed Aug. 12 it was on the ballot in Louisiana after Kennedy filed the necessary papers.
Party supporters are still in the middle of collecting signatures needed to file for ballot status in Minnesota. In each state they're finding workers who back the party's fight to get on the ballot and many who are interested in learning more about and discussing its fighting working-class campaign platform.
Kennedy, a cashier at Walmart in Dallas, and Jarrett, a cook in Pittsburgh, have already been certified for the ballot in Colorado and Vermont. Along with 22 Socialist Workers Party candidates for U.S. Senate and Congress around the country, they are the only voices in defense of the interests of workers and farmers in the upcoming elections.
SWP campaigners get a serious hearing when they say workers need their own party, a labor party, a union in every workplace, and workers control of production. They explain why working people are capable of fighting in our millions to replace the rule of the capitalist class with a workers and farmers government.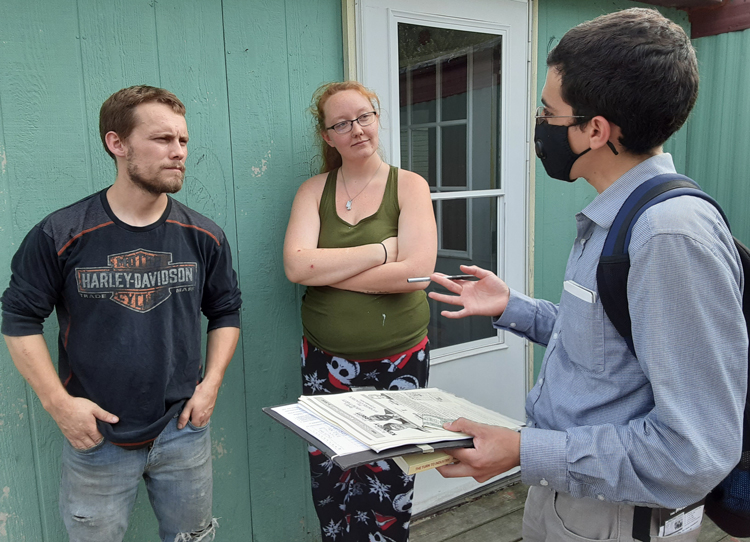 Kennedy filed over 2,000 signatures — double the requirement — at the state capital here Aug. 7 to place the working-class ticket on the ballot in Washington.
Washington election official Stu Jensen received the petitions at a table set up outside the secretary of state's office. He said he had received several letters urging the state to put the party on the ballot. Jensen said the certification process will take a week.
Among those sending letters of support for the party's right to be on the ballot are Dan Coffman, past president of International Longshore and Warehouse Union Local 21, Longview; John Martinez, a long time officer of the American Federation of Teachers union at Seattle Central College; John Waller, secretary of the Seattle Cuba Friendship Committee; Mark Downs, a former executive board member of ILWU Local 19 in Seattle; and Heather Jay Mclean-Riggs, former president of the Senate, Seattle Central College, AFT Local 1789.
The Spokane Spokesman-Review ran an article on the filing the next day headlined, "Socialist Candidates Want Working Class in Control." The article reported that Kennedy and Jarrett's campaign "focuses on building a labor party that represents working people."
"We are capable of changing things in this country," Kennedy said.
"The party calls for a government-funded program to provide jobs," noted the Spokesman-Review, to build hospitals, roads and public transportation. "With the working class in control, Kennedy said she believes many issues that currently exist would be eradicated."
On July 25 in Renton, campaign supporter Dean Peoples met Tierrnesha Maynard — one of many who enthusiastically signed the petition. "I'm involved in community work to register young people to vote," she said. "But I have to ask myself — to vote for what? This campaign is actually something that is meaningful and that is inspiring."
Tennessee over the top!
BY SUSAN LAMONT
NASHVILLE, Tennessee — Socialist Workers Party presidential candidate Alyson Kennedy and campaign supporters turned in 810 signatures here Aug. 11, nearly triple the requirement for the Tennessee ballot.
Some two dozen campaign supporters won a lot of support during 16 days of intense campaigning. They talked to several thousand workers, farmers and small proprietors in 25 of the states' counties, selling 67 Militant subscriptions, 104 copies of the paper and 36 books by SWP leaders and other revolutionaries.
Felicia Allen signed when Maggie Trowe, SWP candidate for U.S. Senate from Kentucky, knocked on her door in Smyrna. Trowe pointed to the party's call for workers to fight for a union movement in every workplace. Allen replied that when she worked at a retail store, "they told us during orientation, 'If you join a union you'll be fired.'"
Bosses threaten that in other workplaces too, Trowe replied, "but that doesn't stop workers wanting a union and looking for ways to defend themselves."
"Unemployment benefits are not enough to live on," Allen said. "My husband has to work 12 hours a day to make it." After Allen and Trowe discussed the party's proposal for a jobs program and the need for a labor party, Allen endorsed the campaign and subscribed to the Militant. She thanked Trowe for coming by, pointing out that the discussion had been "a teaching moment for my grandsons" who were nearby listening in.
Join fight to put SWP on New Jersey ballot!
BY CANDACE WAGNER
UNION CITY, N.J. — Supporters of the Socialist Workers Party are demanding state officials certify Alyson Kennedy and Malcolm Jarrett for the state ballot in the November election.
On Aug. 10 the campaign completed filing its petitions. The first batch of 270, along with electors, were submitted July 27. The total is now 1,300 — 500 more than required for ballot status.
Given limitations imposed by the lockdown and other restrictions enacted by Gov. Philip Murphy during the pandemic — many of which continue — the SWP had asked for adjustments on the signature and filing requirements. The party didn't get a response until shortly before the filing deadline, denying the request and the campaign geared up to meet the requirements.
The campaign was informed Aug. 11 by Donna Barber, supervisor of Election Administration, of her decision not to place the SWP ticket on the ballot, saying it didn't make the deadline.
The party is calling on the governor to reverse that decision.
Support for the right of the SWP to be on the ballot is registered by the 1,300 people who signed petitions from all over the state and their signatures should be honored. The deepening economic crisis bearing down on working people demands the broadest debate and discussion in the 2020 elections.
A campaign press release on the filing, which included the SWP campaign platform, was run in full by Insider NJ, a well-known online news outlet.
Construction worker Osvaldo Rabelo signed after talking with Jarrett when he knocked on the door of an apartment Rabelo was repairing in Newark.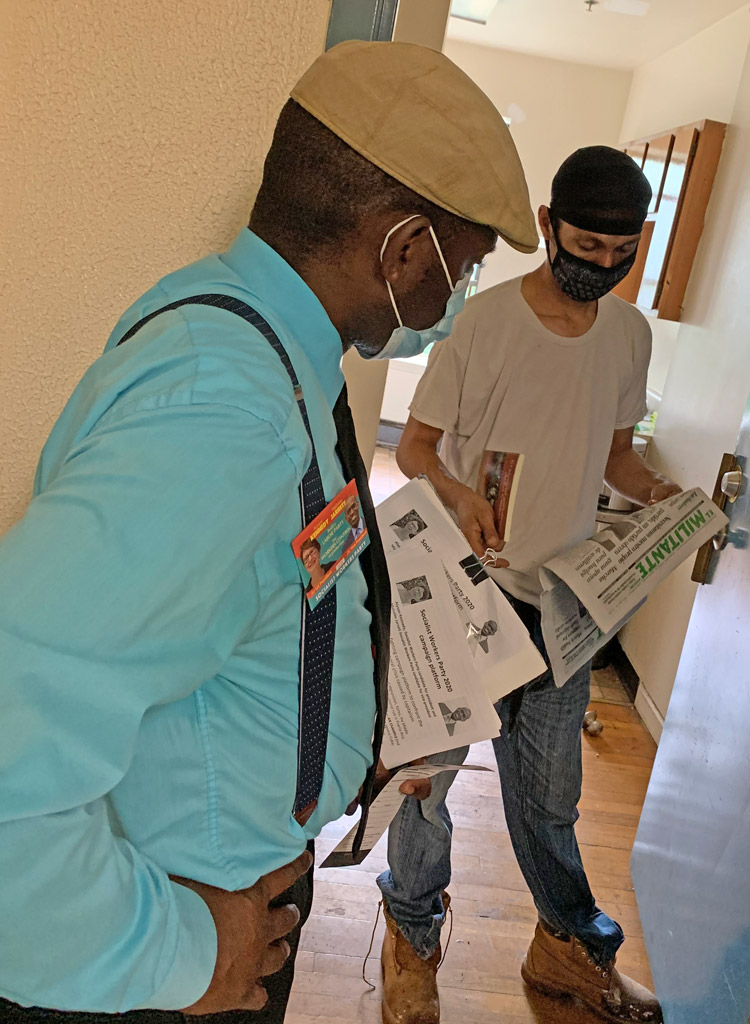 "I'm happy to see another party, another option," Rabelo said. In Puerto Rico, where he is from, "it is the same thing, we only have two parties. But we had a strong movement to get rid of the governor," referring to 15 days of mass protests last year that forced the resignation of Gov. Ricardo Rosselló.
"We need a leadership to take it further," Jarrett said. Roselló's replacement, Wanda Vázquez, is as dedicated to preserving the U.S. rulers' plunder of the island as Roselló was.
"Working people in the U.S. need to form our own party, a labor party rooted in building a union movement in every workplace," Jarrett added.
He showed Rabelo The Clintons' Anti-Working-Class Record and Are They Rich Because They're Smart? by SWP National Secretary Jack Barnes. Jarrett said these books "explain that the working class needs to take power and make learning a lifetime experience, not the education we get today that serves to teach us obedience and passivity."
"They don't teach us to be creative or let us claim our history," Rabelo replied. "I like that you have books and a newspaper." He signed to put the party on the ballot and bought a subscription to the paper and both books.
To aid the fight to get on the ballot in New Jersey, contact the campaign headquarters at (551) 240-1512 or email: swpnewjersey@gmail.com.
'Workers acting together only way to get change'
BY JACQUIE HENDERSON
HUTCHINSON, Minn. — Socialist Workers Party campaigners have already collected 1,914 signatures by Aug. 11 toward their goal of 2,400, to put Kennedy and Jarrett on the ballot in this state.
Anthony Stark, a 26-year-old welder who lives in this town of 15,000, liked what campaigner Sergio Zambrana told him about how workers need to fight to take control of production out of the bosses' hands. "Workers on the job know what is unsafe and can work together to fix it," Stark said.
Zambrana described how he visited the picket line of 4,300 striking shipbuilders in Bath, Maine, a few weeks ago to show solidarity. "Different generations of workers are standing up to the company," Zambrana said. "The solidarity we brought from our co-workers at Walmart was really appreciated."
In Maplewood, SWP campaigner Dean Hazlewood discussed the economic and social crisis with teacher Pam McIntyre on her porch. "The capitalist ruling class has no solutions," Hazlewood said. "Organizing millions in struggle, workers and farmers can gain confidence in our ability to take power out of the hands of the propertied rulers and organize society ourselves."
"You are right about the crisis," McIntyre replied. "And it is working people acting together that is the only thing that can change this." McIntyre signed to get the working-class candidates on the ballot, subscribed to the Militant and got a copy of the book Malcolm X, Black Liberation, and the Road to Workers Power by Barnes.
"I like that you are here talking with us," Jacob Van Gerpen, who services forklift batteries, told campaigner Tom Baumann at his door in Inver Grove Heights. "Some people are so far left or right that they don't want to hear the other side."
"We need to have civil discussion," Baumann said. "That's the only way working people can get the political clarity we need to move forward."
Van Gerpen signed in support of the SWP being on the ballot.
Errin Donahue, a health care worker, caught up with Kevin Dwire and Arrin Hawkins walking down the street in Robbinsdale.
"Can I sign that petition?" she asked. "You just left my house and my husband said he liked what you told him about the protests against the killing of George Floyd. He said you are part of the protests, but oppose the violence at them. The destruction has put a lot of people out of business."
"We can build a mass movement that is disciplined and effective to win demands for the arrest and prosecution of the police who killed Breonna Taylor and so many others," Dwire said.
Dan Fein and Holly Harkness spoke with Darryl Johnson, a 31-year-old construction worker, in Burnsville. "I like what you're saying, but I can't vote because of a felony charge. I spent eight months in Stillwater prison, although I was never convicted of anything," he said.
"We oppose prisoners being denied rights," Harkness told him. "They should have the right to vote and we are campaigning for that."
Fein showed him the article on the front page of the Militant announcing that Pennsylvania prison officials had overturned their ban on a prisoner's access to the paper, after the inmate subscriber and the working-class weekly fought it. "I'm glad about the victory. Prisoners should be able to read this paper," Johnson said.