The presidential election is over, but the necessity for working people organizing to defend our own interests and learning about how others are doing so and have fought successfully in the past, remains. Socialist Workers Party members are winning new readers to the Militant and books by party leaders and other revolutionaries.
With three weeks left, the fall international Militant subscription drive is on the way to meeting all its goals. At the same time the SWP is winning contributions to its $120,000 Party-Building Fund, which finances the year-round work of the party. The drive and the fund end Nov. 24.
Whichever capitalist politician wins the White House or a majority in Congress one thing is sure, they will help the bosses in trying to make working people pay for the capitalist crisis. Getting the Militant and books that record the lessons of previous working-class struggles into working people's hands is invaluable for forging a road forward.
Unlike the Democrats and Republicans, the Socialist Workers Party is a working-class party, one that joins every fight that is in the interest of workers and farmers all year round.
"Workers need our own party, a labor party based on the unions. It would organize working people to fight for jobs, for safety on the job, and in our millions to take political power and establish a workers and farmers government," SWP presidential candidate Alyson Kennedy told autoworkers when she campaigned at the Ford assembly plant on Chicago's South Side Oct. 28.
Kennedy, a cashier at Walmart in Dallas, had worked at the Ford plant in 2012. Ford workers bought 17 copies of the Militant, two subscriptions and two books.
Joe Sanchez, who has worked at the plant for 10 years, told Kennedy that the bosses aren't doing much to protect workers against the spread of COVID. "All they say is, 'Wear your masks,'" he said. The SWP calls for workers to fight for control of production, not the bosses, so we control line speeds, the space between workers and implement whatever other measures are necessary to work safely.
The party calls on workers and their unions to fight for government-funded cradle-to-grave health care. Production of the drug cocktail President Donald Trump received when he had COVID-19 should be ramped up and made available free of charge to everyone who needs it, Kennedy said.
Kennedy talked with assembly line worker Dennis Moody about the Minneapolis police killing of George Floyd. "There was looting in my neighborhood on the South Side. I don't like Black Lives Matter," Moody said.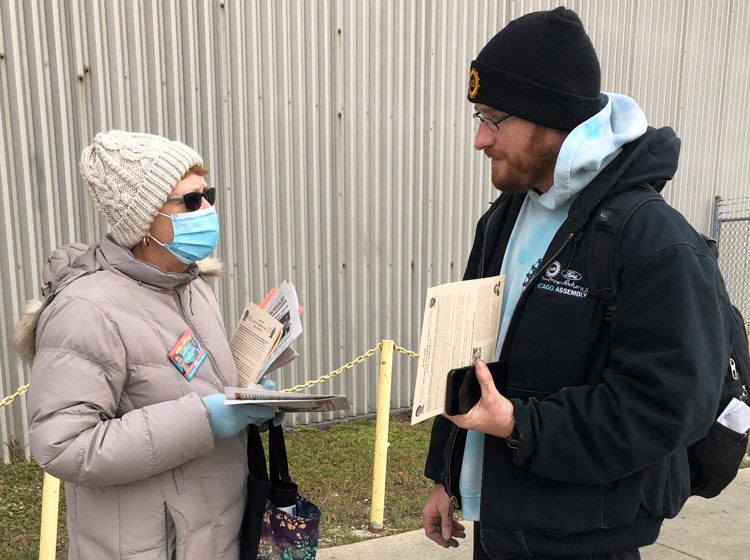 "The Black Lives Matter signs at those protests reflect growing opposition to police brutality," Kennedy said. "But the leadership of Black Lives Matter groups, antifa and middle-class radicals undermine the massive protests by promoting looting and senseless violence. That turns off working people and the actions get smaller and smaller."
We can learn from the civil rights movement, Kennedy said. "Led by Black workers, it became a massive movement, strong and disciplined enough to defeat Jim Crow segregation in the South. It was broad and multinational, and transformed the way working people think."
Moody subscribed to the Militant and bought Malcolm X, Black Liberation, and the Road to Workers Power and The Clintons' Anti-Working-Class Record: Why Washington Fears Working People, both by SWP National Secretary Jack Barnes.
Building on success of campaign
Tens of thousands of people learned about the Socialist Workers Party through meeting Kennedy, running mate Malcolm Jarrett, and 23 local candidates coast to coast. Many received the party's platform in discussions with campaigners at their doorsteps or farms, in big cities and rural areas, on picket lines and at protests. Some learned about the campaign through local newspapers.
Sharon, Pennsylvania's Herald Nov. 2 featured an article by reporter David Dye, who accompanied Jarrett when he talked to workers on their doorsteps in Sharon the month before.
Retired worker Jerry Meszaros told Jarrett, "You work all them years, and for what you pay into retirement over 55 years, it isn't all that much."
"Meszaros said he appreciated being able to at least have the discussion, and the two main candidates voters would choose between may not be the most ideal," the Herald reported. "'They say they're for us to get your vote. But do they really care about the little guy?' Meszaros said."
Jarrett's Oct. 29 visit to Marshalltown, Iowa, a rural town of 27,000 people, made the front page of the Times-Republican. The article reported on Jarrett campaigning during a shift change at the JBS hog slaughterhouse, noting that "the party is fighting for a working-class program to build unions and defend interests of employees." Four workers bought subscriptions to the Militant.
"It's refreshing to meet people who think the way I do," Bradley Johnson, a welder at Caterpillar, told Naomi Craine, SWP candidate for U.S. Senate in Illinois, and Ilona Gersh when they campaigned in Rantoul, a couple hours south of Chicago Oct. 31.
Johnson said lately Caterpillar bosses have been forcing them to work 12-hour shifts, in violation of the contract. "Then they wonder why people are tired and burned out."
Workers around the world face similar conditions, Craine said, showing him an article in the Militant about coal miners in Colombia, on strike against "death shifts" — the El Cerrejón mine bosses' attempt to make them work 12-hour shifts, 21 days a month.
The labor movement needs to fight to shorten the workweek, with no cut in pay, said Gersh. Johnson agreed.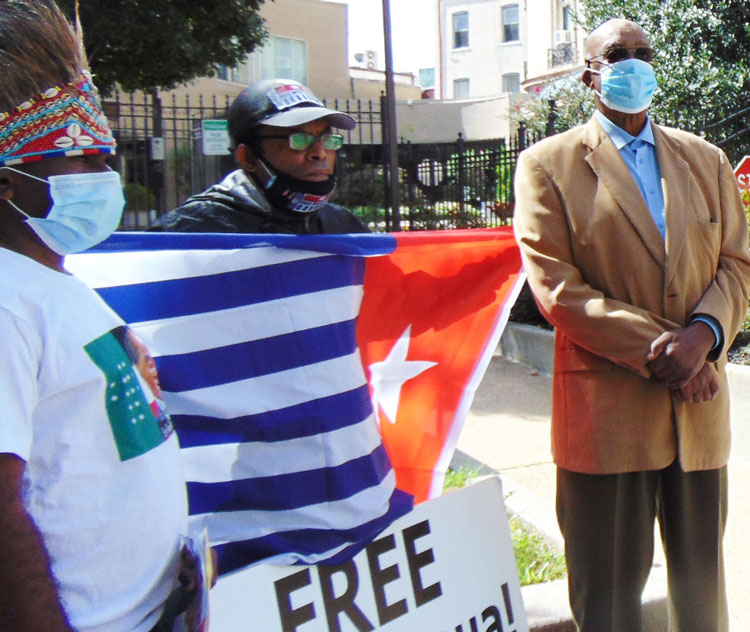 Johnson said bosses try to justify the long hours by saying there's not enough skilled workers. When he was in high school, Johnson said, there was vocational training that is no longer offered. Craine pointed out that today young workers are pressed to go thousands of dollars into debt to get this type of training.
Johnson subscribed to the Militant and got a copy of Malcolm X, Black Liberation, and the Road to Workers Power.
Party financed by working people
Steve Warshell writes from Miami about the success in winning new readers and contributors to the SWP Party-Building Fund there. "In Hallandale Beach we sold a book and received a $15 donation from a UPS worker. He liked the call for a labor party," Warshell said.
In North Miami, Warshell knocked on the door of Widmark Joseph, who is Haitian, and does road construction and repair.
"Nobody else is doing this," Joseph told Warshell. "Certainly no other party is knocking on my door asking me what I think." During that visit and a follow-up one, he gave $10 to the Party-Building Fund "to encourage you to keep on campaigning." Many workers understand why the SWP accepts no funding from capitalist businesses, but instead relies on the support of working people who contribute whatever they can to help the work of the party.
Joseph purchased the French-language edition of Are They Rich Because They're Smart? Class, Privilege, and Learning Under Capitalism and The Clintons' Anti-Working-Class Record.
The fall drive to win 1,200 new readers of the Militant and revolutionary books and to raise $120,000 to build the Socialist Workers Party continues through Nov. 24. At the end of week 5 we have sold 810 subscriptions and 736 books and received $61,910 for the fund.
Join in expanding the readership of the Militant! Help introduce friends, relatives, neighbors and other working people to the party. Contribute to the fund. For more information, see the directory for the party unit nearest you, or contact the Militant at themilitant@mac.com.