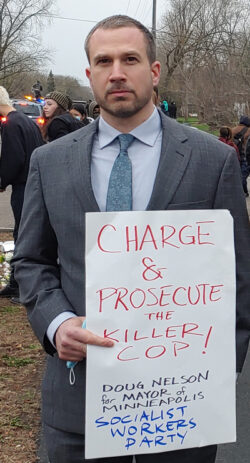 BROOKLYN CENTER, Minn. — In response to the police killing of Daunte Wright here, thousands of people joined a 30-minute candlelight vigil April 12 organized by Wright's family at the intersection where he died. The family set the protest to be over before the 7 p.m. curfew imposed by the governor after the killing.
Teamsters Local 120, the union of 200 locked-out Marathon Petroleum refinery workers, participated, using two of the union's trucks to help block off the vigil area, above.
Doug Nelson, Socialist Workers Party candidate for Minneapolis mayor, and campaign supporters participated in the gathering. Nelson held a sign that read, "Charge and prosecute the killer cop!" Several participants asked to take photos of the sign and expressed their agreement.
Two miles away over 1,000 people gathered and heard speeches in front of the Brooklyn Center police station. The majority of participants left the rally to comply with the curfew, but some stayed and, under the cover of darkness, jumped up and down on top of police cars and threw rocks and bottles at the police. Cops responded with tear gas and flash-bang grenades. Many businesses have boarded up their windows.