"We think workers should support unionists standing up to the bosses' attacks, like striking miners in Alabama, and refinery workers in Minnesota and Texas," Socialist Workers Party member Samir Hazboun told truck driver Dale Robinson in Louisville, Kentucky, June 5.
Hazboun and SWP member Jacquie Henderson were going door to door in a trailer park there. At first Robinson was skeptical when they introduced the party and the Militant.
"Socialists? No way. I'm sorry I don't mean to be rude, but I get enough of the socialists in Washington, D.C., every day," he said.
Rep. Alexandria Ocasio-Cortez, and other politicians in the Democratic Party calling themselves socialist, are the opposite of what the working class needs, Hazboun said. The Socialist Workers Party urges "a fight for jobs, not one-time handouts. Workers need to organize independently of the Democrats and Republicans to bring to power a workers and farmers government."
"You are different," Robinson responded.
"I had my own rig for a while," he told the SWP members, "but I couldn't afford to keep it so I went to drive for a company. One time we went on strike. We had all the workers on the same page. Then a 'friend' who had a company down the road crossed the picket line and hauled the freight we had tied up."
"The only way forward is for us to stand together as a class and back each other's fights," Hazboun said.
Robinson thanked the campaigners for talking with him. "I'd really like to read that newspaper," he said and got a subscription to the Militant.
Socialist Workers Party campaigners are finding widespread interest in discussing what workers and farmers can do together standing up against the bosses' assaults, as they campaign on workers' doorsteps in cities, towns and rural areas, at union picket lines and social protests.
Party campaigners are now into the seventh week of a nine-week drive to sell 1,400 subscriptions to the Militant, 1,400 books by SWP and other revolutionary leaders, and to raise $145,000 for the Militant Fighting Fund.
Members of the Communist Leagues in Australia, Canada, New Zealand and the United Kingdom are taking part in the drive and report a similar response.
Unite workers in struggle for power
CL campaigners visited the picket line of workers at Jacobs Douwe Egberts in Banbury, England, June 5, Jonathan Silberman reports. Three days earlier, all 291 workers had received dismissal letters from the coffee company for refusing to sign a new concession contract.
Xavier Mukombe, a worker there for 26 years, subscribes to the Militant. He asked Silberman about his recent visit to the picket line of striking bakery workers at Hovis in Belfast, Northern Ireland. The trade unionists had returned to work after winning a wage raise.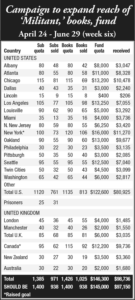 Silberman pointed to "the proud unity of workers from Catholic and Protestant backgrounds" during the strike.
"It's like the photo in last week's Militant of workers in Israel," Mukombe said. That picture showed Jewish and Arab workers holding signs in Arabic and Hebrew reading, "Jews and Arabs refuse to be enemies."
Another striker, Azar Iqbal, put his arm around Silberman and told a fellow union member, "I'm a Muslim, he's a Jew, but we're both children of Abraham — as are you!"
Silberman pointed to a 2017 SWP statement "For Recognition of a Palestinian State and of Israel." He said the Communist League is for "whatever renews our class solidarity and self-confidence, advancing us along a revolutionary course toward a united struggle for workers power."
Iqbal bought a couple of issues of the Militant to read its coverage of conflicts in the Middle East. Mukombe got a copy of the book Malcolm X, Black Liberation, and the Road to Workers Power by SWP National Secretary Jack Barnes.
CL members also campaigned in Grimsbury near the picket line, building support for the coffee workers' fight and discussing the need for independent working-class political action.
"No, no, I don't want anything to do with Labour," construction worker Paul Hawkins told Andrés Mendoza and Hugh Robertson on his doorstep when they introduced the Communist League's campaign. Mendoza explained the CL has nothing to do with the Labour Party, which defends the interests of the bosses against those of working people.
Hawkins liked the photo in the Militant of Jewish and Arab workers in Israel engaged in common action as well as the article "Liberals Claim Teaching Math Reinforces White Supremacy." He got a subscription.
To subscribe to the Militant and get books on revolutionary working-class politics, or to contribute to the Militant Fighting Fund, see the directory for the distributor nearest you. Or visit themilitant.com to purchase a subscription and contribute online.