BROOKWOOD, Ala. — Over 1,500 unionists and other workers from Alabama, West Virginia, Kentucky, North and South Carolina, Mississippi, Tennessee, Indiana, Illinois, Georgia and Missouri converged in cars and buses on the ballpark in this small town where 1,100 members of the United Mine Workers have been on strike against Warrior Met Coal since April 1.
Warrior Met bought the Brookwood mines, which produces metallurgical coal used in steel production, after the previous owner, Jim Walter Resources, went bankrupt six years ago. The new capitalist owners demanded a $6-an-hour wage cut and other steep concessions on benefits and job conditions in return for keeping the mines open.
When Warrior Met offered only a $1.50 an hour wage increase over five years after the strike began, UMW members walked out of the meeting and vowed to continue the strike.
The mood of striking miners and workers supporting them was upbeat during the three-hour rally, where UMW President Cecil Roberts and other union leaders spoke about the stakes in this hard-fought battle.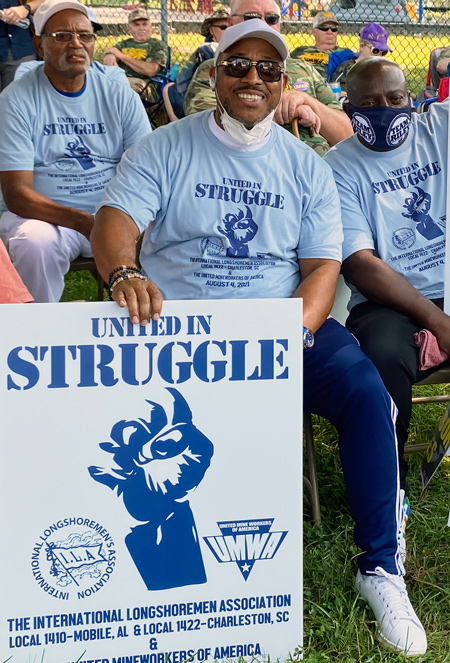 A bus organized by the International Longshoremen's Association brought dockworkers from Charleston, South Carolina; Mobile, Alabama; and Jacksonville, Florida.
Ken Riley, president of ILA Local 1422 in Charleston, spoke while every union member who came on the bus stood in front of the stage. "We are committed to you," Riley told the striking miners. "We are committed to winning this strike. We watched as you took your strike to Wall Street."
Riley recalled solidarity from the United Mine Workers union when longshoremen were under attack. "Twenty years ago at a rally for the Charleston Five, Cecil showed up and inspired us," Riley said, referring to the frame-up assault charges against five ILA members after 600 police assaulted a union picket line in January 2000. Riley said he and Willie Adams, president of the International Longshore and Warehouse Union on the West Coast, are discussing more measures to support the strike and call worldwide attention to it.
This reporter traveled to the rally on a solidarity bus organized by the Kentucky AFL-CIO. When Bryan Butler, 60, a Warrior Met striker told Lisa Cook, a Communications Workers of America member at General Electric from Louisville, Kentucky, about why he and his fellow unionists were fighting, she was outraged. "Why aren't we hearing about the way these people are being treated in the media?" Cook asked. "This should be national news!"