President Joseph Biden announced July 30 that Washington plans to "increase pressure" on Cuba. Since Fidel Castro and the July 26 Movement led Cuban workers and farmers to make a socialist revolution over 60 years ago, every U.S. president, Democrat and Republican alike, has carried on a relentless economic and political war against the Cuban people.
To justify his threats, Biden and the liberal media are pushing the lie that the Cuban government responded with "violence and repression" to July 11 protests there.
In fact, those actions — which in some cases included looting and violent attacks on supporters of the revolution — were orchestrated by counterrevolutionaries in collaboration with the U.S. government. Aided by the capitalist media worldwide, they are creating the image of an "out of control" spiraling emergency, which they are doing their best to foster.
Cuban President Miguel Díaz-Canel has noted that some who support the government took part, frustrated or confused in the midst of the economic crisis on the island. Thousands more working people and youth responded by taking to the streets that day and since, in public mobilizations to show their support for the revolution.
Far from mounting "repression," Díaz-Canel and other government officials have continued going out to working-class neighborhoods and campuses to discuss what steps the government is taking and to seek their opinions.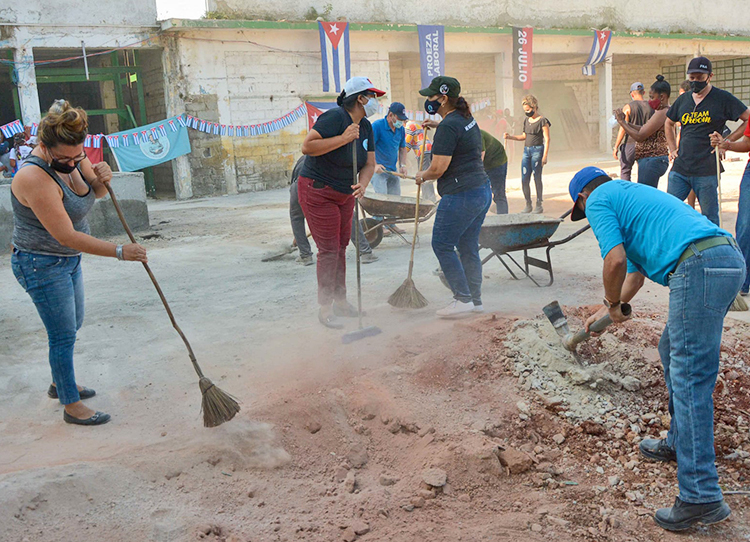 The revolutionary government and Cuba's mass organizations are explaining what's at stake and leading to involve more workers, farmers and youth in taking initiatives to combat the difficulties they face, a result of Washington's embargo, the worldwide capitalist economic crisis and the COVID-19 pandemic.
The tightening of the embargo by the Biden administration, on top of decades of attacks and sanctions, is increasing the hardships in Cuba. There are serious shortages of food, medicine and personal hygiene items. Scarcity of fuel, pesticides and fertilizer have caused drops in industrial and agricultural production. And despite having one of the lowest death rates in the world from COVID-19, and a steadily increasing rate of vaccination — with vaccines created and manufactured by Cuba — a rise in cases has taxed the island's health facilities.
The U.S. ruling capitalist families, as they have since 1959, hope that causing even greater hardships will demoralize the workers and farmers of Cuba and provide an opening to crush the socialist revolution.
Washington grooms 'dissidents'
Biden said he is already expanding "assistance" to "dissidents" — euphemisms for grooming and financing counterrevolutionaries — and planning to increase staffing at the U.S. Embassy in Havana, clearly with an eye to stepped-up meddling in Cuban affairs.
Meanwhile, Cuban revolutionaries and their government continue doing what they always have done — relying on the discipline, perseverance, enthusiasm and confidence of working people. On July 26, the anniversary of Castro's 1953 attack on the Batista dictatorship's Moncada garrison, young people turned out for voluntary labor at farms across the island. Increasing food production and lessening reliance on imports is a key part of standing up to the U.S. economic war.
Cuban Prime Minister Manuel Marrero joined young volunteers at the Havana Agricultural Enterprise, planting peppers, beans and chives. After a morning of work, Marrero sat and exchanged views with the youth, encouraging them to have a critical attitude, to say what they think and to express their opinions.
"We're not going to wait for them to lift the blockade some day," Marrero said. "We have to — with our own efforts — resolve our problems, our shortcomings, to change everything that needs to be changed."
On Aug. 5, President Díaz-Canel discussed the challenges Cubans face for four hours with 100 young people in Havana, including students, artists, farmers, production workers, health care and self-employed workers.
"Even though we know that we don't have all the inputs we need to work," Lázaro Daniel Cruz Álvarez, a veterinarian at a dairy and beef cooperative, told Díaz-Canel, "we are playing a key role in food production, looking for alternatives."
The Cuban press is filled with reports on similar meetings and visits by revolutionary leaders to farms, factories and working-class neighborhoods. Challenges on everything from increasing the pace of vaccination to dealing with the housing shortage and lack of paved roads in some neighborhoods are discussed out in Granma, Juventud Rebelde and other media.
In the face of the tightening of the U.S. embargo, the Cuban government has received new aid from the governments of China, Vietnam, Venezuela, Russia, Angola, Qatar, Italy and others. In many cases this is a sign of the respect and appreciation for Cuba's selfless internationalism for decades.
The donations of syringes to Cuba is helping health institutions broaden their vaccination efforts among the population.
Mexico's government sent two ships filled with food, medical supplies and fuel. "The truth is that if one wanted to help Cuba," Mexican President Andrés Manuel López Obrador said of Washington, "the first thing that should be done is to suspend the blockade."