The capitalist press in the U.S. presents the social catastrophe unfolding in Haiti since a 7.2 magnitude earthquake ravaged its southwest Aug. 14 as a natural disaster. But there is little that is "natural" about the more than 1,900 dead, 6,000 injured and over 37,000 families homeless.
The depth of the destruction is the consequence of over 100 years of imperialist plunder and capitalist greed that has siphoned billions of dollars in profits into the coffers of foreign corporations and left 60% of Haitians earning less than $2 a day. Even before the earthquake, some 66% of the population had no access to electricity.
An earthquake in 2010 killed 300,000 people and destroyed 100,000 structures. Nothing has been done since then to prepare for more earthquakes, much less strengthen existing buildings.
"I don't expect any help, we're on our own," Michel Milord, a 66-year-old farmer in Toirac, who lost his wife and his house, told the New York Times. "No one trusts the government here."
At one collapsed three-story apartment building in Les Cayes the only help that arrived rapidly to look for survivors and the dead were poorly equipped volunteers.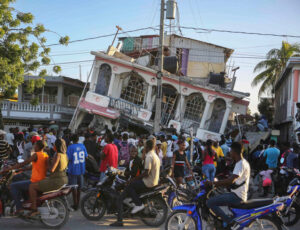 "All we have are sledgehammers and hands. That's the plan," Canadian volunteer Randy Lodder, director of the Adoration Christian School in Haiti, told The Associated Press.
Haiti has roughly 20 doctors per 100,000 people, a lower percentage than Afghanistan. Some 75% of childbirths take place without the presence of any trained health workers. Until July Haiti had not received a single COVID-19 vaccine dose.
Not only are doctors and nurses in short supply, but there are not enough basic items like bandages, anesthesia and antibiotics to treat people injured in the quake.
Haitian working people are justly proud of Haiti's history as the site of the world's first successful slave rebellion, which defeated the French in 1804 and put an end to slavery. However, the French empire was able to keep bleeding Haiti of its wealth, including charging reparations to compensate the French rulers for the "loss" of their slave plantations.
History of working-class struggle
U.S. Marines invaded Haiti in 1915 and occupied the country for the next 19 years, paving the way for continued plunder and the U.S.-backed dictatorship of the Duvalier family, which lasted from 1957 until 1986.
In 1986 workers and farmers rose up and overthrew the Duvalier regime. They have often taken to the streets since to protest against anti-working-class measures of successive governments.
The capitalist class and its backers in Washington haven't been able to create a stable government. On July 7, Haitian President Jovenel Moise was assassinated in his home under circumstances that remain uncertain. Prior to his killing, Moise had refused to call new elections and was ruling by decree, rejecting opposition party claims that his term had expired.
The terms of almost all the members of Haiti's legislature expired in October 2019, but no new elections have been held. U.S.-backed neurosurgeon Ariel Henry took office July 20 as prime minister, leaving the post of president vacant.
The U.S. Department of Commerce touts Haiti as a great place for capitalist investment, calling it "one of the most open economies in the Caribbean" with "few government controls." Haitian tariffs on rice and chicken were rescinded in the 1990s, at the insistence of President Bill Clinton, devastating the livelihood of thousands of peasants. Most of the country's food is imported today, including 80% of the rice, almost entirely from the U.S.
In the absence of an authoritative government, large swaths of the country are under the control of criminal gangs, including the main road from Port-au-Prince, the capital, to the areas devastated by the earthquake. International organizations negotiated a truce with them to begin transporting relief.
So far aid from major capitalist powers and "nonprofits" has been slow and inadequate, like it has been every time Haiti has been hit by earthquakes, hurricanes or other disasters. The United Nations has allocated only $8 million.
Cuban volunteers set an example
As in past disasters, Cuban medical volunteers are setting an example for the entire world. In the first day after the quake, 253 Cuban doctors, nurses and other health care workers volunteering in Haiti had already treated more than 600 people who had been injured.
Because many hospitals were damaged, "Cubans together with Haitian personnel are treating people outside the buildings," reported Eugenio Martínez, a spokesperson for Cuba's Foreign Ministry.
"Our volunteers are ready to go anywhere we are needed," Luis Orlando Olivero, head of the Cuban medical mission in Haiti, told the press. "It's a question of principles, of commitment, not philanthropy."
The Cuban volunteers work in 18 public hospitals in 10 departments of Haiti.
"We didn't arrive with the earthquake, we've been here for 22 years," Olivero said. "We were here during previous quakes, during the cholera epidemic, and most recently the COVID-19 pandemic and we will continue here as long as the country needs us."
In addition to the internationalist mission, the Cuban government has provided university education to 1,583 Haitian students since 1998, including more than 1,100 medical students. Currently 127 Haitians are studying in Cuba.