Two of the three men convicted for the assassination of Malcolm X in 1965 were exonerated Nov. 18. The decision reverses a decadeslong frame-up by the capitalist "justice" system. 
The convictions of Muhammad Aziz and Khalil Islam were overturned by New York State Supreme Court Judge Ellen Biben following a nearly two-year investigation by the Innocence Project and the Manhattan District Attorney's Office. The third person convicted — Talmadge Hayer — admitted his guilt but always maintained Aziz and Islam weren't involved. They had been convicted anyway. All three were members of the Nation of Islam.  
Malcolm X had broken from the Nation in March 1964, criticizing the refusal of its leadership to join the growing movement fighting to overturn Jim Crow segregation. 
But a key part of Malcolm's assassination remains buried. That is, the full extent of the government cover-up of the role played by the FBI, New York Red Squad and other cop agencies. They had targeted Malcolm X because of his political evolution to become a revolutionary leader of the working class here and worldwide. 
Aziz and Islam served about two decades in prison. Aziz was released on parole in 1985 and Islam two years later. Islam died in 2009. 
"We have obtained dozens and dozens of reports from the FBI and the NYPD's Bureau of Special Services and Investigations," District Attorney Cyrus Vance told the media Nov. 18. "These records include FBI reports of witnesses who failed to identify Mr. Islam and who implicated other suspects. 
"And, significantly, we now have reports revealing that, on orders from Director J. Edgar Hoover himself, the FBI ordered multiple witnesses not to tell police or prosecutors that they were, in fact, FBI informants," he said. "Many of those documents were exculpatory. None of them were disclosed to the defense." 
In addition to FBI agents being present in the Audubon Ballroom when Malcolm X was assassinated Feb. 21, 1965, undercover cop Gene Roberts, who had infiltrated Malcolm's bodyguards, was also there. Roberts was assigned by the Bureau of Special Services, the NYPD's Red Squad, to penetrate and inform on the Organization of Afro-American Unity, which Malcolm founded in 1964. 
According to highly censored documents released by the FBI in the 1970s, Hoover wrote to the FBI office in New York in 1964 instructing it to "do something about Malcolm X." 
During their 1966 trial, Hayer confessed that he had participated in killing Malcolm. He also testified that neither Islam, then known as Thomas 15X Johnson, nor Aziz, known as Norman 3X Butler, were involved. Close associates of Malcolm on the scene at the Audubon Ballroom that day said neither Johnson nor Butler were there. 
Hayer was imprisoned for 45 years, including during the 1971 Attica uprising in upstate New York, where he repeated to attorney William Kuntsler that Aziz and Islam were innocent. In 1977 Hayer filed affidavits with the New York court naming four different members of the Nation's mosque in Newark, New Jersey, as his associates in the assassination. The government refused to reopen the case or grant Aziz and Islam a new trial. 
For years Malcolm had been a prominent spokesperson and leader of the Nation. "But by the early 1960s he was bumping up against the limits of the bourgeois nationalism of the Nation of Islam," SWP National Secretary Jack Barnes writes in Malcolm X, Black Liberation, and the Road to Workers Power. "Malcolm, to the contrary, was being politically drawn more and more toward the rising struggles for Black freedom in the United States and revolutionary battles by the oppressed and exploited the world over." 
Malcolm X: A revolutionary leader
The political course he was on during the final year of his life was as a revolutionary internationalist, a proponent of working people breaking from the Democratic and Republican parties, and a working-class political leader posing a threat to the capitalist rulers.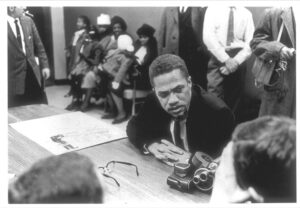 Speaking at Oxford University in England in 1964, Malcolm told students that "the young generation of whites, Blacks, browns, whatever else there is," you're living in "a time of revolution." And "I for one will join in with anyone, I don't care what color you are, as long as you want to change this miserable condition that exists on this earth." 
When asked by the Village Voice just a few weeks before he was killed whether his aim was to awaken Blacks to their exploitation, he immediately replied, "No, to their humanity, to their own worth." 
Malcolm X detested demagogy and thuggery, methods he had personally seen in the Nation of Islam. Beatings of Malcolm's supporters and attempts on his own life escalated in early 1965. 
On Feb. 14 Malcolm's house was firebombed, which could have killed his daughters and his wife. Malcolm accused Nation of Islam leader Elijah Muhammad of ordering the attack. But the day before he was assassinated, Malcolm said he was too hasty in making this statement. "I know what they can do, and what they can't, and they can't do some of the stuff recently going on," Malcolm said. 
It was Malcolm's confidence in the capacities of working people that the capitalist rulers felt most threatened by. Given the passage of time, all the facts about his assassination may never be known. But it's clear that those in or around the Nation of Islam who assassinated Malcolm were carrying out what the U.S. capitalist rulers desired.