Explaining the stakes for working people in opposing Moscow's war against Ukraine is at the center of discussions that members of the Socialist Workers Party are having with working people on their doorsteps, at factory gates, truck stops, on picket lines and at protests in solidarity with Ukraine.
As part of the international campaign to win 1,600 readers to the Militant, sell 1,600 books by SWP leaders and other revolutionaries and to raise $165,000 for the Militant Fighting Fund by May 17, they are distributing thousands of copies of the March 3 statement by Jack Barnes, national secretary of the Socialist Workers Party, headlined: Defend Ukraine's independence! For defeat of Moscow's invasion! US troops, nuclear arms out of Europe, all of Europe!
The Militant is the only newspaper where you can gain an understanding of the class forces involved in the war and the road to defend the interests of working people. It explains the need to give unconditional support to the Ukrainian people's right to self-determination. And why working people should oppose Washington's sanctions on Russia that fall hardest on workers and farmers there. They are an obstacle to breaking through Moscow's slanders against Ukraine and winning support for Russian toilers.
Sanctions foster the illusion that the imperialist powers can do some good for humanity when in fact they are jacking up military spending to prepare for future wars and sending troops to the region to defend their own capitalist interests at the expense of rivals and all working people.
At the same time, workers' resistance to rising prices, speedup on the job and more is sparking interest in what is happening in Ukraine and in the program to unite workers in struggle put forward by the SWP.
Arlene Rubinstein, SWP candidate for Washington, D.C., delegate to the House of Representatives, and party member Arrin Hawkins joined discussions at trucker-led protests in Hagerstown, Maryland, March 16. Truckers are protesting COVID mandates and also highlighting the worsening conditions they face under the impact of today's capitalist crisis.
"For everyday citizens, city people, to go out and fight is courage like no other," Aaron Simmons, a trucker from Oskaloosa, Iowa, told them, pointing to the resistance to Moscow's invasion of Ukraine. "It's ordinary people making a stand. If I were a Russian soldier that would be intimidating for me."
"Working people in Ukraine are defending their independence and transforming themselves and their fighting capacity. They are inspiring solidarity around the world, including in Russia," Rubinstein said. That, not a no-fly zone or sanctions, is the road to unite workers in both countries to fight against Moscow's war.
Trucker Wes Short from Jefferson, Ohio, who hauls steel, raised a different point of view. He said, "This is about NATO. Putin's problem is NATO."
"Putin seeks to reconquer Ukraine for domination by Russian capitalism. The Socialist Workers Party demands U.S. troops and nuclear weapons out of Europe," Rubinstein said. Putin's actual "problem" is trying to subjugate Ukraine, and he's leveling cities and massacring working people to try to do that.
Simmons got a subscription to the Militant and a copy of Teamster Rebellion, the first of four volumes by Farrell Dobbs that recount the successful strikes and organizing drives that brought tens of thousands of over-the-road drivers into the union in the 1930s. Short picked up two single copies and gave a $6 contribution.
'Fewer workers doing more work'
"In the last six months I've spent two nights at my house. It's hell, but I have to make a living," Mark Rice, a former coal miner who now drives a big rig, told SWP member Candace Wagner at the Bentleyville, Pennsylvania, truck stop March 16.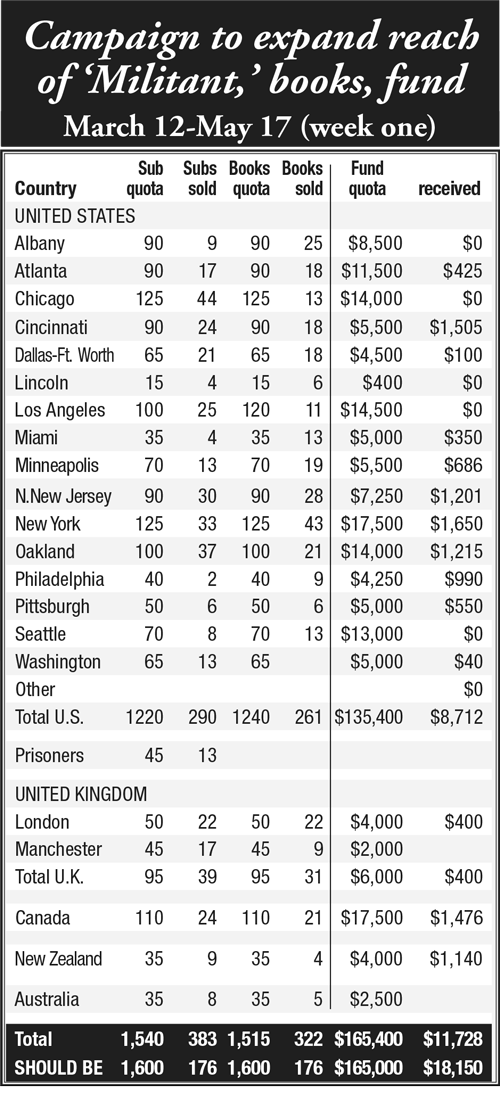 "This is one of the big issues we face on the railroad as well," said Wagner, a freight rail conductor. "Bosses at every workplace want fewer workers doing more work. Having time with our families is irrelevant to them."
"If we all could get together and stop working for three days, or even one day," said Rice, "we'd have them in the palm of our hands."
"United action of the working class is powerful," said Wagner. "We also have to deal with the fact the bosses have two political parties and a government that works in their interests. Their whole system guarantees making maximum profits off our work."
Wagner said working people need to form our own political party, a labor party based on the unions "to mobilize the kind of solidarity you're speaking of. If humanity is going to have a future, the working class, together with small farmers, needs to take power."
"That's what we need!" said Rice. He subscribed to the Militant, bought Teamster Rebellion and donated $5 for the Militant Fighting Fund. "Anything I can do to help you guys, let me know," he said.
The socialist newsweekly relies entirely on fund contributions from its readers and fellow working people. Every contribution large or small helps get the paper around.
"It's easy for me to identify with the struggle to defend Ukraine independence," nurse Magdalena Maj told Communist League campaigners Catharina Tirsén and Antonis Partasis when they knocked on her door in London's Bethnal Green March 19. "I'm from Poland and I'm concerned about what Russian President Vladimir Putin has in store for the country of my birth."
Tirsén pointed to the rich struggles by working people in Ukraine and Poland, noting that she'd brought solidarity to the Maidan, the popular uprising that overthrew the pro-Moscow government of Viktor Yanukovych in Ukraine in 2014, and visited shipyard workers in Gdansk, Poland, after their strike in 1980.
"It will be working people who can be counted upon to defend sovereignty," she said.  Maj bought a subscription to the Militant. a copy of The Jewish Question and made a $10 contribution to the Militant Fighting Fund.
"Putin is like Marcos was when I lived in the Philippines," Tessie Villaflor told CL member Hugh Robertson when he showed her the Militant at her doorstep. "These wars and attacks on our rights allow the rich to get richer at the expense of working people." She subscribed to the Militant.
Help expand the reach of the Militant. Contact the SWP nearest you. To contribute to the Militant Fighting Fund, make out checks to the Militant and send to 306 W. 37th St. 13th floor, New York, NY 10018, or donate online at www.themilitant.com.