Moscow's invasion of Ukraine has been stalled in a number of areas by fierce Ukrainian armed opposition, along with spirited protests in occupied cities. After raining destruction on civilian populations to try to hammer them into submission, Moscow is stepping up efforts to expand and consolidate its hold on territory it has seized in eastern Ukraine.
After fierce fighting, Ukrainian forces pushed back the Russian army in several towns in the north and northeast March 28, blocking the full encirclement of Kyiv and Kharkiv. But missile and artillery fire continues on civilians in Ukraine's two largest cities.
Russian troops occupying Kherson in the south have lost control of parts of the city. Despite using tear gas and beating and arresting demonstrators, Russian forces have been unable to prevent residents from holding protests there against the occupation.
"Ukrainians are fighting courageously, often arms in hand, to defend Ukraine's national sovereignty and independence. The Socialist Workers Party hails their resistance and calls for the defeat of Putin's invading forces," says a statement by the party's national secretary, Jack Barnes.
"Washington and its capitalist allies in London, Paris, Berlin and elsewhere shed crocodile tears over Ukraine's national sovereignty and the plight of its people," he points out. "Their only real concern is to protect their own profits and strategic political interests."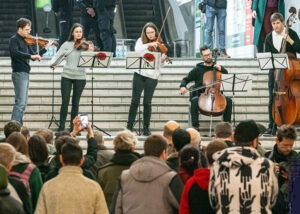 The SWP "demands the complete withdrawal of all U.S. troops and both conventional and nuclear arms and nuclear missile systems from Europe!"
Chanting "Slavutych is Ukraine," 1,000 protested the Russian army's seizure of the town, home to hundreds of workers at the damaged Chernobyl nuclear power plant, March 26 and demanded the release of its captured mayor, Yurii Fomichev. Occupying forces fired into the air, but demonstrators refused to disperse until Fomichev was freed. Shelling of the town of 25,000 the previous week prevented Chernobyl workers from returning to their homes, disrupting workers' shift rotation and endangering safety at the closed-down facility. The world's worst-ever nuclear disaster, covered up by Stalinist authorities, took place there in 1986.
Moscow's troops freed the mayor, but retain control of Slavutych and have imposed a curfew.
Mariupol continues to be fiercely defended by Ukrainian combatants, but some 160,000 civilians remain trapped and subjected to bombardment, lacking power, water and food. Ukrainian armed forces attacked and sank one of Russia's landing ships and damaged two others in the nearby occupied port of Berdyansk March 24.
The Russian high command is now trying to expand its occupation in Donetsk and Luhansk and encircle Ukrainian forces there. This includes two areas in eastern Ukraine where pro-Moscow separatist forces have fought Ukrainian government troops since 2014. One of Russian President Vladimir Putin's demands leading to the invasion is Moscow's control over the entire eastern provinces of Luhansk and Donetsk. This includes Mariupol.
Troops face resistance, difficulties
The Russian rulers wield a military force four times the size of Kyiv's and will use any cease-fire to consolidate and prepare for their next war moves. From civilian hospitals in Belarus to military hospitals in Moscow, medical staffs are inundated with injured Russian troops. A Kremlin-backed tabloid, Komsomolskaya Pravda, cited a figure of 10,000 deaths before the news item was suppressed. Moscow is keen to hush up casualty figures and says only 1,351 Russian soldiers have been killed.
The demoralization of some Russian troops has affected the army's performance and threatens deeper problems both on the field and at home. After the 1979 Soviet invasion of Afghanistan it took 10 years for losses of 15,000 troops to mount up. With no way to win that war, troop morale disintegrating and the war unpopular at home, Soviet authorities were forced into a humiliating withdrawal of their forces.
With many reported desertions, the Kremlin has dispatched "execution squads" to kill soldiers found trying to flee the front lines. This copies the murderous methods used by Joseph Stalin during World War II.
Ukrainian President Volodymyr Zelensky continues to look to and plead with the U.S. government and other imperialist powers to unleash their deadly airpower to win the war for him. First and foremost, his government advances the interests of the Ukrainian capitalist class against its rivals in Russia and against working people.
War rift in Orthodox Church
Shortly after Putin's invasion of Ukraine was launched, Patriarch Kirill, head of the Russian Orthodox Church and a longtime ally of the Russian president, gave the war his blessing. Both Kirill and Putin promote Great Russian chauvinism to justify Moscow's reconquest of the prison house of nations that existed under both the czarist empire and the Stalinized Soviet Union.
But Ukrainian national rights have not always been trampled upon. Under the leadership of the Bolshevik Party of V.I. Lenin, millions were led to overturn capitalist rule and establish a workers and farmers government in 1917. It ensured that the rights of nations oppressed under the czars were staunchly defended, including the right to self-determination. Those conquests were reversed after Lenin's death during a counterrevolution led by Stalin.
The unpopular war has sparked a split within the church. Nearly 300 priests and deacons signed an open letter titled "Russian Priests for Peace." It reads, "We respect the God-given freedom of man, and we believe that the people of Ukraine should make their choice on their own, not at gunpoint, without pressure from the West or the East."
After anti-war demonstrations across Russia were broken up, with more than 15,000 arrests, protesters have come up with a new way to get around the cops and censors. In St. Petersburg and other cities, opponents of Putin's war are placing tiny clay figurines holding placards saying "no war" and Ukrainian colors in prominent spots and posting photos of them online.
In Moscow, perpetrators of an antisemitic attack left a severed pig's head and Jew-hating slogan at the door of Alexei Venediktov March 24. He is Jewish and the editor of the liberal radio station Echo of Moscow that was recently shut down by Russian authorities. A sticker placed across the symbol of Ukraine read "Judensau," a 13th century obscene reference in German aimed at Jews, and was tacked on his door.
Antisemitic attacks like this give the lie to the fiction peddled by state-controlled media that the war is a "special military operation" against Ukrainian "neo-Nazis." Putin targets anybody not supporting his war with venom, labeling them as "traitors to the motherland."
"Now Russia is at a crossroads," protester Valetin Belayev told the Washington Post in Kazan over 500 miles east of Moscow. "All of us now have a responsibility for what the future of our country and the world will be like."