"We need a change. What we are going through is not sustainable," trucker Kenneth Kirkland told Chris Hoeppner, a railroad worker and Socialist Workers Party candidate for U.S. Congress from Pennsylvania, at a truck stop in Bentleyville, south of Pittsburgh, June 14. "I get $4,200 for a load driving from Pennsylvania to California. With gas prices as they are, that only leaves me with $200 to $300 at best. I want to watch my family grow up but I can't!"
"That's why we need to organize, we need to build our unions into effective fighting organizations for our class," Hoeppner responded. "We also need to organize politically and break from the Democrats and Republicans who both back this capitalist system."
Hoeppner showed Kirkland Malcolm X, Black Liberation, and the Road to Workers Power by SWP National Secretary Jack Barnes. This book shows "it's workers and farmers that need to organize to take power out of the hands of the capitalist class," Hoeppner said. Kirkland got the book.
Coming out of the June 9-11 International Active Workers Conference, Socialist Workers Party members are stepping up efforts to take the SWP's program to workers and farmers across the country.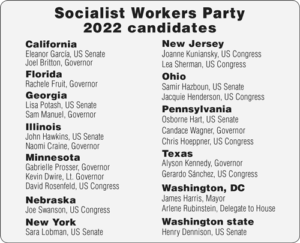 One central feature of this effort is a four-week summer renewal drive, June 25 through July 26, to win 20% of those who subscribed to the Militant this spring to become long-term readers of the paper. The drive also includes selling a similar number of books by SWP and other revolutionary leaders to subscribers.
SWP members and supporters are campaigning for the party's ticket in Pennsylvania — Candace Wagner for governor, Osborne Hart for U.S. Senate, and Hoeppner. A three-week target effort is set for July 9-31 to collect 2,000 signatures, twice as many as required, to win ballot status for Hoeppner, the first time in decades that the SWP will have gotten on the ballot for federal office in Pennsylvania.
'We're being robbed by government'
"We're all being robbed by the government," Texas-based owner-operator Leroy Ford, 49, told Hoeppner at the same truck stop. "They are now making the industry more dangerous by experimenting with driverless trucks," he said. "Many of the big trucking companies don't care about safety." Pointing to a young woman, he said she "was sent out by the company she worked for after just three weeks of training. I'm training her now to become a driver."
"The bosses blame us when accidents happen, but the cause is their unrelenting profit drive," Hoeppner said. "The Pennsylvania attorney general blamed engineer Brandon Bostian for the death of eight passengers in an Amtrak crash. The fact was that rocks were thrown on the rail tracks, he lost situational awareness and the train derailed. Had Amtrak bosses not cut crew sizes and had installed a government-required braking safety device, things would have turned out differently. Our unions need to defend any worker blamed for the bosses' disregard for safety and fight for workers control in running the workplace."
"I want to help," Ford said. "I know a few radio stations in Dallas that might help spread your message." He subscribed to the Militant and bought a copy of Teamster Rebellion by Farrell Dobbs a leader of the SWP and organizer of the 11-state unionization drive that brought thousands of workers into the Teamsters union in the 1930s.
Campaigning in south Philadelphia June 17, Hoeppner met Chris Palmer, a former schoolteacher who now inspects houses. "I like what you're raising, but when I am at the voting station, I'll be thinking who to vote for so we don't have Donald Trump as president again," he said.
"There is no lesser evil," responded Hoeppner. "In 1964, many, especially on the 'left,' urged people to vote for Democrat Lyndon Johnson instead of Republican Barry Goldwater. They said that Goldwater would escalate the war in Vietnam. Johnson won and then he escalated that war!
"Many working people thought Obama would be a change and then they thought Trump would be," Hoeppner said. "As working people go through further class-struggle experiences more of us will realize that we can only rely on our class's capacity to organize independently from the bosses and their parties." Palmer subscribed to the Militant.
SWP on ballot in Minnesota, N.J.
The campaigning and ballot drive in Pennsylvania comes on the heels of the successful effort that placed the SWP ticket in Minnesota of Gabrielle Prosser for governor and Kevin Dwire for lieutenant governor on the ballot. Party members and supporters collected over 2,500 signatures fanning out across the state May 17-31, taking the SWP's program to meatpackers in Worthington, iron ore miners in the Iron Range, sugar refinery workers in Crookston and to many others. As they campaigned, they sold 95 subscriptions to the Militant and 57 books by SWP leaders and other revolutionaries.
The party's candidates in New Jersey, Joanne Kuniansky for House of Representatives in the 8th C.D. and Lea Sherman in the 9th C.D. have been notified they will appear on the ballot. Each filed petitions on May 24 with more than 150 signatures, triple the 50 signatures required for ballot status.
For more information or to join the Militant renewal campaign and the effort to get the SWP on the ballot in Pennsylvania, contact the nearest campaign office.
Hugo Wils contributed to this article.