Russian missiles struck Ukraine's key Black Sea port of Odesa July 23 just one day after Moscow signed an agreement brokered by the U.N. and Turkish government to unblock shipments by Kyiv of Ukrainian grain exports stored there. The Ukrainian government called the provocative attack a "spit in the face" that threatened to deny badly needed food to toilers in Africa and the Middle East.
Moscow's attack — which the Russian government claimed was aimed at Ukrainian weapons — reveals its utter contempt for millions of working people. President Vladimir Putin views them as expendable pawns in his efforts to crush Ukraine and expand Russia's reach.
Despite the damage, Kyiv officials announced they will push ahead on the grain shipments. Ukrainian forces are clearing safe channels through sea mine defenses.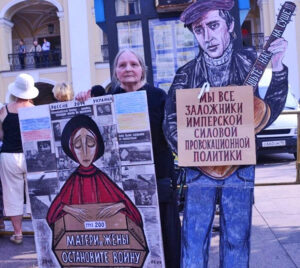 Russian Foreign Minister Sergey Lavrov told an Arab League summit in Cairo July 24 that charges claiming Moscow's blockade in the Black Sea is "exporting hunger" are nothing but Western propaganda. But the fact is prices of vital commodities like wheat and barley have soared 187% in Sudan, 86% in Syria and 60% in Yemen since Putin invaded Ukraine.
As one of the world's largest exporters of wheat, corn and sunflower oil, Ukraine has over 20 million tons of grain held up by Moscow's blockade. Its economy is being choked, as only limited amounts of grain can be shifted overland to the rest of Europe by rail, road and river.
The Russian military has repeatedly attacked Ukrainian food warehouses, silos and other agricultural facilities. And large quantities of Ukrainian grain have been looted from occupied areas.
Lavrov told the Arab League meeting that the Kremlin's goal is to "liberate" all Ukrainians from Kyiv's "unacceptable regime." Days earlier he told Russian state media the Kremlin's goals in Ukraine go far beyond seizing the eastern Donbas region. It includes occupying "the Kherson region, the Zaporizhzhia region and a number of other territories."
Putin continues to bombard civilian areas in Ukraine's major cities all across the country, seeking to intimidate and cow the population.
"The Socialist Workers Party demands Moscow get out of Ukraine — all of Ukraine — immediately! We hail the courageous defense Ukraine's forces and working people are waging, including in occupied territory," Chris Hoeppner, Socialist Workers Party candidate for Congress from Pennsylvania, told the Militant July 25. "The road forward is to combine this resistance with reaching out to build class solidarity between Ukrainian and Russian working people, and workers worldwide, including here in the U.S. That will undermine Putin's war from within.
"As it is today, the severe economic sanctions imposed by the U.S. rulers and their imperialist allies hit Russian working people hardest. They give Putin a handle to cut off solidarity."
The national consciousness of Ukraine is being transformed by the effects of the Kremlin's brutal war. In Russian-speaking areas under the boot of Moscow's occupations in the country's east and south, or hit by bombardments, there has been a steep fall in support for Russian domination.
Over 6 million Ukrainians have been displaced internally, many relocating to safer areas in the western part of the country. Five million more have been forced to flee the country to Poland and other countries. Hundreds of companies have shifted production to the less war-affected west. Russian-speakers from the industrialized east are welcomed by people in the mostly rural, largely Ukrainian-speaking, west.
"This is a big cocktail that we call Ukraine," Vadim Bespalov, a Jewish cafe owner in Ilnytsya who's originally from Kyiv, told the July 22 Washington Post. "It's all being mixed up."
These experiences are strengthening the determination of working people in Ukraine to unite to defend their country. And they are deepening trends that have developed since the powerful working-class Maidan uprising in 2014 overthrew the pro-Moscow government of Viktor Yanukovych. Support for rightist political groups has plummeted, as well as backing for pro-Russia parties.
Putin's war runs into problems
Despite Russia's more than three-fold advantage in population, Moscow's invasion has bogged down. The scale of the Kremlin's losses and the brutality of its five-month-long invasion is demoralizing many Russian troops. There are pockets of working-class anger across Russia itself, liable to spread as the heavy losses mount.
"If our country had been attacked like this, we would also be defending ourselves, like they are," a Russian mother, Valya, told the BBC July 14. "We would be angry, too." She last spoke to her son Feb. 20. He was killed at the front soon after. Only just officially notified, she asked that her real name not be used for fear of repercussions.
"We're the lowest class. We're simple country folk," Valya said. "All the lads doing the fighting are from remote regions of Russia. Not Muscovites. There are no sons of government officials there."
Putin has carried on a relentless effort to silence all opposition to his war. When tens of thousands took to the streets all across Russia to protest his invasion, he unleashed a wave of arrests, torture and imprisonment. News reports that criticized any aspect of Putin's so-called special military operation led to the firing and persecution of reporters and any others involved.
While many Russians believe — or are reconciled to — state media propaganda, others have learned the truth the hard way. Valya, in contact with soldiers' mothers across Russia, says, "They hate the government. They hate Putin. They all want this war to end. All the mothers do.
"If the mothers of all the soldiers there now, and the mothers who've lost sons, if they all rose up, can you imagine how big that army would be?" she asked. "And they will. Their nerves will snap."