PHILADELPHIA — Pennsylvania state authorities are laying the groundwork to deny ballot status for Chris Hoeppner, the Socialist Workers Party candidate for U.S. Congress in Philadelphia's 3rd District. A national effort is being launched by the SWP to prepare for this fight.
In a very successful petitioning drive, Hoeppner, a freight rail conductor and member of the Sheet Metal, Air, Rail and Transportation Workers Union (SMART), and SWP campaign supporters gathered 2,422 signatures to put him on the Nov. 8 general election ballot. This is more than double the 1,000 signatures state election officials said were required, and posted on their election website, when new districts were approved earlier this year. Petitioning was set to run from March 16 to Aug. 1.
Hoeppner filed his nominating petitions July 27 at the secretary of state's office in Harrisburg.
When state officials reviewed Hoeppner's petitions, he and campaign attorney Larry Otter were informed the party had filed enough signatures for ballot status, barring an outside challenge. But they also said the requirement had been raised to 2,300 — more than double the official figure on their website!
When asked how and when this change had been made and publicized, an official said he didn't know for sure, but was told it had been posted on Twitter in mid-July. An exhaustive search by campaign supporters uncovered a Twitter posting from July 14 by the Pennsylvania Department of State — four months after petitioning opened in the state, and just two weeks before the deadline for filing signatures — saying the requirements had been "corrected." The Twitter posting linked people to a totally new election website.
SWP National Campaign Director John Studer affirmed that on July 29, two days after the SWP submitted their signatures, the required figure on the new state's website still was reported as 1,000. It was not until July 30, a day before the Aug. 1 deadline to turn in petitions, that was it changed to 2,300 for District 3. Changes were made in requirements for other districts, but none anywhere as high as for Hoeppner's district.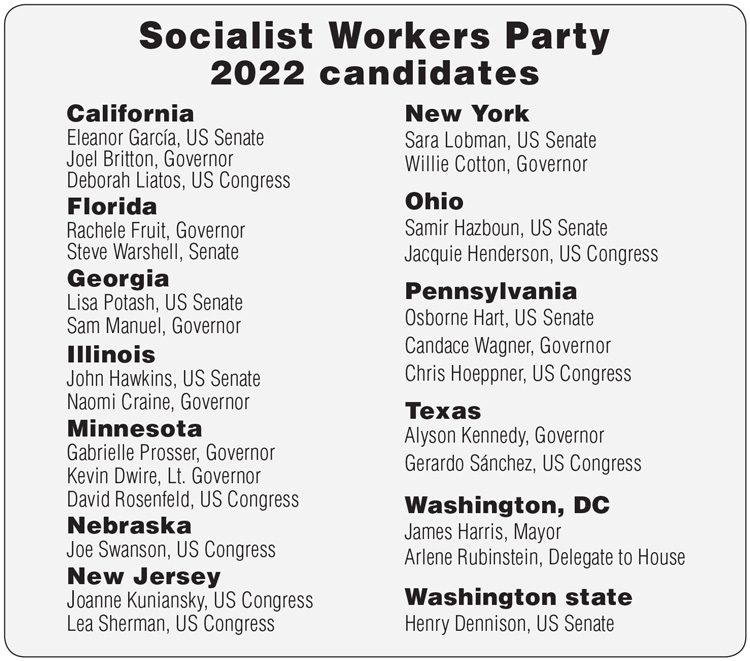 "This is just outrageous and a threat to the political rights of the Socialist Workers Party, any other working-class candidate who should decide to break from the Democrats and Republicans, all those who support our campaign and the working class. The SWP will fight tooth and nail against any attempt to keep our campaign off the ballot," Hoeppner told the Militant.
Objections to any party's nominating petitions must be filed by Aug. 8. State and election officials say hearings may then start as early as Aug. 15.
Campaign supporters have begun talking with co-workers, union officials, church groups and individuals from political and social organizations to urge them to be prepared to speak out against this attack. The SWP will begin immediately to raise funds to help finance this fight.
Otter and Michael Krinsky, a lawyer from the well-known political rights firm Rabinowitz, Boudin, Standard, Krinsky & Lieberman, are ready for a legal challenge, if needed, to demand Hoeppner be placed on the ballot.
The new state election website, vote.pa.gov, also says that mail-in and absentee ballots are already being sent out, although there are dozens of independent and third party candidates who have filed to run.
SWP gets a hearing
Campaign supporters in Pennsylvania have traveled all over the state, meeting with working people on their doorsteps, at plant gates, strike picket lines, store parking lots, farmers markets and elsewhere, introducing thousands to the party and its slate of candidates. The SWP ticket in Pennsylvania includes Osborne Hart for U.S. Senate and Candace Wagner, a freight rail conductor in Pittsburgh and member of the Brotherhood of Locomotive Engineers and Trainmen, for governor, as well as Hoeppner.
During the petitioning effort 59 people who signed for the SWP got subscriptions to the Militant along with 46 books by SWP leaders and other revolutionaries. While most campaign teams took place in Philadelphia, where Hoeppner's district is based, several went to small towns and rural areas around Lebanon County, Hershey, Allentown and West Chester.
An article by reporter Bill Rettew, who went door-to-door with Hoeppner and Wagner, appeared Aug. 1 in the West Chester Daily Local News. At the end, Rettew said, "He likes the idea of having more than two choices."
To send a message of protest or for more information, contact: The 2022 Pennsylvania Socialist Workers Party Campaign, 2824 Cottman Ave., Suite 16, Philadelphia, PA 19149, Email: philaswp@verizon.net. Telephone: (215) 708-1270.