Moscow's deadly bombardment of Kyiv and other cities, targeting civilians as well as infrastructure needed for heat and power, has done nothing to deter the willingness of Ukrainians to defend their homeland. Kyiv's forces continue to press to retake areas in the southeast seized by Moscow, while Russian President Vladimir Putin's battlefield losses and his mobilization of reservists has deepened the unpopularity of the war at home.
Putin said Oct. 14 that 16,000 men — utterly unprepared — had already been rushed to the front lines. Families are forced to buy clothes and equipment for conscripted relatives. A number of the poorly trained workers in uniform were killed or captured within days.
"Kamikaze" drones made in Iran hit Kyiv and other cities at rush hour Oct. 17. Specialists from Tehran's Islamic Revolutionary Guard Corps were sent to Moscow-occupied areas to train Russian troops how to fire the drones. The week before, Moscow unleashed the heaviest missile and drone attacks since the invasion began almost eight months ago.
About a third of Ukraine's power, heating and water facilities were knocked out. Putin's regime hopes to break the Ukrainian people by making life far harsher as winter approaches.
But that goal is futile.
"People are very patriotic. If it helps to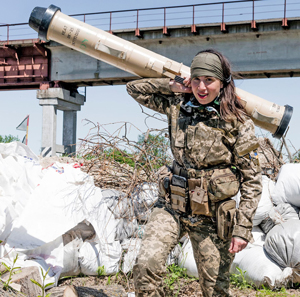 win, people will spend the winter without heat," Denys, a Kharkiv taxi driver, told the Financial Times  Oct. 17.
Ukrainian advances in the south broke through Russian defenses, severing their supply lines west of the Dnipro River near Kherson, the main city of one of the four regions seized by Moscow that Putin claims are now part of Russia. Moscow-installed officials in Kherson urged civilians to evacuate Oct. 14, a sign of the Kremlin's alarm. 
Moscow's new top military commander in Ukraine, Gen. Sergei Surovikin, who earned the nickname "General Armageddon" in Syria, acknowledged on national TV Oct. 18 that Russian forces might not be able to keep control of occupied Kherson. They are facing a situation that "is not at all easy right now," he said.
Workers key to Ukrainian defense
Ukrainian advances are built on victories in defense of Kyiv, Ukraine's capital, during the first weeks of the war. Tens of thousands of Ukrainian construction, factory, warehouse and other workers as well as truckers left jobs in Poland and elsewhere to return to defend their country. They joined unionists inside Ukraine, especially from eastern industrial and mining areas, in volunteering for the territorial militia and Ukrainian army.
"Ragtag army that won the battle of Kyiv and saved Ukraine" was a Sept. 20 Wall Street Journal  headline. The article describes how a "domestic insurgency fused onto a traditional army."
Moscow's troops rapidly approached Kyiv but were stopped as bridges and dams were blown up by working-class volunteers to slow the invasion and buy time until the Ukrainian army could join the battle.
Journalist Tetyana Chornovol had been beaten by thugs of the pro-Moscow regime of Viktor Yanukovych during the mass Maidan uprising in 2014 that brought down his rule. Just prior to Moscow's February invasion, she got brief training on an anti-tank weapon and then fought to defend Kyiv, helping take out a column of tanks.
Dressed in jeans and with little body armor, another few dozen workers set off to prevent an elite Russian unit from taking the Giraffe shopping mall on the outskirts of the city. Half of them had never fought before. 
"Look what I do and do the same," Volodymyr Korotya, a Ukrainian army veteran, instructed the group, which included a bus driver, firefighter and psychotherapist. After a three-hour battle, Moscow's forces fled.
Roots of Ukrainian national struggle
The Ukrainian people's fight to defend their country's sovereignty has deep roots. 
The country won its independence in the early 1920s after the Russian Revolution led by V.I. Lenin and the Bolsheviks overturned capitalist rule, established a workers and farmers government, and extended autonomy to Ukrainian and other nationalities. This drew widespread support from Ukrainians and other oppressed peoples, whose culture and languages flourished.
A counterrevolution led by Joseph Stalin from the mid-1920s reversed Lenin's policies granting oppressed nations self-determination. Moscow's domination was once again brutally imposed. It took until the disintegration of the Soviet Union in 1991 for Ukrainians to regain their independence.
Since then, determination to defend Ukraine's sovereignty has deepened. Millions of workers, farmers and youth took to the streets to fight pitched battles against thugs of the pro-Moscow Yanukovych regime in 2014, before he fled Ukraine.
Today Putin's war is further cementing Ukrainian national identity. More people, including Russian-speakers, have resolved to learn more of their national language and culture. Ukrainian resistance to the invasion has shattered Putin's expansionist plan to reimpose the "prison house of nations" that existed under the old czarist empire and then the former Soviet Union.
Euromaidan Press interviewed a younger generation of Ukrainian army officers Oct. 13. For Capt. Oleksandr Shafransky "independence means not depending on anyone, neither the EU, nor the United States, and certainly not Russia."
To Pavlo Halas, a senior sergeant, independence means having "freedom of speech and freedom of action in your country." These kinds of freedoms are important for union struggles as the capitalist government in Kyiv has banned strikes and protests, using the pretext of the war. In September, miners at Mine No. 9 in Novovolynsk broke the ban. They fought to prevent the appointment of a manager notorious for delaying wage payments and cutting maintenance.