Members of the Socialist Workers Party and Communist Leagues in Australia, Canada and the U.K. met their goals, winning 1,352 new readers to the Militant  and getting out 1,503 books by SWP leaders and other revolutionaries during the eight-week international campaign that wrapped up Nov. 15. In the U.S., contributions totaling $142,936 were collected for the SWP Party-Building Fund.
Welcome to all our new readers and congratulations to everyone who participated!
Campaigners spoke to hundreds of workers and farmers on doorsteps in cities and rural areas, introducing the SWP's candidates and their working-class program as well as the party's two statements — "Defend Ukraine's independence! For defeat of Moscow's invasion!" and "Demand Washington end its economic war on Cuba! Now!" both issued by SWP National Secretary Jack Barnes on behalf of the party's national committee. Campaigners joined actions in support of the widespread demonstrations in Iran and in opposition to Washington's embargo against Cuba. 
On picket lines and at rallies by rail workers, bakery workers, nurses and others, the Militant  was appreciated as an invaluable place to find the truth — and the latest news — about these working-class battles, and the paper's efforts to expand support.
The effort was complemented by party election campaigns in the U.S. and Canada. Candidates explained why taking on the Democrats' assault on constitutional freedoms is the most important issue today as working people seek to defend our class in the face of increasing efforts by the capitalists to push their economic crisis onto our backs. 
Response among fighting workers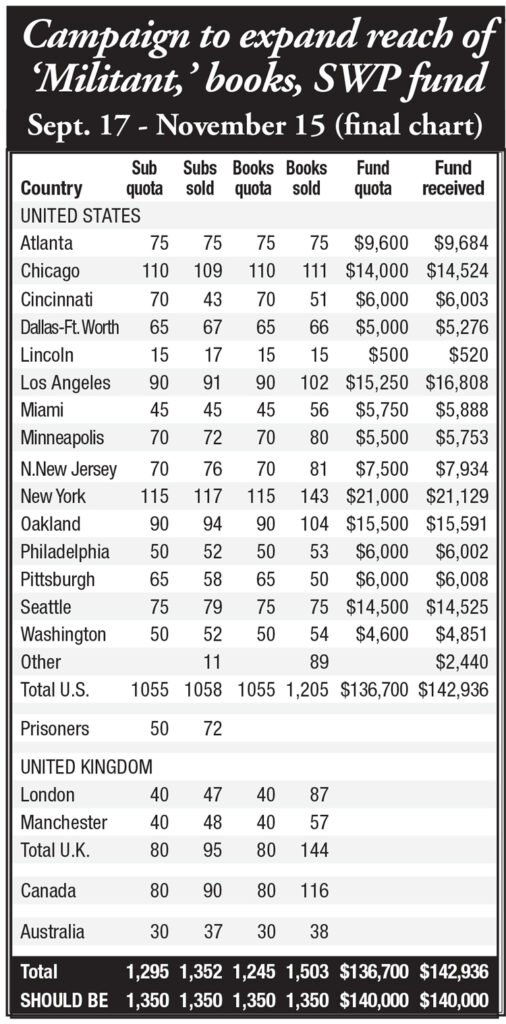 As the campaign was coming to a close, Communist League members and supporters in Canada joined the Nov. 4 picket line of 15,000 in Toronto's Queen's Park and other actions in support of the two-day strike and ongoing fight by school workers to defend their right to strike. The 55,000-member Canadian Union of Public Employees and 8,000 education workers in the Ontario Public Service Employees Union forced the Conservative provincial government to withdraw Bill 28, one of the biggest attacks on union rights there in years. 
"We're fighting for the right to strike against a draconian law," John Roberts, a CUPE custodian told League member Steve Penner. "Without the right to strike workers have no voice, no way of fighting for better wages and working conditions." 
"I completely agree with you, and we can go further," said Penner, "Our unions need to break from their support of the capitalist parties and build a labor party, based on the unions, that can fight to establish a workers and farmers government that will act on our behalf rather than the wealthy capitalist rulers." 
Vicky Mercier, a striking teacher who wrote some of the Militant's coverage of their battle, described a discussion she had with Dawn Edwards, a CUPE member. "Wages and benefits are important," Edwards said, "but for me the issue is the government taking away our civil liberties, our constitutional rights!" 
Working people at the solidarity actions bought 10 Militant  subscriptions and 29 books. Going door to door in Toronto, League members and supporters found broad support for the school workers' fight. 
In Minneapolis, Diaspora Forces, a group of West Africans that gives support to people from Togo and other countries in West Africa, invited the SWP campaign to set up a literature table at its meeting. Doug Nelson, the SWP candidate for mayor of Minneapolis in 2021, brought greetings to the gathering. Two participants subscribed to the Militant  and four Pathfinder books were bought, including Thomas Sankara Speaks in English and French. 
SWP members Edwin Fruit and Mary Martin visited long-term subscribers to the Militant  and people who met the party through the SWP's 2021 and 2022 election campaigns in Minnesota. After they explained how the party is funded by contributions from working people, one person kicked in $42 and another gave $50 to the SWP Party-Building Fund. Another person they called came to the pre-election rally at the campaign headquarters on Nov. 5 and gave a contribution of $50. 
In Ft. Worth, Texas, Alyson Kennedy, the SWP 2022 candidate for Texas governor, and Gerardo Sánchez, the party's candidate for U.S. Congress, set up campaign signs with a car-trunk book display at some grocery store parking lots. During discussions with workers there, they sold six books and three subscriptions to the Militant.
"I moved here from California where I couldn't survive getting $15 an hour and paying $10 a gallon for gas and the high rents," Luci Alvarez told Sánchez Nov. 13. 
"Our unions," Sánchez said, "can lead a fight for cost-of-living adjustments in all union contracts, as well as in Social Security and other benefits, that keep up with inflation." 
Cameron Standmire, a warehouse worker, got a subscription to the Militant  and a copy of Labor, Nature, and the Evolution of Humanity. 
The SWP and Communist Leagues plan to build on the success of the campaign, continuing to get out the word about today's working-class struggles and build solidarity. To join in, contact the party branch nearest you in the directory.