SAN FRANCISCO — Conditions facing Chinese in the United States and around the world coping with the fallout from the COVID-19 pandemic and the sharpening conflicts between Washington and Beijing was the theme of this year's conference of the International Society for the Study of Chinese Overseas, held here Nov. 11-12.
The event was attended by some 150 people, overwhelmingly university professors and students specializing in the history of the Chinese population in the countries where they live. They came from the U.S., Canada, and countries ranging from Japan, Taiwan, and the Philippines to Chile, France and South Africa.
After almost three years of pandemic-related travel bans and lockdowns worldwide, this was the first international ISSCO conference since 2019. For ISSCO members in China who could not attend the San Francisco event because of ongoing travel restrictions, a parallel conference was organized at Jinan University in Guangzhou, China, attended by some 200 people. The five plenary sessions in San Francisco were transmitted live to Jinan.
Lok Siu, head of the conference organizing committee and chair of the Asian American Research Center at the University of California at Berkeley, welcomed participants to the gathering, which marked ISSCO's 30th anniversary.
"Our founding conference was held here in San Francisco in 1992," said Ling-chi Wang, a retired U.C. Berkeley professor and longtime ISSCO leader, speaking at a special "Founders Roundtable" program. "It was not possible before the end of the Cold War and the 1992 Consensus between China and Taiwan," he explained, referring to an agreement between those two governments that for the first time allowed exchanges across the Taiwan Strait.
Since then, ISSCO has held conferences in countries from Singapore to New Zealand, Cuba, Panama and Denmark.
Plenary sessions and workshops took up an array of topics concerning the 40 million people of Chinese ancestry living outside China. The subjects ranged from the Chinese community in the Philippines under Spanish colonial rule to Chinese migrants in Africa today.
Opposing scapegoating of Asians
The dominant threads running throughout the conference sessions, however, were the scapegoating of Chinese for the COVID pandemic and the impact of the Washington-Beijing conflict on Chinese in the United States and elsewhere. Many speakers expressed concern and fear that overseas Chinese are increasingly under attack by government security agencies and targets of individual acts of violence, especially in the U.S.
Plenaries and workshops took up topics such as "The Pandemic and Anti-Asian Violence in the U.S.," "Global Sinophobia in the Era of COVID-19," and instances of anti-Asian discrimination in various countries, such as Colombia and South Africa.
The highlight of the gathering was a plenary session on "Racial Profiling and Discrimination against Chinese American Scientists and Engineers." It featured three scientists — Sherry Chen, Xiaoxing Xi and Gang Chen — who explained how they fought back against false U.S. government charges that they had spied for the Chinese government (see article).
Sherry Chen, a hydrologist at the National Weather Service, described how FBI agents arrested her in 2014 on false charges of "economic espionage," threatening her with 25 years in prison, and how she waged a successful fight against the frame-up.
Xiaoxing Xi, a physicist at Temple University, and Gang Chen, a professor of engineering at the Massachusetts Institute of Technology, explained how armed FBI agents had burst into their homes and arrested them — Xi in 2015 and Chen in 2021 — in front of their terrified families. They fought back, winning public support, and defeated government efforts to frame them up. In both cases, as with Sherry Chen, federal prosecutors eventually dropped all charges — without apology or compensation for their legal and other costs.
Jeremy Wu, founder of the Asian Pacific American Justice Task Force, explained that numerous Chinese American scientists have been targeted on espionage charges under the past three administrations. Sherry Chen and Xiaoxing Xi were arrested during the Barack Obama administration. The "China Initiative," a witch hunt program launched in 2018 by the Justice Department under the Donald Trump administration, was officially dropped in February this year in face of protests by Asian American and civil liberties groups, but the Biden administration has continued to pursue prosecutions.
Wu paid tribute to the three scientists on the panel for their courage. Their example shows that "we need to stand up, speak out, and be engaged," he said. "Asian Americans by ourselves are not enough to win these fights. We need to reach out and look for allies, especially among the younger generations."
In the discussion period, Mary-Alice Waters, president of Pathfinder Press, took the floor. Waters is editor of Our History Is Still Being Written: The Story of Three Chinese Cuban Generals in the Cuban Revolution, which she has presented at numerous previous ISSCO conferences. "You are not alone. You have allies, especially in the working class," Waters said. "It's not just Asian Americans whose constitutional rights are being violated today."
She pointed to how the FBI was transformed into a federal political police agency by an executive order of President Franklin Roosevelt in 1939, as Washington was preparing to enter the second imperialist world war. The FBI framed up and jailed leaders of the Socialist Workers Party and the Minneapolis Teamsters, which were a powerful component of the rising industrial unions and were organizing opposition to the U.S. rulers' imperialist war aims.
Over the course of the conference, many participants came to the Pathfinder table to get books on this and other questions of U.S. and world politics, and to discuss them with supporters of Pathfinder Press.
Debate on U.S.-China conflict
The final conference session was on "Changing U.S.-China Relations and Their Impact on Chinese in the U.S. and Elsewhere."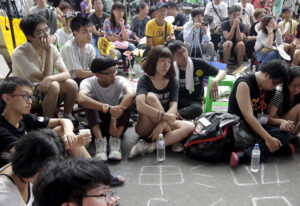 The backdrop to the panel discussion was the ongoing efforts of the U.S. imperialist rulers to maintain their domination of the Pacific in face of competition from Beijing and its growing military reach. President Joseph Biden has declared that Washington will respond militarily to any aggression by the Chinese regime seeking to end the independence of Taiwan. Beijing has fortified armed outposts on Pacific island chains claimed by other governments, including Tokyo, Hanoi and Manila. It has cracked down harshly on political opposition in Hong Kong and on the predominantly Muslim Uyghur minority in Xinjiang, western China.
Departing sharply from the tone of an academic exchange of ideas, the panelists insisted that Washington is already well advanced in preparations for going to war against Beijing. They argued that the Chinese government's foreign policy is based on a justifiably defensive response to such threats.
"China wants a multilateral world, but the U.S. wants a unilateral world. That leads to conflict," said Don Tow, president of the New Jersey Alliance for Learning and Preserving the History of World War II in Asia.
"The U.S. plan is to provoke war" with Beijing, stated K.J. Noh, a radical online commentator and member of the advisory group of Friends of Socialist China. In fact, he said, "the U.S. is already at war with China." This is "because China stood up" to U.S. imperialism. "Taiwan is a pawn of the U.S. Its independence would be a threat to China," he argued.
Noh asserted that accusations of repression by Beijing against the Uyghur people are a fabrication — part of Washington's "hybrid warfare" — designed to tarnish the Chinese government's "development program" in Xinjiang.
"There is no nation or country of Taiwan — it's a place" and it belongs to the People's Republic of China, stated Gordon Chang, a professor at Stanford University.
"People in Taiwan are indoctrinated" to oppose coming under the rule of the Beijing government, said George Koo, a writer for the online Asia Times. Echoing a charge made by those who oppose Ukraine's battle to defend its national independence against Moscow's invasion, Koo argued that "the U.S. is pushing Taiwan toward a firefight with China, just like it pushed Ukraine against Russia."
The aggressive tone and content of the panelists' remarks did not go unchallenged, and applause for their arguments diminished as the session went on, registering the fact that many in attendance did not agree with much of what was said.
"I don't see Taiwan as a pawn of the U.S.," said one audience member who took the floor in the discussion period. "Also, we know the Chinese state conducts surveillance of Chinese overseas."
"China has never renounced the use of force against Taiwan," said Andy Wang, a professor at the Academia Sinica in Taipei. "Using force would be a big step toward war."
Speaking informally after the session, Wang noted that today the big majority of people in his native Taiwan, especially among younger generations, do not want to live under Beijing's boot.
At the conclusion of the two-day event, many participants said it was a much-needed opportunity, after a long three-year hiatus, to learn and exchange views with fellow ISSCO members from around the world. As Ling-chi Wang put it in a letter sent afterward to all participants, ISSCO's international conferences provide "encounters with other people in different countries" and fascinating insights that help us "understand the world."