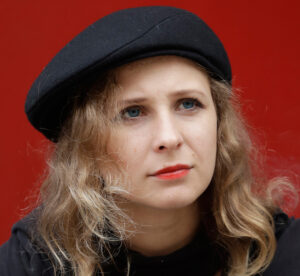 REYKJAVIK, Iceland — For the first time, the Militant was able to interview Masha Alyokhina, a member of Pussy Riot, a performance art collective, whose members have been imprisoned for their opposition to Russian President Vladimir Putin's regime and its wars.
The group had just completed an eight-month international tour raising support for the Ukrainian people's fight to repel Moscow's invasion. As part of its  efforts, the band set up an exhibition at Reykjavik's Kling & Bang gallery showcasing the group's protests from 2011 to 2021. It's titled, tongue-in-cheek, "Velvet Terrorism: Pussy Riot's Russia."
Tour stops concluded with images of police beating protesters and political prisoners held in Russian prison camps today. Through the tour the band is raising money to repair a children´s hospital bombed in Kyiv.
The protest band members gained worldwide attention after a performance in a Moscow Orthodox cathedral to protest the church hierarchy's endorsement of Putin. As a result, Alyokhina and Nadezhda Tolokonnikova were sentenced in 2012 to two years in labor camps. Following an international campaign for their release, they were paroled after 21 months.
Alyokhina then spent more time under house arrest or in special detention after joining protests demanding freedom for political prisoners and against Moscow's 2014 seizure of Crimea. After Moscow's invasion of Ukraine last year, she left Russia in May disguised as a food courier. She desired to "inform the whole world about what is happening in Russia" and wanted to "write anti-war songs and raise money for Ukraine."
"When you receive a sentence they send you to a penal colony, a Gulag," she said. "It's like a strange village divided into living and working zones." Prisoners live in barracks of 80 to 100 people, all "sleeping in one room together." They have "one small kitchen and usually three toilets and basins." The only hot water is for the bath and only one bath is allowed each week.
The working zone is fenced off "like a strange factory where the prisoners produce police and army uniforms." While the workday is legally limited to eight hours, "usually it is 10 to 12 hours per day, six days a week."
When a "Human Rights Commission visited the penal colonies, I went to them and asked questions about the conditions," Alyokhina said. Although it gets to minus 35 C (minus 31 F) where she was incarcerated, "you are not allowed to wear a cap. I just asked for the clothes — and that was enough for the administration. They prepared a small provocation against me and put me in solitary confinement."
Women´s prisons mirror "Putin´s modern society," she said. "They do everything they can to push women to forget that they have their own voice. They divide and rule, dividing prisoners into privileged and not privileged to keep order.
"It´s a very simple, old principle. People are losing their health, and a prisoner is thinking of the moment when he or she comes out and starts to live another life. It´s a Stalin principle."
Alyokhina was released at the end of 2013. Pussy Riot visited Ukraine after the Maidan uprising ousted the pro-Moscow dictatorship of former President Viktor Yanukovych in 2014. That "was one of the most magical moments I have ever felt," she said. Since then she has been to Kyiv several times.
In 2016 Pussy Riot members took part in a Kyiv rally demanding the release of two Ukrainian political prisoners, film director Oleg Sentsov and Oleksandr Kolchenko. The two had been arrested on fraudulent "terrorism" charges in Crimea in 2014 for opposing Moscow's takeover. In 2017 Alyokhina and Olga Borisova were detained by police after they flew a "Free Sentsov" banner in Yakutsk, the Russian city where Sentsov was serving a 20-year sentence.
Today, band members have friends in Kyiv and other cities, including some "who are soldiers and fighting for Ukraine in Bakhmut," Alyokhina said.
"It´s not just the question of the eastern part of Ukraine, it´s a question of Kazakhstan, it´s a question of the Baltic countries," she said. "We should use everything we have to help Ukraine win this war," she said. "But the first thing is understanding how things are.
"The war did not start in February 2022, it has been going on for 10 years minimum," she said, pointing to the mounting repression meted out to Putin's opponents, with people "beaten, imprisoned, killed. All of this was growing, and then the invasion. Only with Ukrainian blood did more people start to realize that something is wrong with Putin."
Inside Russia, "a lot of people are already against the war," but police actions have curtailed more widespread opposition.
"Twenty army enlistment offices and all their documents were burned by ordinary people who launched Molotov cocktail" attacks, after Putin's Sept. 21 call-up, she said.
"And there are women relatives of soldiers who are trying to take their men back." Alyokhina remains determined to speak out and to help mobilize opposition to the Kremlin's war. "If each of us will do this minimum, it will be a big thing."