Socialist Workers Party members campaigned for party candidate Ilona Gersh running for Chicago mayor Feb. 25, outside the Alpha bakery where she works. The next day co-worker Kimarah Brown got a Militant subscription from Gersh and the new book The Low Point of Labor Resistance Is Behind Us: The Socialist Workers Party Looks Forward by party leaders Jack Barnes, Mary-Alice Waters and Steve Clark.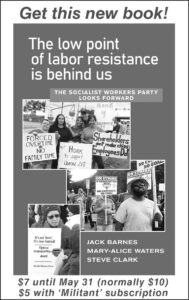 "It's awesome. I don't think I've ever met a worker who is running for office," Brown told Gersh. "The Democratic and Republican parties just make promises. But we can trust people we work with." Other co-workers got a copy of the new book in Spanish and a copy of Labor, Nature, and the Evolution of Humanity by Frederick Engels, Karl Marx, George Novack and Waters the day after the SWP plant-gate team.
Through discussions like this, at workers' doorsteps and protests against Moscow's invasion of Ukraine, members of the SWP and Communist Leagues in Australia, Canada and the United Kingdom are getting out the new book, which highlights the political opportunities ahead for class-conscious workers. They're also encouraging Militant readers to extend their subscriptions.
SWP members and supporters in Chicago also took part in two rallies in defense of Ukraine's independence Feb. 24 and 25. "One participant strongly insisted that our opposition to U.S. sanctions against Russia amounted to supporting Putin's propaganda," wrote SWP member Naomi Craine. "I explained that sanctions come down on working people the hardest and are an obstacle to mobilizing the broad support that's possible among toilers in Russia to end the war. But I couldn't convince her."
Others had a different point of view. "The problem is not the Russians, it's Putin," Nataliia Kondratiuk, told Craine and Lisa Rottach. She moved here from Ukraine a year ago. "The way the government treats people in Russia, they have no rights. We're brave, we're strong. We will stop this," she added. Two people at the rallies subscribed to the Militant and about 35 single copies were sold.
In The Colony, Texas, Alyson Kennedy, SWP candidate for mayor of Fort Worth, joined a march of some 60 people holding signs against Moscow's invasion Feb. 25. Kennedy met Olena Partow, a cosmetologist living in the U.S. who visited Dnipro, Ukraine, a year ago. The airport there was bombed making her return difficult. "No one could believe it," she said. "Russians are like our brothers."
"One of the central issues in my campaign is why working people should support Ukrainian working people defending their country's independence," Kennedy said. She pointed to opposition to the war inside Russia. "Over 20,000 have been arrested in Russia for protesting Putin's invasion, but still individuals find ways to protest."
"I had been worried about a good friend who left the U.S. to join the Ukrainian army," Partow said. "I just found out he lost both his legs." She showed Kennedy pictures of him in a hospital.
"The SWP campaign is for workers and farmers taking political power," Kennedy said. After she explained that the Militant has been covering the class struggle in Ukraine long before the invasion began, Partow got a copy of the paper.
In Los Angeles some 300 people attended a rally in pouring rain in front of City Hall Feb. 24 demanding Moscow end its invasion of Ukraine.
"We are stronger today even though we are far from home," Oleksandra Korniienko told SWP members Barbara Bowman and Deborah Liatos at the action. Korniienko and her three children left Ukraine when the war began, going first to the U.K. and then here.
"Your fight against Moscow's invasion is very important," Bowman said. "And so is solidarity with it. Workers in Ukraine face not only the war but also the world economic crisis, like working people in the U.S."
"When I was in England a family opened their home to us for six months," Korniienko said. "Even though they didn't have much they told us not to worry." She noted the sharpening class divisions in Ukraine. "Some are getting rich, while others don't have electricity. Even our soldiers say when the war ends we have to change things."
"In Ukraine you don't have social services like in the U.S.," she added. Bowman pointed out that Social Security here "was won through union struggles over years." Today, she said, U.S. bosses are attacking wages and conditions, including cutting back on safety "as you can see from the recent train derailment in Ohio." Korniienko got a copy of the Militant and the SWP statement "Defend Ukraine's Independence!"
To help expand the Militant's reach and introduce books on revolutionary working-class politics as widely as possible, contact the SWP and CL branches listed on page 5.
George Chalmers in Fort Worth, Texas, Naomi Craine in Chicago and Deborah Liatos in Los Angeles contributed to this article.