EAST PALESTINE, Ohio — Solidarity with working people, farmers and small-business people who have been affected by the Feb. 3 Norfolk Southern train derailment and their fight to win control over the cleanup and rebuilding here is being expressed through acts of support from working people far and wide.
And the fight they are waging has helped advance long-standing struggles for safety and control over their schedules and conditions by rail workers. Since the outcry over the derailment and toxic burn-off in East Palestine, bosses at two railroads — Norfolk Southern and Union Pacific — have dropped efforts to operate with a "crew" of just one worker. 
"These women from Indiana stepped up bringing, with the help of several relatives, two flat-bed trucks, a cargo trailer and an RV full of donated supplies," Kaylee Ball told Militant  worker-correspondents Jacquie Henderson and Dave Ferguson when they visited the Freedom Ranch she owns along with Chase Brown outside Salem, Ohio. 
"In fact, people from all over — Indiana, Pennsylvania and Ohio — have been coming together to help," she said. "Another farmer from Ashland, Ohio, just delivered a large load of hay. A farmer near Canfield, Ohio, has opened up his farm to help. A woman from South Georgia just called." 
"You are setting a real example of solidarity because the workers, farmers, small-business people who are all affected by this disaster are joining together," Henderson, who is a union bakery worker in Dayton, said. "Our unions can get involved. I will take this back to my Bakery, Confectionery, Tobacco Workers and Grain Millers local to see how we can support your effort." 
Ball and Brown have collected and are distributing animal food and supplies, and are boarding animals for people affected by the derailment disaster and subsequent release of poisonous chemicals in the air, soil and water in the area. They both work other jobs as well as on the farm. They keep horses, chickens, geese and pets whose owners couldn't keep them for now. 
When the government announced a mandatory evacuation right after the derailment, Ball posted on Facebook that she was opening her farm to board animals. They collected feed, pet food, hay and other supplies to make available for those in need. Her offer was shared widely. Other farmers in the Salem area came forward to help. 
"I kept thinking, what if it was us? I'd want to know someone was willing to help. What about the farmers in this area and their crops in the spring? No one knows what they will face. It's their livelihood," Ball said. "And people affected shouldn't have to pay for medical testing." 
"It's beautiful to see everyone coming together, it has restored my faith in humanity," she said. "And we're not letting this go. We didn't do this for the limelight. We want people to know that we're still here, and we're not going anywhere, and we're not going to stop. We will keep it going for as long as it's needed." 
"As soon as I heard about the derailment I wanted to help," Lisa Hilbert, one of the women who organized the aid caravan from Indiana, told Henderson in a phone interview. "I grew up in the countryside and thought about how it affected the lives of the animals as well as the people in the area. 
"Others we contacted here volunteered feed and other materials," she said. "My brother, a firefighter, offered to help with equipment to move to Ohio what was growing into tons of donations. We had no lack of people here wanting to help give feed and other supplies. And with driving the trucks. And helping to load and unload them. This is the kind of thing the people who some call 'deplorables' do. We help each other. We don't make speeches from afar. We pay it forward." 
'We need to keep standing up'
Mallory Aponick, disaster services coordinator for the First Church of Christ in East Palestine and a cook by trade, spoke with Kathie Fitzgerald and Tony Lane in the church's gym where she was distributing water and purifiers. 
"I'll take water from anybody," she said. Pallets of water were in the parking lot, alongside the gym. "This time we got gallon bottles. As soon as people find out about that, they'll be gone. Later this week we'll be getting 13 more pallets." 
She spoke of the contributions that have been coming in from all over. "I've sent emails thanking 129 people who donated online," she said. Others who she has an address for have been sent written thank-you cards. "And I've become friends with people across the country." 
"We've distributed 80 water purifiers already, which Norfolk Southern has paid for," Aponick said, "and we have another 100 here that are all spoken for, but we don't know yet if Norfolk Southern will pay." 
She explained her approach to the disaster. "I don't have time for negativity, I'm not worried about what happens in 30 years. I'm worried about today. I applaud the efforts of people to help. We can come out of this and be so much stronger. We need to keep standing up, keep being strong." 
Small-business people in the area told us about the impact of the "Jeep invasion" in East Palestine March 18, where Jeep club members from Pennsylvania, Ohio and West Virginia came in more than 100 Jeeps and other vehicles with their families to bring solidarity to those fighting for control over the rebuilding of the area and to support local businesses. 
"There were loads of people in my store, the town was packed," Joy Mascher, owner of Flowers Straight from the Heart on Market Street, told the Militant. "They said it was just the first annual Jeep invasion. I hope they do have more." 
Dianna Elzer, co-owner of Sutherin Greenhouse, who helped organize the day, said, "Antique stores in town did well and the Roadhouse restaurant had a huge crowd." 
In a phone interview with the Militant, Dave Anderson, a beef farmer in Pennsylvania just east of the derailment site, said he attended a meeting of farmers with the Environmental Protection Agency that took place in Darlington. "The EPA says everything is fine, but if you ask them, 'So it's OK to plant?' they say, 'Well, I didn't say that.'" Anderson said dairy farmers can't sell their milk. He can't sell his beef. 
"I hope the tests come back in a way that no one's life here changes even a little," Anderson told Farm and Dairy.  "But when you're talking about your kids, 'I think it's OK' isn't good enough." 
Another derailment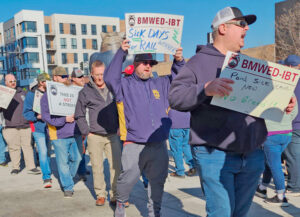 Two BNSF Railway locomotives pulling loaded oil cars derailed March 16 near Padilla Bay some 80 miles north of Seattle. The train was traveling across Swinomish Indian Tribal lands, through a sensitive marine ecosystem. The overturned engines dumped more than 3,000 gallons of diesel fuel. 
This derailment and potentially dangerous oil spill happened just days before a trial began in Seattle on a lawsuit filed by the tribe charging the rail bosses with violating a 1991 agreement that limits trains through their lands to two a day with no more than 25 cars each. 
The 1991 agreement followed a 1970 demand by the tribe for the removal of the tracks. They were laid in 1889 without any agreement with the tribe or congressional approval and had been operating for over 100 years with no payment to the tribe. 
Trying to escape their liability, BNSF lawyers told the court, "Mistakes? Yes. Losing legal arguments? Yes. Breach of contract? Yes. Trespass? Yes." Then they tried to claim the railroad is innocent because they never showed any "bad faith"!
The railroad has been running 100-car hazardous trains through the tribal lands since 2012. 
Rail bosses pushed back
Rail unions and workers have spoken out demanding an end to unsafe practices by the bosses. "This increase in derailments is what happens when you cut 30% of your workforce in less than a decade, reduce training or outsource work across every rail craft, and run longer, heavier trains that are harder to control," Clyde Whitaker, Ohio state legislative director for the SMART-Transportation Division union, told a U.S. Senate hearing March 22. "The railroads find every way they can cut costs so they can make an extra dollar. No matter the cost to safety. And communities like East Palestine are forsaken in the process." 
The widespread outrage over the effects of the derailment and the bosses' disdain for safety has helped rail workers make gains in control over working conditions. Two of the six large Class 1 railroads in the U.S. — Norfolk Southern and Union Pacific —were forced to back off from their push for one-person, engineer-only crews on freight rail trains. 
Norfolk Southern made a joint announcement with the SMART-TD conductors union that they are discontinuing formal negotiations regarding conductor redeployment. SMART-TD President Jeremy Ferguson lauded the move. 
The fact is, it falls to the working class, our unions and to working farmers to fight for control over the conditions we live and work under.