EAST PALESTINE, Ohio — Workers, farmers and small-business people here continue to receive support and solidarity from working people across the country. They are fighting to take control over the cleanup, to guarantee lifelong health care and to rebuild their lives, paid for by the rail bosses and government agencies after the Feb. 3 Norfolk Southern train derailment here and subsequent fire, burn-off and social disaster.
"Two hundred and ninety air purifiers have been distributed, another 120 are coming with 129 spoken for," Mallory Aponick, disaster services coordinator for the First Church of Christ, told Militant  worker-correspondent Kathie Fitzgerald. The two shipments so far have been paid for by Norfolk Southern. The church has been serving as a distribution center for aid. She said water is being brought in now by churches with 50 cases arriving this week, and a shipment is coming next week from Gettysburg, Pennsylvania.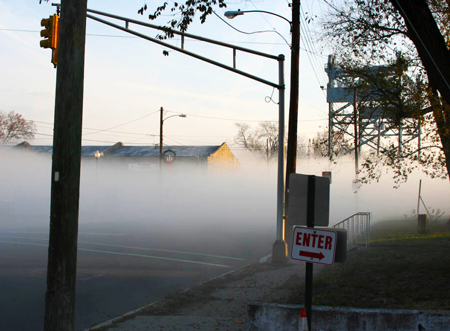 Aponick said the fire department in nearby Negley was holding a fundraiser that evening to help cover expenses stemming from the derailment.
At the beginning of March, Jonathon Long, general chairman of the Brotherhood of Maintenance of Way Employees, one of the larger rail unions, wrote to Ohio Gov. Michael DeWine and to the Joseph Biden administration's transportation secretary, Peter Buttigieg, calling on them to "use your influence and power to stop NS's reckless business practices that endanger the public and their workers."
He added, "What this business model really involves is running longer, behemoth trains that the track structures are not necessarily designed to handle." It "involves eliminating fail-safes or preventative safety precautions that promote safer rail operations and help prevent disasters such as derailments."
In late March, President Felix Martinez, Secretary-Treasurer Marty Frates and other officials of Teamsters Local 70 in Alameda County, California, sent a letter to DeWine seconding Long's remarks. Local 70 organizes auto truck drivers, car haulers and helpers.
"We know this wreck is not simply a one-off: historically the relentless pursuit of profits by corporations across business sectors is to blame any time workers or community members fall victim to industrial disasters," they say.
The response of Norfolk Southern bosses has been to push efforts to automate all forms of railway inspections. "We also believe completely wiping out humans from the inspection process will only lead to more railway catastrophes," the Teamsters say, "ultimately negatively impacting the health and safety of the masses of people country wide."
The nationwide media coverage of the East Palestine derailment, and resulting burn-off of thousands of gallons of toxic vinyl chloride days afterward, has shone a spotlight on previous derailments involving hazardous materials.
2012 New Jersey derailment
In 2012 a Conrail train derailed in Paulsboro, New Jersey, when a rail bridge over a creek gave way. The town was covered with a low-lying cloud of vinyl chloride mist after a tanker car ruptured. Conrail is owned jointly by Norfolk Southern and CSX.
The train was carrying the toxic chemical to an Occidental Oil-owned OxyVinyls plant in nearby Pedricktown that makes plastic for PVC flooring. The tanker cars in the train that derailed in East Palestine were destined for the same plant.
"I don't think they [Norfolk Southern] really care," Cassandra Clark, who lives in Paulsboro, told the New York Post  Feb. 22. "We had a class action lawsuit, but you don't really get anything from it. I can't even remember the amount, but it was book money for my daughter for the first semester. It was nothing."
Working people in East Palestine have been inundated by lawyers urging them to sign up for similar class-action lawsuits. The lawyers hope to get rich, while, as Clark points out, the hundreds of people affected get peanuts.
"People signed letters to get money, but they waived all their rights. My advice," said Paulsboro Mayor Gary Stevenson, who was the deputy fire chief there in 2012, "is to understand what you're signing. You might be signing your life and health away if you do that."
Philadelphia radio station WHYY reported April 6 that "no state or federal agency has evaluated the long-term health impacts of those exposed, despite recommendations to do so." Mayor Stevenson said, "That's a disgrace on multiple fronts."
"Here I am mayor now — I never get anything from the railroad or the NTSB," he said. "Another accident is going to happen because nothing was followed up on."
Local resident Trisha Dello Iacono said, "It is really hard that my community's experience wasn't enough to force action to fix these problems."
This experience in Paulsboro underscores the importance of what working people, farmers and small-business people in East Palestine, as well as rail workers across the country, have done to speak out and get news coverage in the wake of the derailment and burn-off.
Norfolk Southern was forced to reverse course, after initially relaying the tracks to get profit-generating trains running again within days after the disaster, and rip up those tracks to remove the contaminated soil still underneath.
The scope of this operation can be seen from a report by Chris Hunsicker, regional manager of environmental operations at Norfolk Southern. He says almost all the work cleaning up contaminated soil on Track 1 has been done and they're laying track to get trains up and running. Then they'll rip up the second track and start cleaning up soil there. He estimates 24,000 tons has been removed with at least that much more to go.
Much of the contaminated soil is still piled up in East Palestine due to delays in having it transported away.
The utter disinterest by the rail bosses and government authorities to follow up on the health consequences of the Paulsboro derailment underscores the need for working people to come together to organize to fight, building committees of workers, our unions, family farmers and small-business people — to pry open the business secrets of the rail monopolies, how they rake in their profits off exploiting rail workers' labor power, their behind-the-scene deals and links with the government, and how their "model" of exploitation endangers both rail workers and all those who live near the tracks. Such a fight will win widespread support, as the experience of working people in East Palestine shows.
Rail bosses push 1-person 'crews'
One result of that fight is the decision of bosses at Norfolk Southern and Union Pacific to back off efforts to impose the one-person "crew" on freight rail workers. But they have no intention of giving up forever.
The Wall Street Journal, which often speaks for the bosses, ran a statement by its editorial board April 16 entitled, "Mandatory two-man crews are a union wish with no rationale." Their hatred for our unions comes through in every paragraph.
It says this fight by rail workers "stands out for its potential burden [to the bosses] and irrelevance to safety." It says this is proved by the derailment in East Palestine where the train had three workers on board, an engineer, a conductor and a new trainee.
The editorial says, "an extra man in the cab has little to add to the hardware systems that detect train and track issues," and the union demand is "using railway safety as an excuse for a union payoff."
Rail unionists are all for technology and the tool it provides to workers operating safely. But the idea that technology can replace the eyes and ears of trained rail personnel is a recipe for more disasters.
Many people have pointed out how the overheating and failing axle on the train that derailed in East Palestine wasn't reported by trackside monitors until too late for the crew to stop the train before it derailed. And many have said that if there was a rail worker on a caboose at the rear of the train they would likely have seen and smelled the problem long before the train reached the town.
The best proposal is for a crew of four, two on the locomotive and two on the rear end, with trains no longer than 50 cars long.