PITTSBURGH — "By speaking out and supporting efforts to hold the nation's rail carriers accountable," SMART-TD, the rail conductors' union, proclaimed in its spring 2023 newsletter, "We do our part to keep what happened in East Palestine from happening again." The union was describing the 20-car derailment Feb. 3 in Ohio that led to a giant fireball of burning chemicals.
Norfolk Southern bosses and government officials decided to drain and burn off five tanker-car loads of highly toxic vinyl chloride, contaminating the land, waters and air in the area. Quickly after the burn-off, the company began running trains again in search of lost profits.
Trade unionists, in rail and other unions, were inspired by the SMART-TD union statement. Karl Brendle, a member of United Steelworkers Local 1046 in Louisville, Ohio, told Militant worker-correspondent Tony Lane, "Yes, it's only the unions that have the power to make the changes needed." Brendle was part of the strike against Allegheny Technologies Inc. in 2021. His local is a member of the Hall of Fame Central Labor Council, which includes East Palestine and Columbiana County.
Members of two Lincoln, Nebraska, rail unions initiated a solidarity statement that was endorsed by their locals, Lodge 1320 of the Brotherhood of Maintenance of Way Employees and SMART-TD Local 0305. The statement reads in part, rail union members "value the fight of working people of East Palestine as you continue to press to gain control over all the needed steps to clean up the area since the February 3rd derailment and protect your health long-term. Your fight is our fight."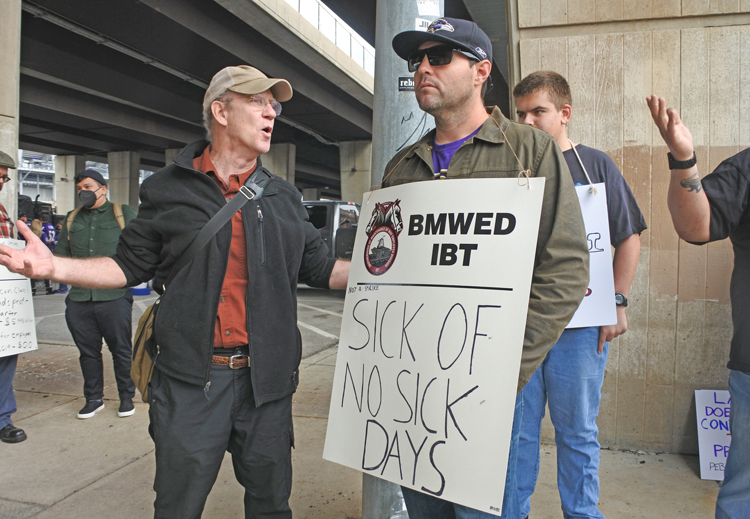 They plan to have the locals send copies of the statement to their national union leaderships and Central Labor Councils in the East Palestine area.
In late March, President Felix Martinez, Secretary-Treasurer Marty Frates and other officials of Teamsters Local 70 in Alameda County, California, endorsed rail unions' demands for government action in support of East Palestine area residents. Local 70 organizes auto truck drivers, car haulers and helpers.
"We know this wreck is not simply a one-off," they wrote. "Historically the relentless pursuit of profits by corporations across business sectors is to blame any time workers or community members fall victim to industrial disasters."
Workers in the chemical and oil industry, and communities near those plants, have faced similar disasters to the East Palestine derailment. On May 18 Mike Smith, chair of the National Oil Bargaining Program of the United Steelworkers, denounced the death of a union member in a fire at the Marathon Galveston Bay, Texas, refinery.
Smith wrote, "In just the past few weeks, four workers were hospitalized due to a gas leak at Marathon's Wilmington Refinery in Los Angeles and nine more as a result of a massive fire in Deer Park at a Shell Chemical Plant [in Texas]. We must continue to fight to ensure our employers don't get away with putting profits ahead of safety."
These actions show the potential for the unions to take the lead in the fight in East Palestine and more broadly.
The outcry of local residents in East Palestine and the spotlight it has put nationally on the bosses' drive for profit, forced Norfolk Southern bosses to reverse their decision to restart running trains on tracks laying on top of contaminated ballast and soil. They had to remove the tracks and dig up toxic soil, and to pay for air, water and soil testing around the derailment site.
But residents remain deeply suspicious of the measures the company and government agencies are taking and the consequences for themselves and their families in the future. Many are looking for ways to gain some control over the cleanup and their long-term health.
A well-attended May 16 meeting was called by the newly formed Unity Council for the East Palestine Train Derailment. The group invited Norfolk Southern; local officials, including the East Palestine mayor; and the Environmental Protection Agency. Only local Region 5 EPA representatives came.
Organizers asked everyone whose family members were showing medical problems to raise their hands. Most did.
The group's demands were presented by Hillary Flint from Enon Valley, Pennsylvania. The train derailment took place on the Ohio-Pennsylvania border and the chemical fires spread contamination to towns in both states.
Participants demanded that the Ohio governor declare a state of emergency so they can gain access to more government funding; for residents outside the artificial "1-mile" from the derailment limit to get free testing and financial aid; for Norfolk Southern to pay for the relocation of any families who feel unsafe in their homes, temporarily or permanently; for residents to choose and hire an independent scientist "to complete air, water and soil testing" at bosses' expense; and that Norfolk Southern finance independent medical testing and treatment under the control of residents.
Many voiced their frustration with the actions and attitudes of Norfolk Southern and the government.
Linda Murphy, who is active with the group and has been outspoken since the derailment, wasn't able to make the meeting but got a full report from those who did. "It was really large, by the end there was standing room only," she told the Militant. "More people who haven't felt comfortable speaking out before came and it helps shine a light on how many are still concerned."
In relation to the weekly public EPA meetings being held, Murphy said, "It's all smoke and mirrors. The EPA officials want to give you lots of 'facts,' but don't want you to challenge it."
At the EPA meeting May 18, agency speakers had to confirm Norfolk Southern has begun construction of a wastewater treatment plant on the derailment site. This didn't go over well. EPA response coordinator Mark Durno said processing wastewater on site would save the railroad money.
Tricia Edwards, EPA onsite coordinator, said there are 20,000 to 25,000 tons of contaminated soil still piled up at the site. When it rains, she admitted, chemicals can run off into surrounding areas.
Angry residents complained about how the Norfolk Southern-paid contractors doing the cleanup had set up industrial fans to circulate the air where they were working. "But the fans also kick up and circulate potentially contaminated dust into the air," Salem News reported.