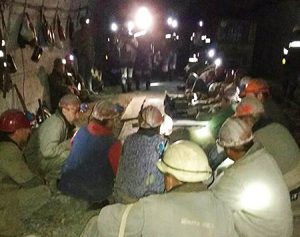 On July 2 miners on first shift at underground mine No. 10 Novovolynska in the Volyn region of Ukraine refused to leave the mine at the end of the shift, and later the second shift joined them. They haven't been paid in three months. The same day miners in the Capustina mine in the eastern Luhansk region went on strike. And the next day miners in the western Lviv region staged a protest, blocking and shutting down the international road between Lviv and the Polish border at Rava Ruska for hours.
Over the past year and a half miners have carried out occupations, strikes and other protest actions to press demands they be paid. Workers have forced the government to make some concessions, strengthening their union, the Independent Trade Union of Miners of Ukraine.
They demand legislators pass a law that includes funding the $30 million back pay owed to them. In addition, they demand raises and safer working conditions.
Workers in state-owned mines from all coal regions in Ukraine rallied outside parliament and other government offices in Kiev June 19, demanding payment of wage arrears.
Since then, miners across the country have organized protests. Workers in four mines in the state-owned Selydivvuhillia enterprise in the eastern Donetsk region have held several protests, including strike actions and cutting off traffic on main regional roads.
The Trade Union of the Coal Industry of Ukraine — a miners union that was the official government union before the collapse of the Stalinist regime there in 1990 — has joined a number of the actions. On July 3, Mykhailo Volynets, chair of the independent miners union, and Victor Trumanov, head of the former government union, together met with the Minister of Energy and the Coal Industry of Ukraine Ihor Nasalyk.
Nasalyk claimed his ministry is working to solve the problems, and making an effort get a bill passed that would allocate adequate funds to the state-run coal industry. "Two weeks ago, the minister promised that the bill would be adopted," Volynets told the press. "But it hasn't even been taken under consideration. Let's see what happens this time."
Miners organized to again rally in Kiev outside parliament July 5.