SYDNEY — Uber drivers across Australia stopped work Aug. 6 to protest the decline in their take-home pay caused by two new programs the company has imposed on them.
The action was called by Ride Share Drivers United, which reported that 15,000 drivers logged off the Uber app and refused to pick up passengers between 7 a.m. and 9.30 a.m. in Melbourne, Sydney, Brisbane, Perth and Hobart. This is the fifth work stoppage the group has held since February 2017.
The explosion of Uber, Lyft and other app-based ride services around the world has put a spotlight on the exploitative wages and working conditions imposed on drivers. The bosses of "traditional" taxi companies and their app-based competitors profit by pitting the drivers against each other.
In face of growing competition from Taxify, Didi, Ola and other companies, Uber introduced two policies here, upfront pricing and UberPool.
Unlike a traditional taxi meter, Uber with upfront pricing calculates the fare and gives it to the passenger before the start of the trip. It does not take into account unexpected traffic delays, or if passengers ask to stop or take detours during the trip.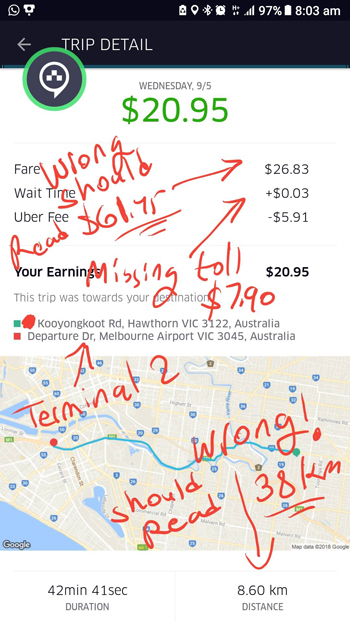 When drivers complain to Uber that they've been shortchanged, they're told that any detour or delay is inconsequential and "we appreciate your understanding in this concern."
"If it's so upfront, how come the driver knows the price at the end of the trip only?" Max B., spokesman for Ride Share Drivers United, told the Epoch Times. He asked that his last name not be used, for fear of being expunged from Uber. Max said that the shift to upfront fares saw drivers' pay rates drop 10 to 30 percent, while drivers were losing up to 40 percent on UberPool trips.
With UberPool, launched in Melbourne and Sydney, passengers traveling in the same direction can share a ride for a discounted rate. If drivers try to opt out they risk being "deactivated."
The new measures are "two extra layers of exploitation," Max told Australian Associated Press.
"They say you are a contractor," Max added, noting Uber's claim that the drivers are not their employees, "but they don't even treat you as a contractor."
"You can't make a living driving for Uber," Sailou Kaba told the Militant. Kaba, originally from West Africa, works in a meatpacking plant here. He started driving for Uber as a second job last year, but hasn't signed up for the last three months. "It's just not worth it," he said. "Uber takes too much in commission. You only get a fraction of what the fare is."
"It's good that all the drivers are getting together," Kaba said. Ride Share Drivers United encourages drivers with other ride-sharing companies, like Ola and Didi, to work together with them. Some drivers are signed up with more than one company.
Ride Share Drivers United was formed in June 2016 to "unite fellow drivers." They want Uber to "treat drivers in a fair, lawful and dignified manner."
The drivers are demanding that Uber end upfront pricing and "revert back to a transparent system where drivers are paid by the actual time and distance traveled," the group says. Drivers should be allowed to opt out of UberPool and base rates should be increased by at least 15 percent. Uber should bear the brunt of increased pay to drivers by reducing the commission it gets for each ride, Max said.
If the company does not meet its demands Drivers United is planning further stop-work actions.