Members and supporters of the Socialist Workers Party in the U.S. and sister Communist Leagues in Australia, Canada, New Zealand and the U.K. are stepping up discussions with workers on doorsteps and in living rooms in cities, towns and rural areas. The heart of these conversations is the need for workers to chart a political course independent of the capitalist rulers, their parties and their state, to gain the confidence and experience needed to overturn the capitalist system and take political power.
The party speaks out against the capitalist rulers' assaults on all the exploited and oppressed — against attacks on workers' jobs, wages and working conditions, police brutality, the debt slavery forced on working farm families by the capitalist rents and mortgages system, attacks on women's right to choose abortion and much more.
Laura Anderson, a rail worker and SWP candidate for lieutenant governor in Illinois, knocked on doors on Chicago's South Side Aug. 2. She met Alice Goodrun, a retired school teacher. Anderson showed her Malcolm X, Black Liberation, and the Road to Workers Power by SWP National Secretary Jack Barnes.
While looking at the photo sections of the book, they reviewed the history of the Radical Reconstruction period, the civil rights movement and what that meant for the whole working class.
"They don't teach our real history in the schools," Goodrun said. "African history is ignored. This history of the African-American, how the struggles connect with others, is not in our books.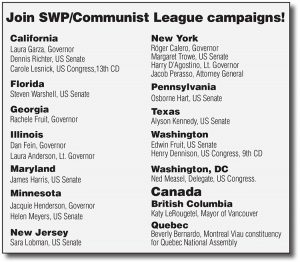 Anderson and Goodrun discussed why real history — the combat by the ruling capitalists and their state with the millions of workers and their allies — is crucial for working people to learn from past experiences.
"The capitalists try to hide our accomplishments in order to deny our capacities for struggle today," Anderson said. "They tell us we're not capable of running society. To do away with that image of ourselves is one of the greatest battles that lies ahead of us."
In the book Malcolm X explains that working people don't need to be awakened to their oppression, she said, but to "broaden our scope" and discover "our own worth."
Goodrun signed up for an introductory subscription to learn more and got the book. It is one of five titles on special offer with a subscription. (See ad below.)
Nay Woodberry, a nursing student, told Anderson that she was nearby July 14 when cops shot Harith Augustus in her South Side neighborhood. The killing of the 37-year-old African-American barber led to protests.
There is a long history of cop abuse in Chicago's Black communities, Anderson said. "We joined the protests. We demand the arrest and prosecution of the cop who killed Augustus."
Woodberry also got a subscription and Malcolm X, Black Liberation, and the Road to Workers Power.
Death penalty is a class question
In Nebraska, Joe Swanson, a retired rail conductor and SWP member in Lincoln, said that the state's first execution in 21 years has intensified debate around the anti-working-class death penalty.
Carey Dean Moore, convicted of double murder in 1979, was executed Aug. 14 with an untested four-drug cocktail featuring Fentanyl, the opioid drug responsible for thousands of overdose deaths in working-class areas around the country.
Fifteen minutes after the first drug was injected, prison authorities lowered a curtain, so media witnesses couldn't see whether the cocktail drugs tortured him. The curtain was lifted 14 minutes later, six minutes after the coroner had pronounced Moore dead.
Swanson said he has been discussing the issue with workers as he knocks on doors in the area. He wrote a letter to the Lincoln Journal Star and made copies to show to workers.
"The death penalty is a class weapon and used exclusively against working people," he writes. "And it is used disproportionately against workers who are Black, Latino and other oppressed nationalities.
"The death penalty is carried out by the police on the streets every day and through the prison system in every single state. It has nothing to do with fighting crime. Its only purpose is to instill a sense of terror in the working class," he says. "It is meant to keep you from fighting."
"As a veteran union member for 60 years, I've seen an increase in capitalist bosses' disregard for safety with government collusion in U.S. workplaces. This has led to 5,190 fatal workers' injuries recorded in 2016," Swanson says. "The fight to end the death penalty should be joined by the labor movement in the fight that no worker has to die or be maimed on the job."
Swanson said he's met both defenders and opponents on workers' doorsteps in Lincoln, but it really helps the discussions to explain how the death penalty is used to intimidate workers from fighting back. As of the Militant's closing news date, the Journal Star hasn't published the letter.
Amnesty to unify working class
Terry Evans and Tamar Rosenfeld, SWP members in New York, went door to door in a predominantly African-American neighborhood on Manhattan's Upper West Side Aug. 16.
"We got into a discussion about immigration with a retired city worker," Evans reported. "We told her the SWP calls for amnesty for the 11 million immigrants who the government says don't have 'proper documents' to live and work in the U.S. She said, 'I'm against amnesty. I don't want any more of them coming here.'"
"This is a life-and-death question for the labor movement," responded Evans. "Unions need to organize these workers to counter how bosses divide and pit us against each other. Their goal is to worsen wages and working conditions for all of us. The worker told us she is for unions and has been a union member all her life, but hadn't thought of it this way before."
She picked up a copy of the paper and said she'd share and discuss it with her son.
You need to look at every question from the point of view of working people and fight to unify our class to successfully counter attacks by the bosses and their government, Evans said.
To find out more about the Socialist Workers Party and its sister Communist Leagues, and to join in their campaigns, check out the directory.