LOS ANGELES — Claiming to be fighting against "gentrification" in Boyle Heights, a predominantly Latino neighborhood here, small groups of middle-class leftists and anarchists have gone on a campaign to physically attack art galleries, as well as threaten and race-bait artists, gallery owners and others.
Their demand "for all art galleries in Boyle Heights to leave immediately" and their thuggery are not just a mockery of a fight to defend workers who are Latino. They are obstacles to the working class as a whole, which needs art, culture and freedom of speech to advance on the road to taking power out of the hands of the capitalist class.
Pushed out by high rents in downtown Los Angeles, gallery owners started looking at spaces at empty warehouses in an industrial section of Boyle Heights in 2012. The first anti-gallery protest took place in the fall of 2015, as more galleries were moving in.
Groups like Defend Boyle Heights, Boyle Heights Alliance Against Artwashing and Displacement, Unión de Vecinos and others have escalated their provocative actions over the last few years, claiming that the galleries are cover for big real estate interests coming into the neighborhood to jack up rents and force out low-income workers and immigrants. The Alliance Against Artwashing has vowed to "stop at nothing to fight gentrification and capitalism in its boring art-washing manifestations" and described one gallery owner as bearing the "stench of entitlement and white privilege."
"Most art is wack [rubbish]," proclaimed Defend Boyle Heights.
Harassing artists and galleries
The self-proclaimed "anti-gallery activists" have painted "f— white art" on the front of Nicodim Gallery. They have thrown detergent on people and food at gallery events and threatened people online.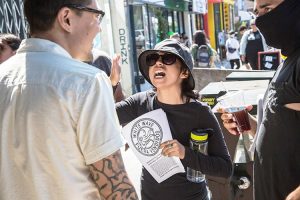 In an April blog, Defend Boyle Heights proudly boasts of a "mob of protesters" chasing gallery owner Laura Owens from the steps of the Whitney Museum and of causing Owen and others connected to the galleries to have "panic attacks, and recurring nightmares of masked mofos [motherf—ers] throwing Molotov cocktails at your buildings and cars."
About half the galleries have moved out since the harassment began.
Rising rents built into capitalism
Workers being priced out of longtime working-class neighborhoods as rents skyrocket is a permanent feature of capitalism. Real estate sharks are always on the lookout for neighborhoods where they can buy up properties and raise the rents and their profits.
In Los Angeles County inflation-adjusted median rent rose 32 percent from 2000 to 2015, while workers' median income dropped by 3 percent or more. It's tough in Los Angeles for workers to find someplace nice to live, even if you work more than one job.
This reality has plagued the working class since the rise of capitalism. In The Housing Question, Frederick Engels notes that each landlord, faced with competition, is driven to "ruthlessly making as much out of his property in house rent as he possibly can. In such a society the housing shortage is no accident; it is a necessary institution and can be abolished … only if the whole social order from which it springs is fundamentally refashioned."
Attacking art is reactionary
The claim that this process can somehow be stopped if art galleries and coffee shops are kept out of working-class neighborhoods is not only ridiculous, it's dangerous to working people and reactionary.
The anti-gallery people admit they don't do anything to take on the landlords and builders. They say it's a tactical decision.
"We have to put our focus where we think we can win," Rigo Amavizca, who was involved with Defend Boyle Heights, told the Los Angeles Times.
Working people and the labor movement need to fight for higher wages and for a massive government-funded public works program to build decent housing. A movement that raises concrete demands to advance this course would win support and allies, including from artists and others. But the white-baiting and thuggish anti-art groups don't raise a single demand in that direction.
"I support your right to be here and I think the working class should oppose targeting someone because they are 'white,'" the author of this article, Laura Garza, Socialist Workers Party candidate for governor of California, told gallery owner Mihai Nicodim, during a recent visit to his gallery. Nicodim, an immigrant from Romania, specializes in showcasing art from eastern Europe. Nicodim said he had no plans to leave and did not think the protesters represented the majority of residents in the area.
Socialist Workers Party member and railroad worker Ellie Garcia joined me at the gallery. "As a longtime resident of Boyle Heights, I welcome more art to the area," she said.
Nicodim told us that one protest took place outside the gallery at a time when he had works by "a South African artist but they [the protesters] had no idea what was inside" or who the artist was.
Several coffee shops have also been targeted, including Weird Wave Coffee. Protesters passed out flyers calling it "White wave gentrifiers." The windows of the shop have been broken several times, most recently in early September.
Garcia visited the Weird Wave shop during one of the "protests." Like others who ignored them to go in to buy coffee, she argued with some of the anti-gentrifiers, who were saying whites aren't welcome. "My co-workers are Black, Caucasian and Latino and we have to stick together to fight the bosses, not each other," Garcia said.
"Art is one of the ways in which man finds his bearings in the world; in this sense the heritage of art is not distinguished from the heritage of science and technique," Russian revolutionary Leon Trotsky wrote in Art and Revolution. Art is necessary, he adds, "for the building of the new society, for communism needs people with highly developed minds."
The race-baiting and thuggery aimed at artists and art galleries are a danger to the advancement of the working class.
Laura Garza is the Socialist Workers Party candidate for governor of California.