"Socialist Workers Party? Now that's something. I've voted Democrat for years but now I'm not so sure about any of them," retired chemical worker Bill Banks told SWP member Jacquie Henderson and supporter Jim Horn when they knocked on his door in Louisville, Kentucky, Sept. 29.
"We don't think the Democrats or Republicans have anything to offer working people," responded Henderson. "They represent the rich, the capitalist rulers who exploit us. We think working people need our own political party. We need to build a powerful movement that can fight for our class interests and for workers power."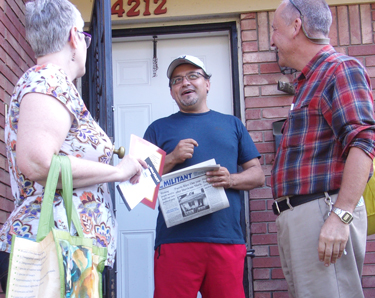 "That would really shake things up," Banks said. "Something has got to be done.
"I've been watching this stuff on TV this week and I think it's disgusting," he said, referring to the Democrats' witch hunt against Supreme Court nominee Brett Kavanaugh on unsubstantiated claims of sexual abuse more than 30 years earlier. "Next thing you know they'll be wanting me for something they think I did when I was 13!"
"What's at stake is the presumption of innocence, due process and the statute of limitations — crucial rights won by working people through blood and struggle, like all those codified in the Bill of Rights," Henderson said. "To throw this out opens the door for the capitalist rulers to use frame-ups more and more against workers."
Banks got a copy of the Militantand invited the SWP campaigners to come back to his home and talk more.
The heart of the political work of members of the SWP and the Communist Leagues in Australia, Canada, New Zealand and the United Kingdom is meeting working people on their doorsteps in cities, towns and rural areas to discuss political developments unfolding today and the way forward for the working class and the labor movement.
Hard to get day off from work
On the same street in the Newburg neighborhood of Louisville, Guillermo Perezlima got into a discussion with SWP members Amy Husk and Dean Hazlewood. "I moved here from Mexico and lived in California for many years, then was transferred to Louisville for my job," Perezlima said. "I try to live a quiet life with my four kids and wife, but it's hard to do so, having to work at times seven or eight days in a row before getting a day off." He said his oldest daughter is in college, "and it is very expensive."
"The wealthy capitalists who run this country and their representatives in the government don't care about educating working people," Husk said. "Our schools are like assembly lines. They don't want us to think for ourselves or to understand our own self-worth."
"As an immigrant I've been treated differently many times in my life, including on the job," Perezlima said in agreement. "I work hard but they look at me as if I'm not important."
"Workers need to build a movement to fight for our interests," said Hazlewood, "and cut across the divisions that the bosses have imposed on us. We are all workers, whether we are Black or white, male or female, native-born or immigrant."
The discussion turned to workers' need for health care. "I don't think Obamacare has been good for workers," Perezlima said. "It's expensive and complicated. My wife paid $120 for just a few pills!"
"The Republicans don't have a solution either," Hazlewood said. "We need government-funded universal health care like in Cuba. It's free and it's the best care for everybody. That's because workers and farmers made a revolution in Cuba. We need to do that here too."
"I'm not sure if I'm ready for that yet," said Perezlima. "But I would like to have more discussion."
"We have classes and discussion on Saturdays at the library up the street, studying the Militantand these books, why don't you come?" Husk said. "Working people don't have a voice on Fox News or MSNBC, but we do have a voice in this paper."
Perezlima got a Militant subscription and said he'd like to join the discussions.
The team of four from Louisville and two SWP members from Chicago sold four subscriptions and two books on special.
'We need to build fighting unions'
"The politicians are all about greed," Carolyn Cooley, a retired retail worker, told Carole Lesnick, SWP candidate for Congress, and Raul Gonzalez, when the two socialist campaigners approached her on her porch in Oakland, California, Sept. 22.
"The capitalist parties are responding to the needs of the bosses and their drive for profit," said Lesnick. "In contrast, working people's strength is in our solidarity and unity." The SWP candidate pointed to the teachers strikes last spring in West Virginia, Kentucky, Oklahoma and other states, support won by hotel workers on strike in San Francisco, and the response by working people to help those trying to escape recent wildfires in California and the social catastrophe from hurricanes like Florence in North Carolina.
She explained that when politicians told people they were on their own in trying to get out of harm's way, fellow workers volunteered to help them.
"Things can't change unless we make them change," Cooley agreed. "The Cajun Navy you told me about that helped in the flooded areas is the coolest thing ever," referring to volunteers who used their boats to rescue working people trapped by rising waters.
It's through this door-knocking that party members extend the reach of the Militant and books by party leaders and other revolutionaries, make contacts and recruit.
To join in doorstep discussions about what faces us with fellow workers, or learn more about the party's program and activities, contact the SWP or Communist League nearest you, listed in the directory.