A social catastrophe has been visited on working people who live in the Northern California area devastated by the Camp Fire, the deadliest wildfire in the state's history. At least 88 are dead as of Nov. 26, 203 remain unaccounted for, and some 14,000 homes and thousands of other buildings have been destroyed, leaving thousands homeless.
Thousands of volunteers — both workers forced to evacuate as the fire leveled Paradise and other towns in the area and others who left jobs and responsibilities to help fellow workers in need — came to organize supplies, clothes, shelter and to help people keep and care for their pets that survived. They were joined by a handful of sports figures like Aaron Rogers, the Green Bay Packers quarterback who originally comes from nearby Chico, and a number of prominent chefs who helped prepare Thanksgiving dinners for some 15,000 people.
The biggest beneficiary, however, has been the bosses at Northern California power company Pacific Gas & Electric. After the company was hit by a pile of lawsuits for proven responsibility for wildfires in wine country last year, the state legislature passed a bill in September to allow them to pass the cost of settling the cases onto their customers.
A loophole in the bill — specifically omitting coverage for any new wildfires in 2018 — has led to a new law being prepared to shield the company from expected lawsuits from the Camp Fire. "We want to send a signal to the financial markets that we are not going to leave the utilities flapping in the wind," one state congressional consultant told the press Nov. 20.
The Camp Fire broke out in the area shortly after PG&E reported it was having problems with a high voltage power line near Paradise.
Workers face government disdain
Workers seeking aid from the Federal Emergency Management Agency are told it will take more than a week just to get an application for relief. When Socialist Workers Party members from Oakland went to Paradise to offer solidarity, David Insular, a retiree camping in the Walmart parking lot in Chico, said, "I contacted the Red Cross and asked them for $40. They said they couldn't help."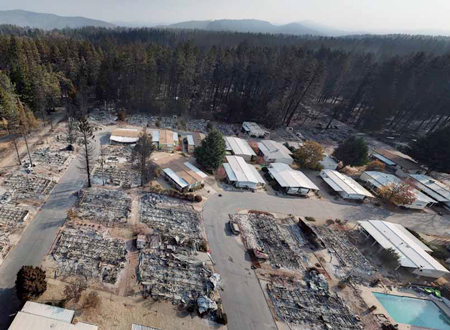 Capitalist bosses, bankers and politicians aren't interested in meeting workers' needs. Instead they seek to maximize their profits and defend their system of exploitation and greed.
On Nov. 25 California firefighters, helped by a significant rainfall the previous week, announced that the wildfire was 100 percent contained. The blaze isn't completely out. It will be months before all the smoldering tree stumps and roots are no longer burning.
At every turn, working people have faced government bodies that take little responsibility. When they had to evacuate, they were on their own. Now with the rains, there's a danger of floods and landslides in area hills. Again they're told they're on their own to decide what to do.
The temporary accommodations that have been set up in Chico and other Northern California towns are overwhelmed. At the same time, authorities are moving to push more people into facilities at the Butte County Fairgrounds. This is one of the places where individuals have come down with norovirus, a highly contagious disease that causes vomiting and diarrhea.
Paradise and Magalia had been home to a number of retirees who couldn't afford to live in other parts of the state. More than 25 percent of people in Paradise are 65 or older.
Among the thousands of structures destroyed in Butte County were nursing homes, assisted living facilities, elderly care centers and mobile home parks built to cater to retirees. Over 2,300 older people in the fire zone relied on home health aides to get by.
One problem for many was having to leave their medications behind as they scrambled to get out of harm's way. There was no effective alarm system to warn people of the fast approaching fire. The "escape route" was a single two-lane road that almost immediately became an almost immovable traffic jam. A number of people died in their cars unable to escape.
"I had to beg like a dog to get my medications," Dorothy Melton, 69, told the New York Times, reflecting the difficulties many had in getting help from government and other official relief agencies. She couldn't remember the names of some of her pills and most doctors in the area had fled.
Working-class solidarity
It's been the widespread working-class solidarity that has been the difference for many. Without this, there would have been no Thanksgiving for tens of thousands. They cooked and served at area churches still standing, in the parking lot of the Walmart in Chico and elsewhere.
Two huge dinners were organized by the World Central Kitchen, a food operation project coordinated by chef José Andrés. He was joined by professional chefs Guy Fieri, Tyler Florence and others, and by thousands of worker volunteers, who cooked, served and tended to over 10,000 people at the huge amphitheater in the Sierra Nevada brewery and on the campus at Chico State University.
The all-volunteer North Valley Animal Disaster Group set up an animal rescue center inside a jet hangar at the Chico Municipal Airport. As of Nov. 21 they were tending some to 800 dogs, ducks, cats, pigs, geese, and a 6-foot-long python, all of whom, the Chico Enterprise-Record says, "are waiting patiently for their humans."
"We're in it for the long haul," volunteer Norm Rosene said, describing how they go to great lengths to make the animals comfortable. They play music to reduce stress and make sure every dog is walked twice a day.
Profits over human beings
One group of workers not treated so well was farmworkers toiling in the strawberry fields around Oxnard. They hadn't been threatened by the fire, but were forced to keep working when the area was saturated with smoke. "Smoke stung his eyes and throat," the Washington Post reported Nov. 20, "but Santiago said his supervisor told workers to go faster because ash from the wildfires could wreck the produce."
The fire, or at least its deadly extent, could have been curtailed. The capitalist rulers make excuses for the deaths and destruction, saying the fire was an unprecedented natural disaster. This is what they always say, whether it's hurricanes like Katrina or Maria; threatened floods, like in Oroville near Paradise last year; or wildfires.
Power lines can be buried underground, or incendiary debris and trees cleared far away. Governments can clear forestland of dried pine needles, dead trees and thin out forests. Houses can be built to prevent or minimize fire possibilities. But for the capitalist rulers and their government at all levels, steps like these cost too much. They have the money — look at the military budget or steps to rescue banks "too big to fail" or their all-out defense of PG&E. Their priority is the defense of profits.