LOS ANGELES — A spirited and popular six-day strike by more than 30,000 teachers here ended Jan. 22 after a majority voted to approve a new contract. Teachers won widespread support from students, parents and other workers as they demonstrated their determination to address decades of deteriorating conditions in the schools.
Los Angeles is the second largest school district in the country, with 600,000 students and 1,000 schools. The contract expired in 2017.
The new contract gives the teachers a 6 percent pay raise. A reduction in class size for some subjects will be phased in over a number of years. Three hundred full-time nurses will be hired over the next two years to ensure every school is staffed five days a week, as well as full-time teacher librarians for every secondary school.
"There's still a lot of work to do," physical education teacher Rosanne Altin told the Militant  in front of Los Angeles High School, where she had organized the voting by teachers on the contract. Altin is chapter chairperson of the United Teachers Los Angeles union at the school.
"The class-size reduction is only for math and English classes, not social studies. I was expecting it to be more significant and comprehensive," she said. "But it's been a unifying, fun and exciting week."
Special education teacher Christina Lewis said, "We couldn't get everything this time around. It's a start. There's an awakening now."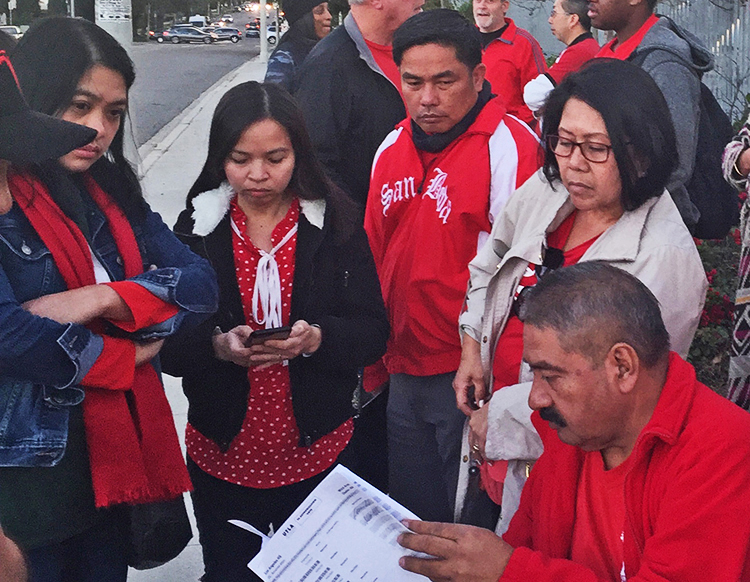 The capitalist rulers, and their representatives in City Hall and the school district, badly underestimated the teachers' determination and the degree of public support by working people for the strike.
Large numbers of teachers picketed in front of schools to a cacophony of drivers honking support; neighbors brought coffee and food and opened their homes; and parents and students swelled the picket lines. They converged downtown by the tens of thousands in several rallies and marches. "We studied the West Virginia and Oklahoma teacher strikes last year," Altin said. "They paved the way for our movement."
The successful nine-day strike by teachers and other school workers in West Virginia last spring gave an impetus to a wave of strikes and protests in Arizona, Kentucky, Oklahoma and other states. These actions gave more confidence to teachers here and elsewhere.
One teacher's sign at a large Jan. 18 rally said, "¡El Maestro luchando también está enseñando!" (The teacher fighting is also teaching!)
The school board kept the schools open with administrators and substitutes. But few parents brought their children to school. By the fourth day of the strike only 17 percent of students showed up.
"Teachers stood strong and supported each other," Thomas Howard, a sixth grade teacher at John Muir Middle School, said at another big rally Jan. 21. "We did it for the students currently in school and the ones in the future. I was a student in 1989 and I remember the teachers' strike then, and now I'm a teacher."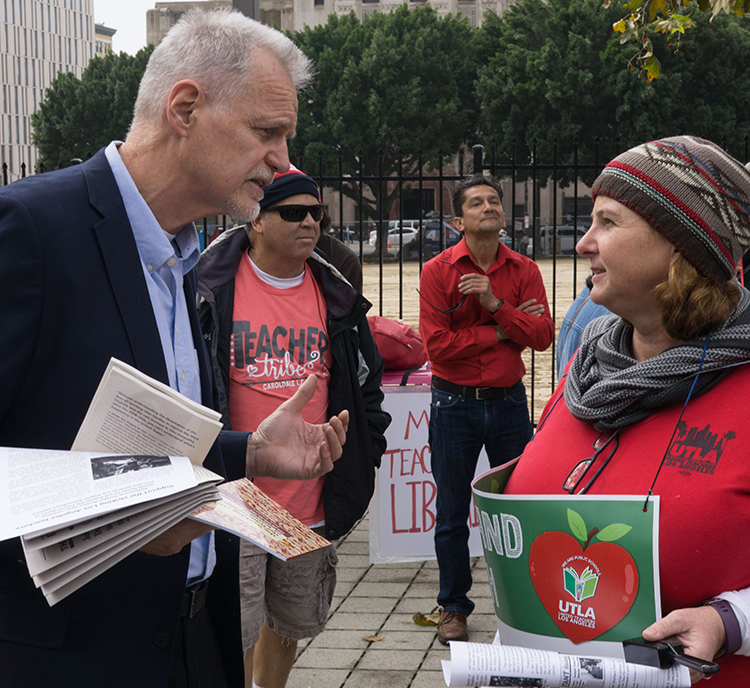 The strike began Jan. 14 after more than 21 months of negotiating between United Teachers and the Los Angeles Unified School District broke down. In addition to higher wages, the union demanded smaller class sizes and schools that are fully staffed with librarians, full-time nurses and more counselors. They also demanded a cap on privately run charter schools.
School district superintendent Austin Beutner claimed the district could not meet the teachers' demands because of "budget problems." But the union pointed out that the school board is sitting on a cash reserve of $1.86 billion.
Responding to worsening conditions in the public schools, many L.A. residents have put their kids in charter schools. A fifth of all students now attend charters, which are publicly funded but privately run. Most are nonunion. The settlement says the board will consider asking the state government to put a cap on charters.
Strike gets widespread support
"I'm in the marching band and about 15 of us go out to the picket line to hype them up," 17-year-old Theodore Roosevelt High School student Miguel Rosas told the Militant  at the Jan. 18 rally. "I'm proud of my teachers for doing what they believe in and for the students."
In the last few days of the strike Service Employees International Union Local 99 members at 10 schools had voted to begin walking off the job for one or more days to support the strike.
Teachers' fights are brewing in other areas. Virginia Educators United are building a statewide march and rally at the Capitol in Richmond Jan. 28. Teachers in the Bay Area have been meeting and organizing protests.
And the teachers in Denver, Colorado, announced Jan. 22 they had voted by 93 percent to authorize a strike after negotiations failed. This would be the first teachers strike there in 25 years.