REDONDO BEACH, Calif. — Uber drivers held a 25-hour strike March 25 to demand the company reverse a 25 percent per mile pay cut it imposed on drivers in Los Angeles and parts of Orange counties. Two hundred of the striking Uber drivers were joined by drivers for Lyft to protest in front of Uber headquarters here. Protests were also held in San Francisco and San Diego against similar cuts.
"In 2015, I was making between $1.15 and $1.20 per mile," driver Esterphanie St. Juste, an organizer of the action, told Los Angeles Magazine. "Today, I'm making 50 percent of that. They call us partners, but we're not. They dictate everything."
Uber and Lyft claim the drivers are "independent contractors" who turn the app on and off when it's convenient, not employees. But most work full-time for the companies and driving is their main source of income.
They pay for the car, maintenance, insurance and their own gas, as well as all the tickets when the cops pull them over. But the companies decide the rates and rules. Drivers can be deactivated at any time at the whim of the bosses. Uber and Lyft don't have to foot the bill for workers' health insurance, retirement, unemployment or workers' compensation.
The app-based companies have complicated formulas — mileage rates, time rates, bonuses for not signing off at certain times of day, commissions, etc. — making it hard for drivers to know how much they are getting for each ride.
Rebecca Stack-Martinez drives for Uber and Lyft in San Francisco and is an organizer with Gig Workers Rising. "About a year ago, if I did 100 rides in a week, I could get an extra $225 to $250 as a bonus," she told Slate magazine. "This week, if I do 100 rides I'll get $50."
The cuts in income sparked the growth of groups like Los Angeles-based Rideshare Drivers United, which has grown to 3,000 members. There are tens of thousands of drivers in the area.
Rideshare Drivers United is demanding Uber and Lyft reverse the recent pay cuts, cap the companies' cut for the price of a ride at 10 percent, guarantee the right to appeal deactivations, and win recognition of a drivers' organization that can negotiate on their behalf.
Uber driver James Hicks told the rally that the latest round of cuts "makes driving part time useless and full time impossible. People should be able to provide for themselves and their family."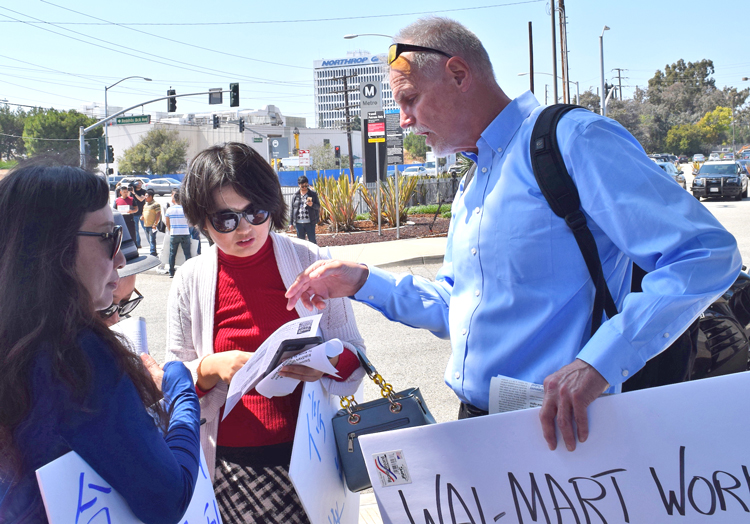 Over 30 rally participants came with signs in Chinese saying, "We refuse exploitation. We refuse oppression," joining other drivers, men and women, Caucasian, Black and Latino.
Sayed Moheb, originally from Afghanistan, has driven for Uber for four years. Uber "takes more than 65 percent of what riders pay. If a rider pays $40 then I get $16," he said, out of which he has to pay all the expenses the company pushes onto his back.
Uber bosses tried to cover up the pay cut, saying it was "a new Quest promotion feature, while also changing the per minute, per mile and minimum fare rates." Uber claimed drivers ought to like it, it gives them "more control."
"Both Lyft and Uber are driving the wages down," Nicole Moore, a part-time driver, told National Public Radio. "If you're making $35 in six hours of driving, yeah, you have the independence to work an 18-hour day and barely make a living. There's no independence in that."
Lyft, which reported losses of $911 million last year, became a publicly traded company issuing stock March 29. The company can become profitable only through further attacking the wages of its drivers.
"It's really obvious," driver Tyler Sandness told the Militant  at the rally, "that working people are being pushed to the margins. Productivity has expanded the last 20 years but we haven't seen a dime of that profit. Wages have been stagnant since the '90s."
Meanwhile, the conditions and debt most drivers face continue to take a toll. In New York City 49-year-old Lyft driver Lu Tuan Wu committed suicide in the back seat of his livery car March 23. He is at least the ninth taxi, livery or app-based driver to take their own life since November 2017.
Dennis Richter, Socialist Workers Party candidate for Los Angeles City Council, told participants at the rally, "What Uber and Lyft drivers need is a union, jointly with the cab drivers, to fight for a contract, wages, health care and employer responsibility for vehicle costs and upkeep."