TOLEDO, Ohio — Morale is high on General Motors workers' picket lines at 33 factories and 22 parts warehouses around the country, one month into the strike by some 49,000 members of the United Auto Workers union.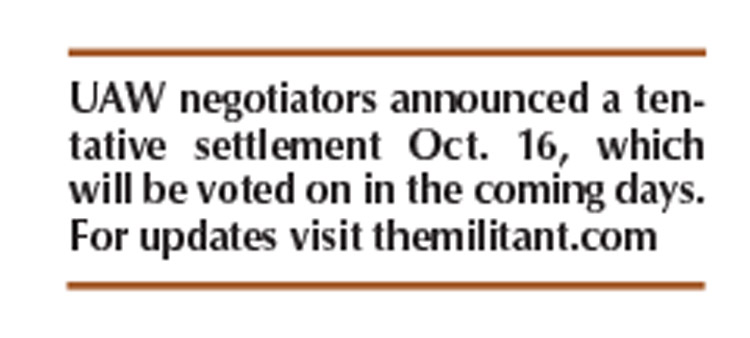 "The solidarity we've gotten has been overwhelming," Pamela Ahrendt, who has worked at GM for 35 years, told the Militant as she picketed the transmission plant here Oct. 12. "Jeep workers came by, nurses came by."
"One guy from Mansfield Metal gave up a vacation day to join us on the line. This keeps us going," said Denise Coleman Walton, who has worked at GM for 22 years at three different plants after the bosses closed the first one then another. "You learn that it's not all about me."
The biggest issue in the strike is not higher wages, but for all workers to be permanent and get equal pay. Strikers want an end to the 7% of GM workers who are "temporary." They want an end to the two-tier divisions for permanent workers. Currently, for those hired after 2009, it takes eight years for their pay to approach that of workers hired earlier. They want the bosses to reverse their decision to shutter four plants — in Lordstown, Ohio; Baltimore; Warren, Michigan; and Detroit-Hamtramck. And they oppose GM's demand that workers pay a higher percentage of the cost of medical insurance.
GM collaborated with the Barack Obama administration in 2009 to put together a sizable government bailout and bankruptcy to let the bosses carve up the company, keeping the most profitable lines while dumping those that were losing money, along with the workers there and their pensions.
Even though GM was out of bankruptcy in just a little over a month, they used it to press workers to accept deep concessions. This included the two-tier wage system, use of temps, and contracting out some maintenance, cleaning and other work. This work is now done by UAW-organized contractor Aramark, whose 850 workers at GM in Michigan and Ohio are also on strike
This all paid off big time for GM bosses, who made $35 billion in profit over the last three years.
General Motors — with some $17.5 billion in cash on hand — hopes it can starve the strikers and their union into submission. The United Auto Workers union has raised strike pay to $275 a week and says that workers can take part-time jobs without losing their strike pay.
'We want to get rid of two tiers'
Workers say it's time to recover what they lost over the last decade. "This fight is about the future," assembly worker Doug Groch told us. "We want to eliminate the two-tier system."
"It used to be if you worked more than 120 days as a temp they had to hire you permanent," said Angela Kilgore, who started temporary and became permanent in 2000. Now workers can be temps for years.
One worker after another told us about the grinding effect of forced overtime. A few years ago the Toledo plant — with some 1,700 workers — went from three shifts to two. "I work 12 hours a day, six to seven days per week. It's grueling," said Kelly Arter. She started working for GM 43 years ago at the Willow Run plant in Ypsilanti, Michigan. A significant number of GM workers, who call themselves "gypsies," have transferred as the bosses shut plants down.
"A lot of people just came over from Lordstown," Arter said. "Some just got here and went straight on the picket line, they haven't even been inside yet."
Doris Fenlon had just started in July as a temporary worker. "I believe in the union," she said walking the line Oct. 11. "Sometimes a strike is what it takes to let the company know what we need."
"I was in the last group hired as 'regular full-time employees' in November 2000," Kim Banks, 53, told Militant worker-correspondents at the picket line outside the GM casting plant in Bedford, Indiana, Oct. 12. "We've always thought that it was wrong to have the 'temp' category."
"When we complained about what GM was doing to us, we were told, 'They can do it because of the bankruptcy,'" said 68-year-old Jim Horner. He works in the melting department and has been at the plant for 47 years, since he got out of the Marines after serving in Vietnam. "But with this strike we're saying, no, they can't do that any more."
Standing in the rain by the burn barrel at the GM plant in Spring Hill, Tennessee, Oct. 11, Paul Forcier described the conditions on the assembly line. "They are always looking to add more to your job," he said. "People have carpal tunnel syndrome. They can't open their hands they're so cramped. And have all kinds of other injuries and problems," said Forcier. He started working for GM in 1997 in Lansing, Michigan, and Spring Hill is the sixth plant he has worked in.
The contracting out of housekeeping and material handling has had an impact on older workers especially, he said. "Some of the lighter jobs that workers could move to as they got older or were injured are gone."
Thousands laid off
GM claims that it needs more concessions, including expanding the use of temporary workers to compete with its nonunion rivals. Some 56% of auto assembly in the U.S. — primarily Toyota, Honda, Hyundai and Volkswagen — is nonunion. Many workers at the nonunion plants are watching the strike closely.
UAW officials have demanded that GM "bring back" some auto production from Mexico to avoid shutting down plants in the U.S. and guarantee "job security." GM pays workers at its plants in Mexico as little as $1.90 an hour. Some longtime workers make $4.50 an hour.
Around 10,000 workers at non-UAW auto plants and parts plants in Mexico, Ohio and Ontario, Canada, have been laid off since the strike started. In fact, many cars assembled in the U.S. contain parts made in Mexico and vice versa.
Some 6,000 workers at GM's assembly plant in Silao, Mexico, have been laid off because of a lack of U.S. manufactured parts.
This highlights the need to not let GM pit workers in different countries against each other, but to strengthen solidarity and fight for better conditions and wages wherever the cars are produced. Some workers on the picket line tell Militant worker-correspondents they are proud of the solidarity they have gotten from GM workers in Mexico.
Maggie Trowe from Louisville, Kentucky and Susan LaMont from Atlanta contributed to this article.