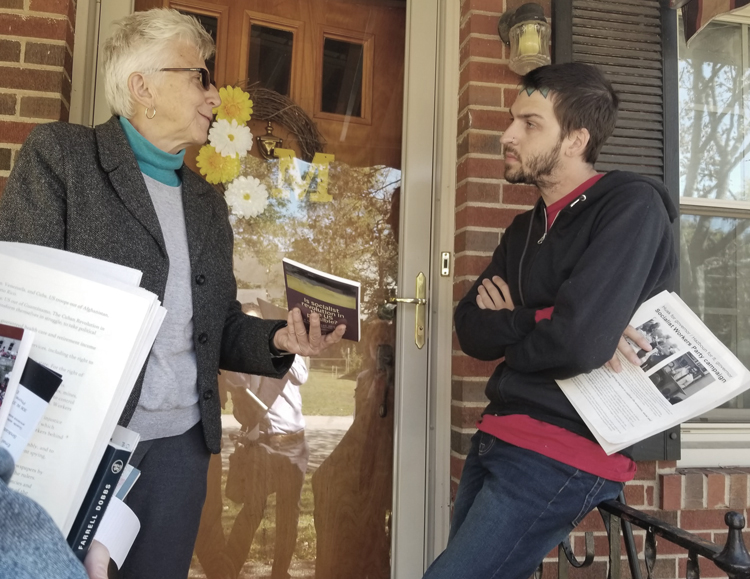 Socialist Workers Party members and supporters in Chicago have been taking the Militant  and books by SWP leaders and other working-class revolutionaries to workers at GM strike picket lines and some other large United Auto Workers-organized plants in the area. "We've met a number of workers who want to know more about the SWP's program," reports Ilona Gersh. 
At an afternoon plant gate sale Oct. 21 at the Ford assembly plant there, workers bought one subscription, 31 copies of the paper and three books — Malcolm X, Black Liberation, and the Road to Workers Power; Are They Rich Because They're Smart; and The Working Class and the Transformation of Learning, all by SWP National Secretary Jack Barnes. The plant employs some 6,000 workers.
"There was a lot of interest in the GM strike and the teachers strike taking place here," said Gersh. "One worker who bought a single copy on an earlier sale stopped by this week to sign up for a subscription." At another afternoon shift there 12 days earlier workers snapped up five subscriptions, three books and dozens of papers.  
At a plant gate sale at the Chrysler assembly plant in Belvidere Oct. 25, UAW members purchased two subscriptions and 19 singles, Gersh said, and another subscription and two single copies were sold knocking on workers' doors in the area. 
At a rally of striking Chicago teachers and other school workers the next day, party members and supporters sold six subscriptions and 11 books, including In Defense of the US Working Class. 
Chicago distributors rapidly ran out of the 80 papers they had ordered for the week, so 50 more were rushed to them in time for another Ford plant gate team Oct. 29. 
The nine-week drive to sell 1,100 Militant  subscriptions and 1,250 books goes until Dec. 10. It runs concurrently with the Socialist Workers Party's fall campaign to raise $100,000 to finance its ongoing political work.  
The SWP aims to expand readership of the books and the Militant, and to introduce working people to its revolutionary program. Party members offer them the opportunity to read about lessons from previous working-class struggles on how to build an effective independent fighting movement to counter the bosses and their government. They focus on discussions with working people on their doorsteps in cities, towns and rural areas, and at labor actions and social protests. 
To encourage greater understanding of the party's revolutionary program, all Pathfinder books and copies of the Marxist magazine New International  are being offered at 20% off. In addition, eight titles are offered at half price when purchased with a Militant  subscription.
An invaluable new book has just been added to the party's arsenal — The Turn to Industry: Forging a Proletarian Party  by Jack Barnes. The introduction is printed in a special four-page spread in this issue. Through Dec. 31 the title is being offered at a special price of $12, $10 with a Militant subscription.
Fund drive starts strong in Oakland
In Oakland, California, party members have already collected over half of the $12,000 quota adopted by the SWP branch there. "We've had an enthusiastic and early response to a letter appealing for contributions to the Party-Building Fund we sent out in the first week of the drive," wrote Carole Lesnick.  
"The party's work described in the Militant  has been quite an inspiration for fund contributors," she said. "We included a sub blank for those whose subs were about to expire. Four people have sent them back so far — three resubscribing for a year.  
"We're working on getting new contributors," Lesnick said. "We've gotten $13 from campaign teams talking to workers and look to increase this."  
Those wanting to join the effort to broaden the reach of the Militant  and revolutionary books and to kick in to the fund drive, can contact the SWP or Communist League branches listed in the directory.