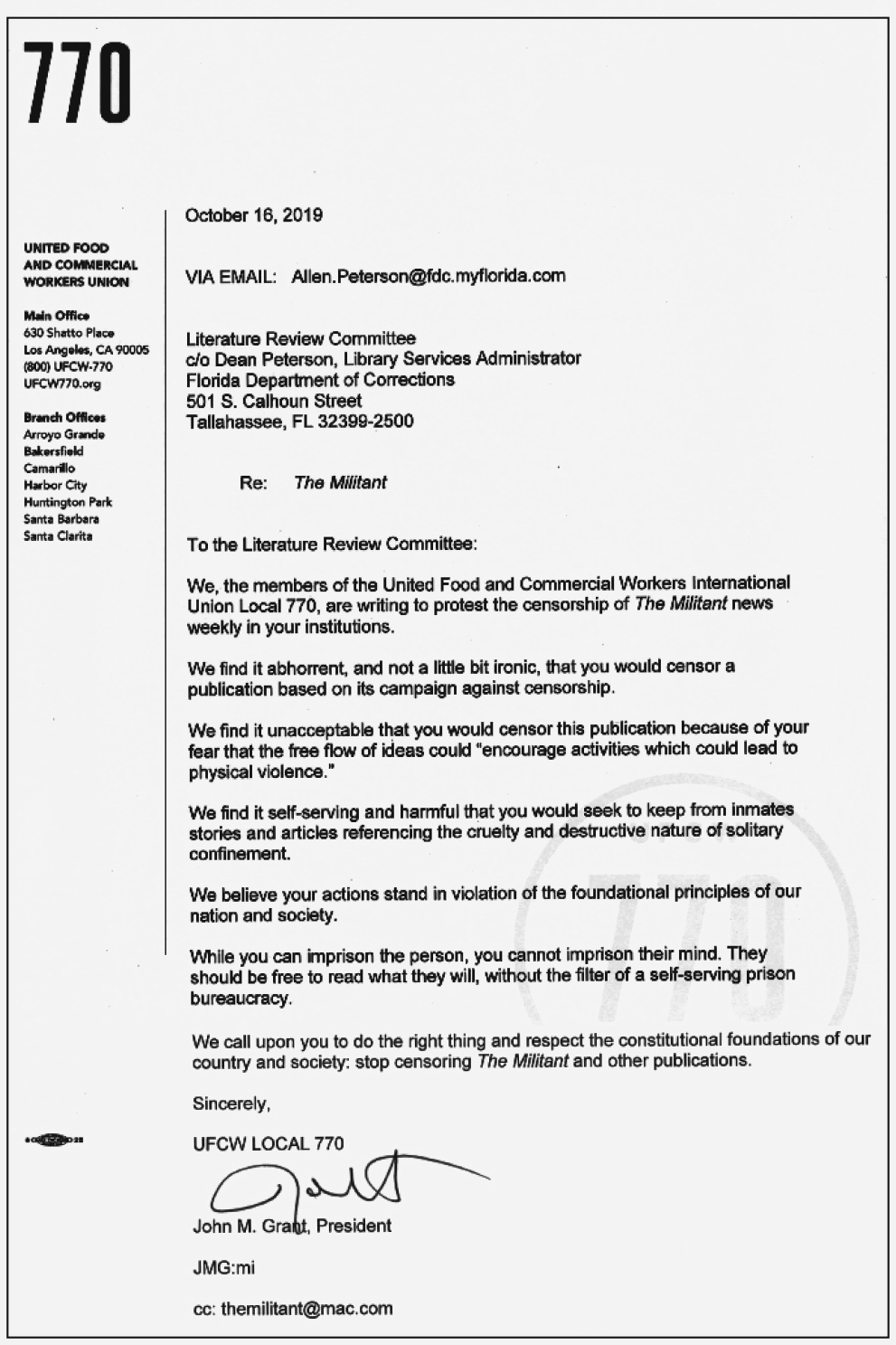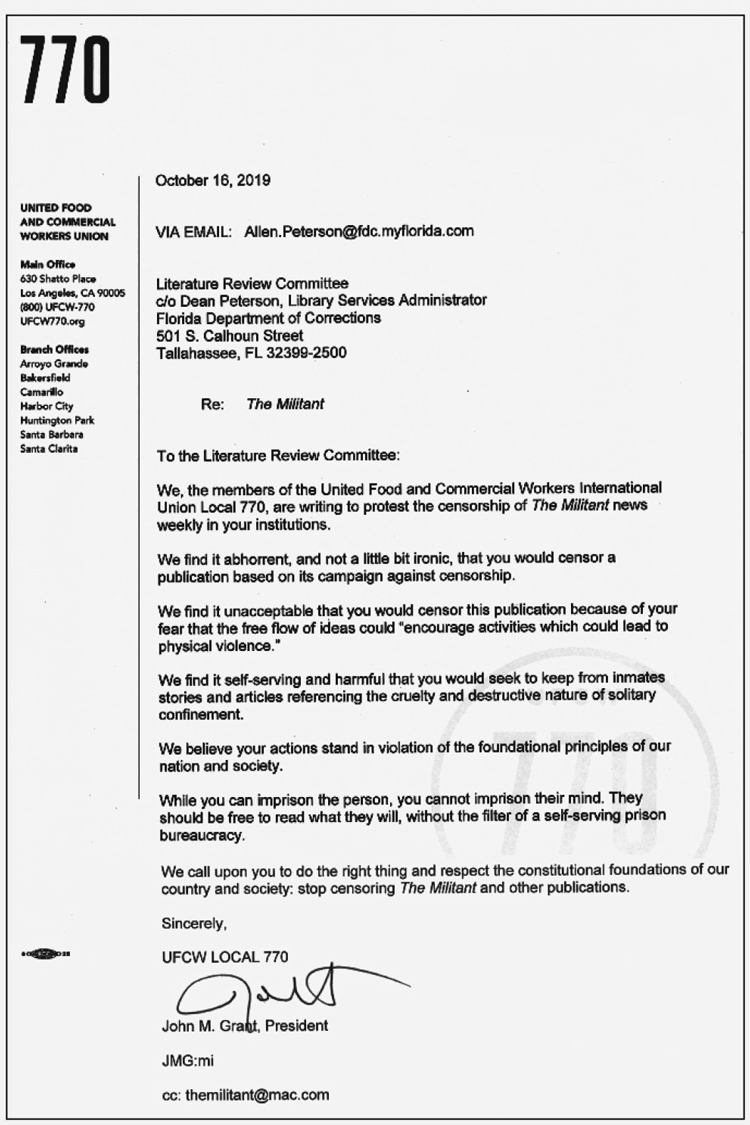 "While you can imprison the person, you cannot imprison their mind," United Food and Commercial Workers Local 770 President John Grant wrote Florida prison officials Oct. 16. "We call on you to do the right thing and respect the constitutional foundations of our country and society: stop censoring the Militant  and other publications." (See sidebar for full letter).
The Los Angeles unionist said his local's members believe the bans on the Militant newsweekly earlier this year are "abhorrent" and "unacceptable."  
The letter puts prison officials on notice that any new steps to ban the socialist newsweekly will be met with a growing outcry of public protest. Florida authorities overturned most of the bans and haven't seized any further issues since mid-August. Fourteen out of 16 issues before then had been impounded over three months, a serious attack on the constitutional rights of both the Militant and its prisoner subscribers. 
Prison officials claimed — without any basis in fact — that articles reporting on conditions in other prisons around the U.S., on campaigns against solitary confinement, and even articles reporting on the Militant's fight to overturn prison bans were a threat to the "security, good order, or discipline" of the prisons or encouraged "physical violence or group disruption." 
The Militant  won broad and growing support in the fight against suppression of the paper. 
More than 40 letters from a wide range of national and local organizations and individuals were sent to the Florida prison system's Literature Review Committee urging the bans be lifted. As a result, the committee reversed the last six prison bans in a row, and not a single issue has been impounded since. 
Along with UFCW Local 770 other groups that wrote included Amnesty International USA, PEN America, National Lawyers Guild, American Civil Liberties Union Florida, Reporters Committee for Freedom of the Press, the National Coalition Against Censorship, Florida Press Association, American Booksellers for Free Expression, Riverside Church Prison Ministry, American Library Association-Office for Intellectual Freedom, Southern Center for Human Rights, and more.  
Numerous individuals sent letters, including unionists; professors; teachers and other school workers; over 80 workers at Walmart stores in Florida, Illinois, Maryland, Quebec and Washington; and factory workers in England.  
Several of the Militant's subscribers behind bars in Florida filed grievances against the impoundments. A number wrote in to let the Militant  know they are getting the paper once again and to congratulate us on our common success.
"This is a great victory," one prisoner wrote. "Thanks for your support in this struggle for our rights." 
"Our paper's subscribers know that the Militant  will never give up its defense of the rights of workers on both sides of the prison walls," said Militant  editor John Studer. "As a result of our successful fight, more prisoners are subscribing and the Militant  is better known.
"And it's an example that will help all those fighting to end prison suppression of other books and publications," he said.