The Socialist Workers Party drive to get 1,100 Militant subscriptions and 1,250 books by revolutionary leaders into the hands of working people got a boost with the publication of The Turn to Industry: Forging a Proletarian Party by SWP National Secretary Jack Barnes. The new title is getting snapped up by workers looking for a road forward out of the crisis of capitalism.
But with just under four weeks left and a number of areas around the country behind schedule on the goals they've adopted, SWP members are reviewing their plans to ensure they can bring home their goals in full and on time.
Driver Jerion Evans picked up a copy of the book from SWP campaigners Samir Hazboun and Maggie Trowe when they knocked on his door in Louisville, Kentucky, Nov. 9.
"I just quit my job because I felt it wasn't safe any more," Evans said. Now he has a new job as a battery delivery driver.
Hazboun, who ran as SWP candidate for lieutenant governor of Kentucky, described how bosses at the Walmart store where he works push workers to work unsafely.  "What  we need to do is fight to wrest control of job conditions away from the bosses and win the right to decide for ourselves what is safe," he said. "After I started wearing my campaign button calling for workers control of job conditions, my co-workers snatched them up and wore them proudly."
Trowe showed Evans pictures from the book of rail workers marching for rail safety in Lac-Mégantic, Quebec, two years after a runaway oil train with a one-person "crew" derailed, killing 47 people there; of miners in Harlan County, Kentucky, blocking rail tracks to prevent bankrupt Blackjewel Coal Co. from hauling coal until bosses paid wages they were owed; of the recent GM workers on strike; and others. "These are the kind of things that are possible when we recognize our worth as human beings," said Trowe, "as Malcolm X encouraged us to do."
Evans agreed, saying, "We all really do need to fight together!"
The introduction to the new title explains that revolutionary leaders like Malcolm, "never tired of reminding working people why discovering our worth is more important than harping on our oppression and exploitation. … And of showing us in action how we are capable of transforming ourselves — and the foundations of society itself —  as we organize together and fight."
Evans also got a Militant subscription and Malcolm X, Black Liberation, and the Road to Workers Power.
David Copeland, a striking shovel and drill mechanic at Asarco's Mission complex in Arizona, picked up a Militant subscription from SWP campaigner Bernie Senter, after Senter visited the picket line to bring a letter of solidarity from 25 of his Walmart co-workers. Copeland texted Senter to say he liked the Militant's coverage of the strike. "I especially like how there wasn't any anti-red or blue stuff," in the paper, he said, referring to the Democratic and Republican parties, "just a mature case for a working-class political party. I liked how the tally numbers for the GM ratification vote was reported," after the strike by United Auto Workers members, he added.
Communist League members and supporters in Canada went door to door in Princeville, Quebec, Nov. 7, where they met Vincent Arseneault, a young mechanical designer in Victoriaville.
Some 400 workers at the Olymel meatpacking company are on strike in Princeville fighting to get their wages up to the same level of workers at other Olymel operations.
"I support the strike," Arseneault told CL member Lynda Little. "The cost of living is always going up and wages are not keeping up. I'm not in a union where I work, but I would like to have one there." He purchased a Militant subscription and the French edition of In Defense of the US Working Class by SWP leader Mary-Alice Waters.
Fund drive needs boost
Alongside the campaign to expand the Militant readership SWP members are also raising $100,000 to finance the party's activities. Through week five the Party-Building Fund remains behind schedule by 11%. The funds are urgently needed to cover the party's political work. Contributions can be expanded by asking those being introduced to the party on their doorsteps to also make a donation to the fund.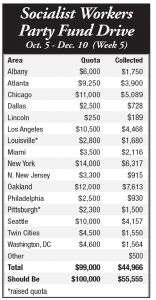 To encourage greater understanding of the party's revolutionary program, all Pathfinder books and copies of the Marxist magazine New International are being offered at a 20% discount until Dec. 10 when the drive ends. In addition eight titles are offered at half price when purchased with a Militant subscription.
Malcolm Keenan in London got a copy of Women in Cuba: The Making of a Revolution Within the Revolution and a subscription to the Militant, when Communist League members Andrés Mendoza and Julie Crawford knocked on his door.
"I don't see communism working anywhere," he had told the CL campaigners. Crawford described how the revolutionary government in Cuba relied on the capacities of working people to fight together to change their conditions and in the process change themselves, not the creation of a big welfare state to administer workers and farmers. The book Keenan picked up describes how women were part of the revolution's leadership at every point in the struggle.
"I may have something to vote for," Keenan added as he signed nomination papers to put Jonathan Silberman, the CL's candidate for Tottenham in London, on the ballot for the Dec. 12 parliamentary election.
Those wanting to join the effort to broaden the reach of the Militant and revolutionary books and to contribute to the fund can contact the SWP or Communist League branches listed in the directory.