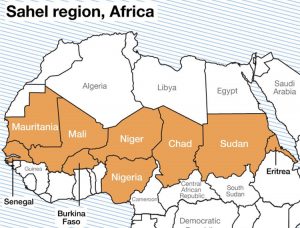 French ground troops are being deployed to Burkina Faso. This is the first major dispatch of imperialist troops to that West African country, an attempt to shore up a weakening capitalist regime in a region racked by instability. The deployment was announced Nov. 4.
Two days later, gunmen slaughtered at least 38 gold miners and wounded 60 more in an attack on a five-bus convoy transporting workers to a mine in eastern Burkina Faso. Miners told the press that demands they made for greater protection five months earlier had been disregarded by Semafo, the Canadian-based owner.
Burkina Faso is in the midst of a gold rush driven by imperialist interests, making it the fourth largest gold-producing country in Africa. Only a decade ago, Burkina Faso's primary export was cotton. But the discovery of gold has done little to better the lives of the vast majority of working people in what is one of the world's poorest countries, with a population of 20 million.
Since 2015 there have been more than 1,100 casualties in Burkina Faso resulting from some 620 attacks by armed criminal gangs and reactionary jihadist terror groups affiliated with al-Qaeda and Islamic State.
Many more have been killed by government forces and local militias in "counterterrorism" operations. Burkina Faso's military is implicated in dozens of killings of innocent civilians, Human Rights Watch reported. These include a raid on a village where troops were reported to have pulled 115 men and boys from their homes and summarily executed them.
Since the end of 2018 the Burkina Faso government has declared states of emergency in several northern provinces where it has effectively lost control. More than 267,000 people since July, and half a million overall, have fled these areas looking for safe haven. Peasants have had to abandon farms, and agriculture has collapsed. More than 2,000 schools have been shuttered, affecting some 330,000 students.
French rulers' intervention in Mali
In neighboring Mali to the north, France has had 4,500 troops deployed since 2013. These forces, along with 15,000 United Nations "peacekeeping" troops, initially dealt blows to jihadist terror groups and to Tuareg forces opposed to Mali's central government. The Tuareg are a largely nomadic oppressed ethnic population spread across much of North Africa.
The military gains by French and U.N. troops have been short-lived. Islamic State claimed responsibility for killing some 53 Malian troops Nov. 1. At the end of November, French forces suffered 13 casualties in a midair helicopter collision, the largest number of their troops killed in a single action since 1986.
Initially hailed in 2013 as liberators who would restore security, French troops are now increasingly reviled by Malians, who have begun organizing mass protests to demand they get out. Many Malians blame French forces for atrocities and for pitting ethnic groups and tribes against each other.
Responding to this pressure, Ibrahim Boubacar Keita, Mali's president, went on the radio Nov. 30 to call on the population to support continued French intervention. "We need their help," he said, and we should be "humble and grateful."
"This sentiment against the French military presence is not just measurable in Mali, but also in Niger and Burkina Faso," Christian Bouquet, a French academic, told Bloomberg News.
The return of body bags to France and growing opposition in Mali have led French President Emmanuel Macron to press other imperialist powers in Europe to contribute ground troops. But only financial and logistical assistance, no troops, have been forthcoming so far.
Last February, Washington's Africa Command organized Operation Flintlock in Burkina Faso to train African special operations forces in counterinsurgency tactics and intelligence gathering. Today about 7,200 U.S. military personnel are stationed in Africa. Some 1,300 special forces operate in about a dozen countries on the continent. Washington has also dispatched some $100 million in military aid to Burkina Faso over the last two years.
Florence Parly, the French armed forces minister, warned that the crisis in the Sahel, if not resolved, will find its way to Europe's doorstep. Europe "will have two swords of Damocles over its head," she said, "terrorism and kidnappings, but also illegal immigrants."
Revolution led by Thomas Sankara
The escalating violence in Burkina Faso can be traced back to the rule of Blaise Compaoré, who seized power in a 1987 coup against the revolutionary government of Thomas Sankara, in which Sankara was assassinated.
Through the 1983 revolution led by Sankara, millions of toilers joined in waging campaigns for land reform, to eliminate illiteracy, and to wipe out curable diseases. They organized to preserve the environment by planting millions of trees and built a nationwide railroad to tie the nation together. The revolution promoted self-sufficiency in food and clothing and drew women into economic, social, and political activity.
Sankara spoke out in the interests of workers and farmers internationally, and resisted imperialist pressure and sabotage from Paris and Washington. He collaborated with revolutionary Cuba and others struggling against oppression. His speeches, published by Pathfinder Press, remain popular today not only among Africans but many others the world over.
Compaoré reversed the gains of the revolution, ruling with an iron fist. His regime renewed close ties with the capitalist rulers in France and the U.S. and collaborated with terrorist groups in the country and region with the aim of fending off challenges to his rule.